Hello Air-Clinicians and friends,
This week, we got so many entries into the contest telling their experiences in the hospital. The judges in their wisdom were able to find the best 3 (SEE RESULTS BELOW). Today, however, we want to hear a story about Christmas and health. Tell us a story containing all the unhealthy things people (including you) have done during the XMAS Season. Let's see how deep your imaginations are.
---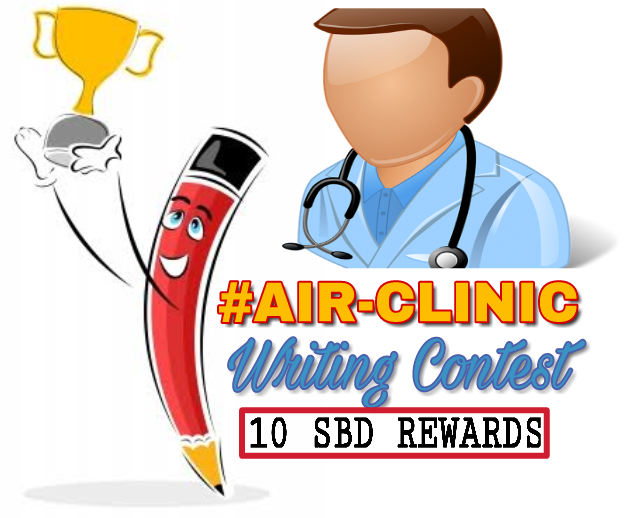 Before we proceed with the WEEK 2 contest, lets go announce the winners of last week's CANCER TALES...
---
WINNERS OF THE "YOUR LAST HOSPITAL VISIT" CONTEST
OBSERVATIONS:
We are glad many of you obeyed the word-count rule.
However, some of you are still not members on OUR DISCORD server. It could disqualify your entry. See link here: https://discord.gg/rqded5m.
---
---
Gets $5 SBD.
Congratulations for winning the first prize. We are glad you participated! Do Visit the #AIR-CLINIC Server more often.
---
Gets $3 SBD.
Congratulations on winning the 2nd Prize. We are glad you are already a member of #AIR-CLINIC on discord. Stay active.
---
Gets $2 SBD reward.
Congratulations on winning the 3rd prize. #AIR-CLINIC is happy for your contributions to her progress as our CLINIC RECEPTIONIST. Cheers!
---
HONOURABLE MENTIONS:
---
---
THIS WEEK's CONTEST:
Like we mentioned earlier, this week we want to hear your stories about "UNHEALTHY THINGS PEOPLE DO DURING XMAS". Make it awesome. Extra credits if the tale is about you, we reward conscious critiquing of oneself. Use your imagination and tell a unique story we haven't heard before. Humour is welcome! Its the Christmas Season afterall; so let's have some fun.
Tell us about it and GET THE CHANCE TO WIN SBD especially now the prices are very high.
---
---
MODALITIES:
TOTAL PRIZE: $10 SBD
TOPIC: UNHEALTHY THINGS PEOPLE DO DURING XMAS
FORM OF CONTEST:
WRITE AN INTERESTING STORY (Fiction & Non-Fiction) ABOUT "UNHEALTHY THINGS PEOPLE DO DURING XMAS"
LENGTH: 250-350 words (write your word length at the bottom of post)
QUALITY: Must be standard with spelling checks, grammar checks, expressive language and well-edited with markdown.
MAKE A POST ON YOUR BLOG WITH THE TITLE INCLUDING "AIR-CLINIC".
TAGS: #AIR-CLINIC, #STACH
USE OUR BANNER below.
---
YOU MUST RESTEEM THIS POST.
YOU MUST FOLLOW @air-clinic.
YOU MUST BE A MEMBER OF #AIR-CLINIC ON DISCORD (see server link below)
---
COMMENT THE POST LINK BELOW
DEADLINE: WEDNESDAY 12:00midnight UTC
JUDGES: @ejemai, @nairadaddy, @thelovejunkie
DISTRIBUTION: $5, $3 & $2 SBD to the 1st, 2nd & 3rd Positions. THE REWARDS WILL INCREASE AS THE CONTEST GAINS TRACTION.
Failure in any of these rules is automatic disqualification.
---
This is going to be a regular feature of #AIR-CLINIC. So keep a date with us every Saturday.
---
GOODLUCK!
---
SEE CLINIC LINK HERE: https://discord.gg/rqded5m