Dessa was founded in 2016 and is based in Toronto which is one of the world's biggest hubs for AI advancements. Dessa offers AI software and customized AI infrastructure which incorporates seamlessly with existing IT systems. One of the products Dessa sells can 'predict which customers are most at-risk of unfavourable financial events...'.

The company's experts come from Google Brain, Microsoft and IBM among others.
Joe, Ray and Hash from Dessa used AI to recreate Joe Rogan's voice. Watch the video above to hear it and let us know if you think it's convincing or not.
 
 
 
 
 
 
 


You can follow Dessa on twitter.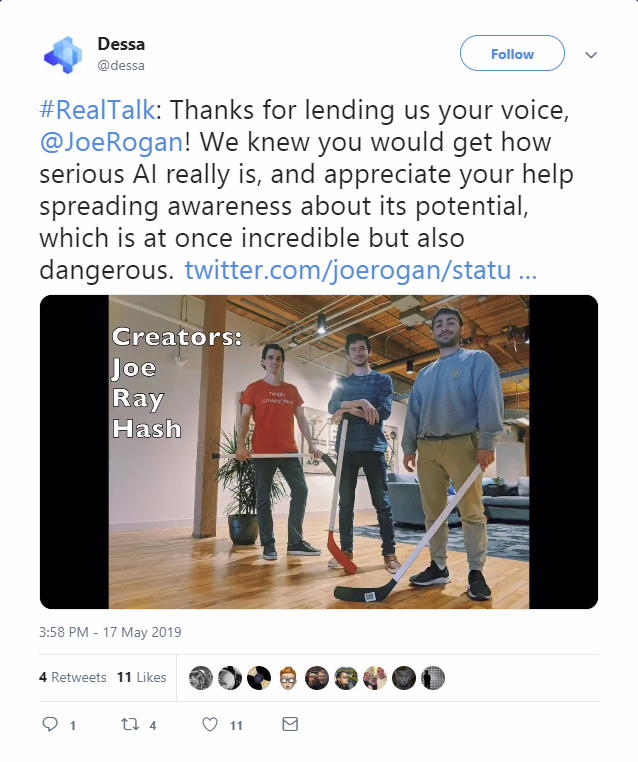 Jason speaks about a movie called 'The Running Man' (1987) which is an American science fiction action film directed by Paul Michael Glaser and starring Arnold Schwarzenegger. Luke says everyone should watch it.
Don't Miss The Latest Breaking News!!
Watch On News 4 A Change ↓
→ VIDEO: Why Is Nobody Talking About The Amnesty International And Baltimore Hacks?


We gratefully accept donations! You keep us going! <3
 
-- Donate On WRC Main Site --
-- Patreon --
-- Bitcoin -- 143d3ec4GFe75zNEiUA2sbU9b6YP9L6c48
-- BCH -- qzhx3ajjpjxt27ts4q90tfem6qesm4dhv5e0ecyll4
-- Dash -- XiZebHViTKxjngJ8U8Gekbz34XDcMjKe29
-- ETH -- 0xe3fe145aa53fda2dbe4b65a8874f027b82d90811
-- Bittube -- bxdigY3LEr3hL2cScYqTJaiafeDxhpt9bK9FcxXbkuFeDyc9sZfF97iAmqSPR6NyfQ8wp34d7PeAU95gsZYQBpib1YEKz5aY4
-- Monero -- 466jSETYBr3R9qWJS15biBbxwZsZwE86wEMT9NogvfZS2tY7v8QsgZZ4ifPesVLr8xgaTCK32dcLoiMXi7DEM25V7t3o3z4