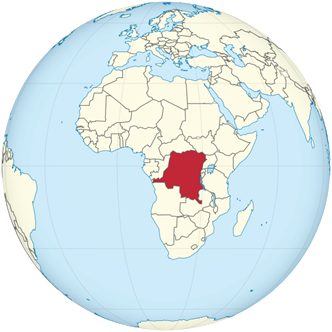 Image credit: Wikimedia
In public health bad news has a tendency to comes all at once, while good news takes time. This is an example of the later.
When the latest Ebola outbreak was declared in the Democratic Republic of Congo on the 8th of May 1 many were dreading another long drawn out disease management campaign similar to that of the 2014/15 outbreak that saw 28,616 cases of the disease and 11,310 deaths 2.
With this current outbreak occurring simultaneously in both a rural and an urban location the threat of this turning into another international pandemic was very possible. However, with the quick response from the WHO and the incredible work of the local DRC health system this outbreak appears to have been control with relatively few cases and loss of life (53 cases and 29 deaths3).
Not out of the woods just yet but 42 days marks two incubation periods of the Ebola virus, usually the bench mark for the official end of an outbreak so it's looking very encouraging.
Thank you to @HelenBranswell from @statnews for informing me of this wonderful news on my twitter feed today. By the way, Helen is very much worth a follow if public health is your bag.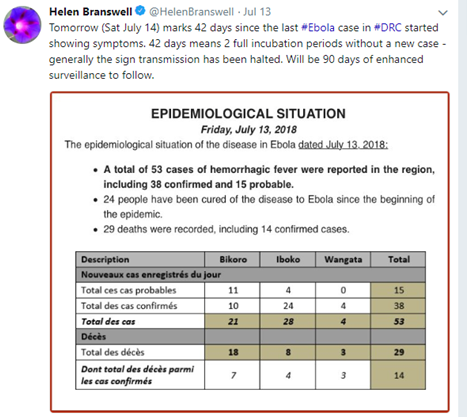 Image source
Short post today as there's not a great deal to the story that I haven't already covered here and here in my previous posts on the outbreak, apart from maybe the effectiveness related to the new Ebola vaccine. This is unclear at this time however it'd be nice to know how much of a role this played in the control effort.
I should have a longer research heavy post out in the next couple of days, I just thought I'd share this with you all as it really is lovely news.
About me
My name is Richard, I blog under the name of @nonzerosum. I'm a PhD student at the London School of Hygiene and Tropical Medicine. I write mostly on Global Health, Effective Altruism and The Psychology of Vaccine Hesitancy. If you'd like to read more on these topics in the future follow me here on steemit or on twitter @RichClarkePsy.
References:
[1] World Health Organisation: New Ebola outbreak declared in Democratic Republic of the Congo
[2] World Health Organisation: Ebola outbreak 2014-2015
[3] World Health Organisation: Ebola situation report