BitTeaser advertising network update and BTSR bonuses
BitTeaser update and BTSR bonuses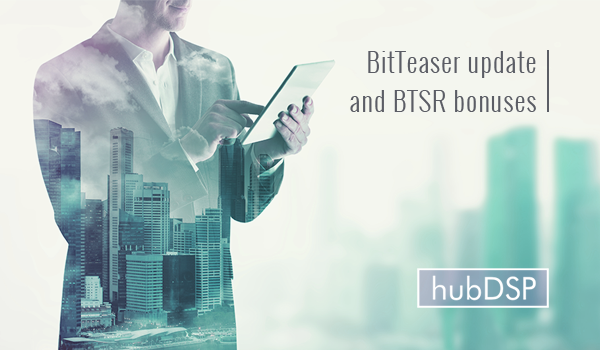 We have some exciting new developments to announce for BitTeaser!
Big Data allows advertisers to calculate the value of an impression accurately before they purchase it, eliminating unnecessary costs. Our new software, hubDSP (demand-side platform) will enable us to offer advertisers better value for money than ever before.
The result? The DSP facilitates maximum targeting of end users, at the lowest possible cost. It's a very attractive proposition in today's fast-moving world of online advertising, and we want to make the most of it for BitTeaser.
To leverage the real potential of this new platform, we want to incentivise a whole new ecosystem of hubDSP stakeholders. Existing BitTeaser holders will be offered a bonus, and we're making some important changes to the asset structure.
---
A share split will be carried out, with the following stakes being allocated:
10% of the total is reserved for performance-based rewards for all parties buying services on BitTeaser or helping to increase total revenues of the BitTeaser blockchain advertising network.
30% of the total is reserved for performance-based rewards for all parties buying hubDSP services. Any amounts from this part will be issued in tranches on a monthly basis. The fixed price is 0.15 USD / BTSR.
Bonuses/special offer: the first fortnight tier (from 01/09/2016 to 15/09/2016) holders will receive a 15% bonus when buying BTSR. For the next month the bonus is 10%. There is a 5% bonus for buying BTSR from 16/10/2016 to 31/10/2016.
In this way we hope to reward hubDSP, its holders, reps and future ambassadors – as well as BitTeaser owners!
You can find out more about hubDSP here
Kind regards,
Ronny and the CCEDK team