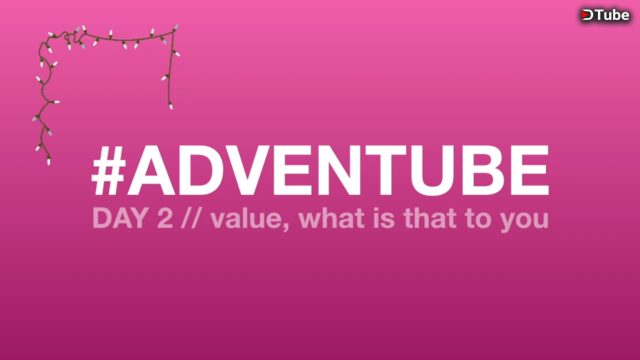 ---
it's kind of a big question today, one that i'm always seeing going around as we decide as this global audience of what VALUE is to us -- especially in an always on demand, hyper connected digital citizen.
yesterday went so well, thank you to everyone that submitted a video, i think it's much faster this way for me to put together the videos if you know that you can just check a folder for the question, open your camera application, record a video and then jump back into the application and upload -- no more spreadsheets or chasing people, those that turn up get in the edited video, i really like that approach.
i'm realising that you can only have EIGHT beneficiaries on a post which kinda destroys the idea of sharing the profits that way, need another way of rewarding people, not sure what that is yet, maybe we wait till the post is at pay out and share the steem directly from the wallet, not sure, seems like a faff, any suggestions are most welcomed, i want the distribution to be completely fair -- i'm interested in building the group of people we can ask questions off not the rewards -- or maybe i should turn off rewards on the posts completely, what do you suggest?
the question today was. ..
value, what is that to you
the people that took part today
@chireerocks, @travelling-two, @shawnsporter, @johnspalding, @navaneeth, @itsliam, @dayleeo (i have a client in a few hours so no name overlays today peeps!)

i'm in discussions with the company that does the hosting to see if i can get a deal to open this up to the next 25/50 people, we have ten but i want to be able to have 25/50 so i have a bunch of videos to choose from, of course it means more work over these next thirty days to make a video each day and like @itsliam said it's gonna add to the length so gonna have to maybe add a rule about a fast reply for quicker editing -- once we get into 'client' stuff next year the length won't matter because your feedback would go back to the client as a big video where they can take bits of suggestion from the video.
i gotta tell you it feels real good that finally i've got a little group of people i can reach out too -- it feels like the old vlogging days!
a good decade ago it was nasty text forums where as now we have these great digital tools we can collab the videos into, grab and download the video and off i go to edit!
eventually we will just have it so we have a few editors or we can just delegate who wants to do a video for the day/week -- multiple edits and videos even, the main thing is that we have a place where we can collect the videos in a fast and efficient way, i believe the platform we have now does that.
bullet points from today. ..
created a template in steempeak (it's awesome) for each day that i can update easily each day, means i can focus on the editing and then quickly fill out the template.
thank you to everyone that recorded in 16:9 format, we should keep to that, looks nicer in the editor — I should have said from the start but I don't laying down rules but if we can do that.
@chireerocks I know you like to put an overlay over ya video but maybe do it without the text because doing jump cuts kinda makes it distracting.
i compressed day one into a mobile version for speed and put in the finals folder on the hosting platform for people who join who are new so they can see at a glance previous videos without digging through posts and stuff, i've optimized the video for mobile playback, i used the great https://handbrake.fr for this.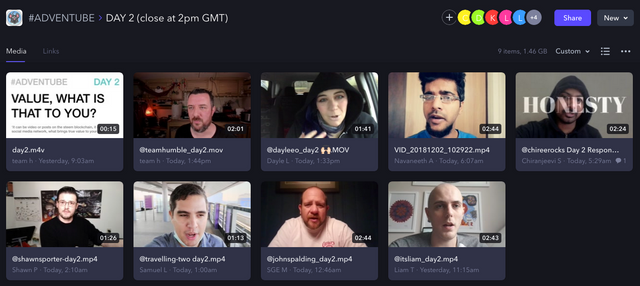 you have no idea how much joy this brought to me this morning seeing all your faces in here ready for me to download and edit and stitch together, it was going to the pub and meeting up with your friends that you have not met yet, i know this is gonna be an incredible project and i'm excited to further develop this in the new year, roll on getting https://framer.com/blog/posts/x-release for the new year, i'm gonna be live streaming building that out on vimm between editing and blogging, maybe i'll take some live feedback on it as well :)
THANK YOU to all that are taking part right now, you have no idea how much this means to me and how much this does for my mental health to have other people 'accountable' too distributed around the globe! :)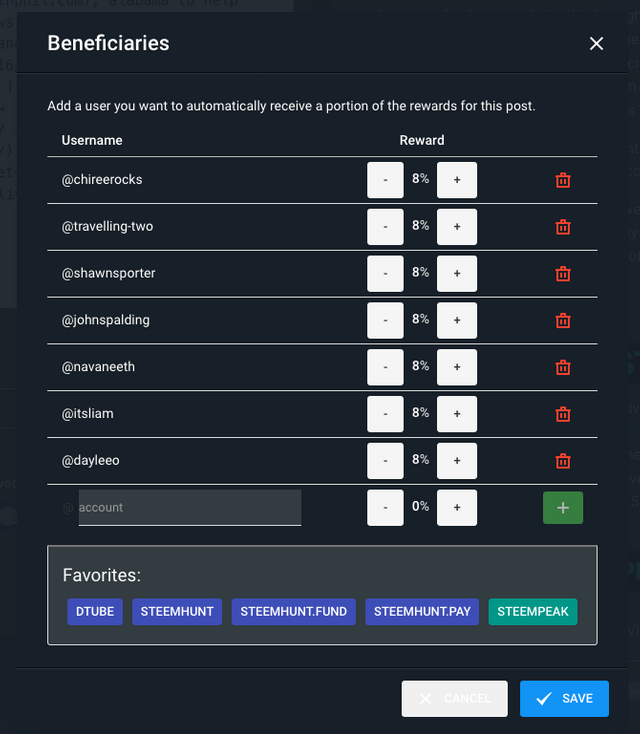 we need a better way to share what a post makes, you can only do it with eight with steempeak and you can't add any at all with @dtube -- plus if we have like 25/50/100 that's gonna be crazy to add each one, you can't template it, suggestions?
P.S - btw, also i spoke to the team of the platform we use, i'm waiting back to have a bigger conversation, they love the project, they said it sounded cool, i guess normally they just have higher level like directors, b-roll, 4k footage and teams use it a different way, i think our little decentralized squad of global vloggers can really grow into something cool, will update you on the price increase to the next level.


pinterest epic wins pinboard → brand advocate for nokia, 1000heads, verisign → won vloggie for node666 (san fran 2006) → television for time team history hunters 1999 (burton on trent) → sold me.dm to evan williams in april 2011 → went to phil campbell, alabama to help raise money after tornado ripped up the town (was on sky news, bbc news)→ CNN for sxsw 2013 about austin south by southwest event → video chat with robert scoble from rackspace → music video can you spot me? → won the digital derry contest for 5k euros → crowdfunded digital signage concept called pi street → now living life through digital blockchains.


TIME TO GET RECORDING THAT LITTLE VIDEO FOR DAY THREE PEOPLE! :)
---
▶️ DTube
▶️ IPFS