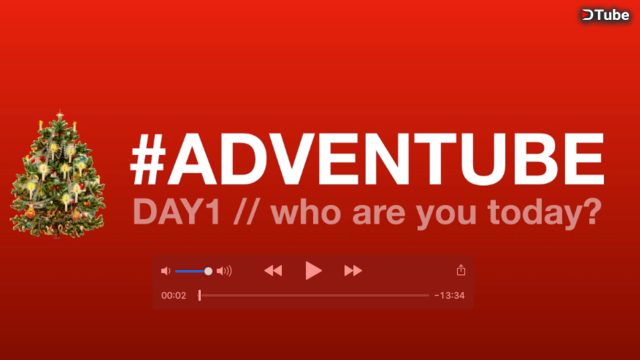 ---
Phew, we made it, the start of DAY ONE! :)
The start of 31 days of videos as part of #adventube starts today, 31 questions, a bunch of vloggers and a few hours of editing time each day of the month, right up and passed new year, crazy times, crazy work rate, crazy point to myself to prove! :)
the question today was. ..
who are you today
the people that took part today
@chireerocks, @travelling-two, @shawnsporter, @johnspalding, @enjoyinglife, @navaneeth, @itsliam, @travellit

Hey @shawnsporter I did look at the audio but it was gonna be a real challenge to sync it up especially with all the cuts and jumps I was doing today, maybe check the video recording output for tomorrow or whenever you can.
not a bad turn out, I hope we can get all ten pushing a video each day, I know a few people have had upload probs, see the updates below for a kinda of resolution — alternatively send the video to wetransfer.com and instead of email do link and share the link in the comments, I'll grab and upload it for you via the web interface.
I have to say, making this video today gave me shivers, it showed me how spread out, decentralised, global we are, I wanted to cut it like this, jump cut because I wanted to try and portray all these wonderful people from around the world. ..
It was crazy, in literally hours we had the first ten people ready to have a go at taking part in a centralised easy to use upload your questions and answers for me to then EDIT those and publish those to a decentralised platform like the steem blockchain, think a remote editor pulling together news feeds from reporters in the field yet our field is made up of virtual video making nodes around the world — incredibly powerful.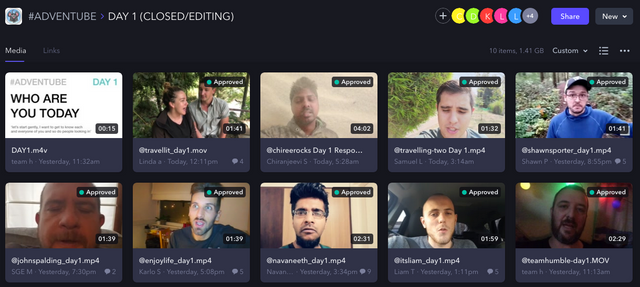 The hosting I've got means that I've paid the $15 for the first 10 collaborators to take part, as we move forward over the course of the next week I'll open that up, increase the number of spaces and let you know when I have more people onboarded, my dream is to have an active 100 strong community of video makers replying, interacting with topics and I'll edit them all together and put the video up daily through the month of December.
I've got much bigger plans of course for this once we are a strong collective globally around the world, in fact, I intend to completely re-work teamhumble.org and turn this into an open, centralised video node that then can communicate that as a a global voice together, I've always wanted to do true global video collaboration no middle men, no power plays, just nodes in the network.
some updates since yesterdays start.
appears that at the moment there is only an IOS app, you can upload from the website but that kinda cuts down on the fast speedy nature I was hoping for for people that don't have an iPhone so I hope they bring out an android app
few people had some issues with uploading, I've had issues too with that, make sure you close down all apps, maybe restart the phone, have a solid upload connection, wait till it's 100% and switches to processing before leaving the folder.
we have 10 people (all the slots) all full and I know others are looking to get in, once we have finished week one I'll get the next level up of hosting paid for and open it up to another 15 more people, I'm doing it slowly and progressively as funds allow.
fourteen days of questions up, feel free to leave your own in the comments below for me to make for the rest of 31 days
This is a centralized/decentralized video service, you can suggest topics that you would love the group to respond too, you'll get an edited video back from those that reply, those that reply get a slice of the beneficiaries for the post I put up, I'm not asking for anything for my time, at all, no cost, no fundition, zip — I'm doing it because we need to optimise the route from question to answer and if we can do that in one edited video that's an interesting collaborative effort to me — that's why I'm doing it as a video advent for the whole of the month.


pinterest epic wins pinboard → brand advocate for nokia, 1000heads, verisign → won vloggie for node666 (san fran 2006) → television for time team history hunters 1999 (burton on trent) → sold me.dm to evan williams in april 2011 → went to phil campbell, alabama to help raise money after tornado ripped up the town (was on sky news, bbc news)→ CNN for sxsw 2013 about austin south by southwest event → video chat with robert scoble from rackspace → music video can you spot me? → won the digital derry contest for 5k euros → crowdfunded digital signage concept called pi street → now living life through digital blockchains.


TIME TO GET RECORDING THAT LITTLE VIDEO FOR DAY TWO PEOPLE! :)
---
▶️ DTube
▶️ IPFS