Technical Analysis Sorted – TA Charts
Trading is an addiction and half baked knowledge can easily make one bleed.
Keeping the same in mind I tried investing lot of time in finalizing my pick followed by lot much time in familiarizing myself with the fundamentals behind.
Being someone from Marketing, I never had any issues reading and that made fundamentals as my strong side thought I can't say the same for technical analysis. Having spent weeks reading charts/ bands/ candles I gave up and started looking for an alternative. 1Broker has an alternative of coping trades but that's like following someone blindly and you just can't let someone else drive your hard earned money.
I did post about my working on 1Broker here. Here you can trade from forex to indices to even stocks.
I have been following lot many crypto advisory sites and started picking from what masters on twitter releases or sometimes from telegram groups but they all seem to be following one track on making themselves rich and most are planned moves to benefit the one posting.
Meanwhile I started following TA Charts and since they had a real small number of follower count I kind of ignored them and one day accidently bumped onto their Broker account. While the whole world was playing long on JPY pair I someone wanted to go for short and there's just one other with similar thoughts.
Posting one of the analysis from their page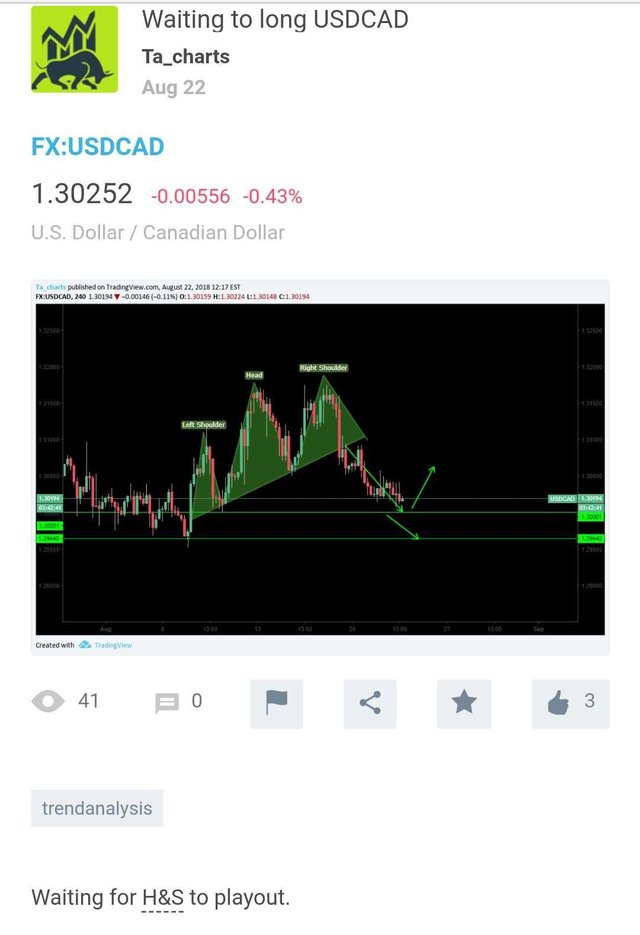 Check other posts here
Yes that's how I came across them. For a few days I picked their charts and did my fundamental study on them. While I had a few instances of not agreeing to charts but they behaved as predicted, proving me wrong. While I'm still not able to connect with the team behind; I feel either the guy behind it is a real big shot industry driver or have some blessed skills.
Having said that please go on to their channel by Clicking Here and share your views on analysis. Also if any of you happen to know the guy behind then please help me reaching out to them.
Needless to say your support matters a lot and please don't forget to upvote and share my post for max reach.
Those who are interested in 1Broker account, please follow link to open up one.