It was on 15 Aug 1947 exactly 72 years ago Britishers declared India as independent nation after 200 + years of ruling the country. Today the entire nation celebrate the day as festival, with many function held in different part of the country. Even India prime Minister hoist Flag in Red Fort.
Many have seen the celebration from city (urban) people.Today i will the share celebration from Gramin (Rural) part of India.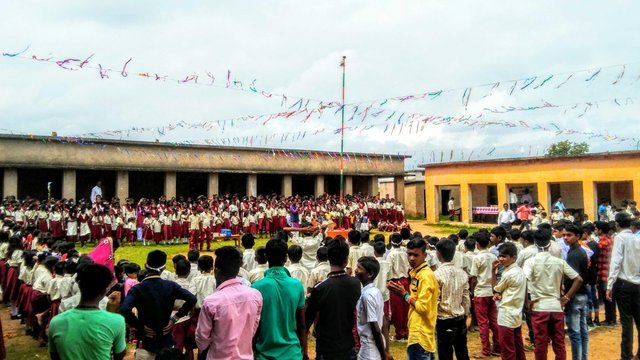 ---
The feel and atmosphere is all pumped up since mornin, with the School Loudspeaker playing some patriotic songs , the feeling of freedom rejuvinate in everyones heart. The celebration is generally held at village high school. The students ,tthe Teachers , the vilagers, the head of village everyone assembled in School compound to celebrate the Flag Hoisting. But before the program starts, the students of the school take out a parade in the entire village.
The hope and future of India silently walking down the village lanes forming a straight lines. The shouting of "Jai Hind" and " "Bharat Mata ki Jai" echoing in the air.and school instructor and teachers manouvering the arrays making sure no student breach any discipline.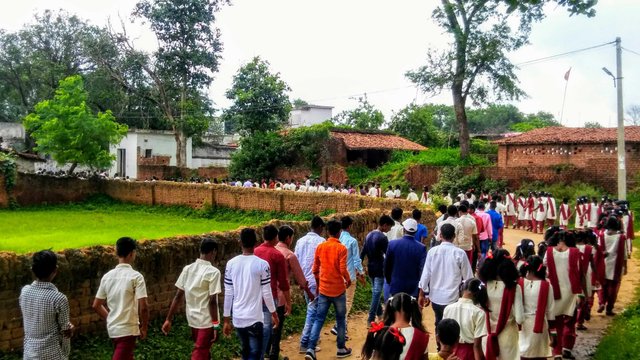 ---
Afte taking the village round the students and, the whole village mass assembled in the school compound. The school instructor organise the student in an array and village people standing behind them. The school compound decorated with tri-colours all over the place.
Soon the Instructer announces the welcome song for School Headmasters, Village heads and all respective teaches. They are the guest for the day. With few kids playing the drum and singing the song, there was announcement of Flag Hoisting.
The School Head master aka the school Principal came forward, light up few incence stick and hoisted and saluting the flag. At the background the chorus of Indian National Natjem started to play witch eaxh student in attention position and murmuring the National Anthem with due respect.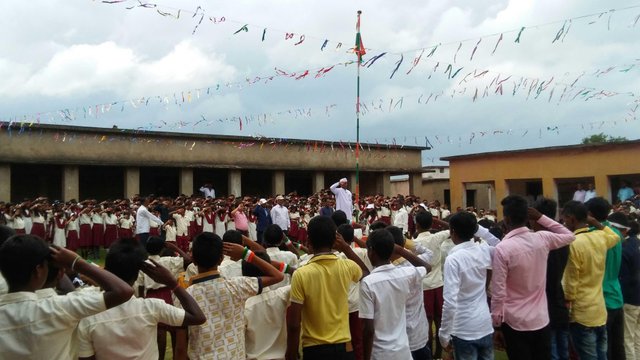 ---
The place echoed with BHARAT MATA KI JAI with a thud from each of the attendee in the school compound , after the Nationa Anthem. Filling everyone heart with true Patriotism once again. The place and the atmosphere had everything and everyone was excited to celebrate the day. The school organises some cultural program all arranged byschool stidents, there were some feliciation as well of the meriterious students.
I have seen so many celebration in urban city. But the celwbration at these villages shows me the true way of celebration. People in city do many shows off and formality even the school remain closed on this day. But in village the School is the center point of the celebration. The kids, the people, the teachers everyone enjoy together and showing the true color of
UNITY IN DIVERSITY.
Feeling proud to be an Indian...and with complete Patriotic heart...to all Indians...
HAPPY INDEPENDENCE DAY
Keep Steeming...Steem On !!!