NEOUSD - Technical Analysis October 2, 2017 - Current Price $36.64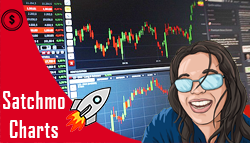 NEOUSD
NEOUSD has broken its recent downtrend and continues to show strength. If you missed the meat of the move, we are looking to take a bullish position on any dip that attracts new bulls to try and test and break the previous high which was a double top at $58.50. Falling short of this level would produce a lower high on the weekly time frame which would indicate a longer term bearish trend.
Neo is a perfect example of why we don't chase. If one were to buy here, they could get lucky or "rekt". Patience for the right set up is key.
daily
Looking for neo to test 58.50 as it has started a new uptrend. We are watching for a dip buying opportunity given as it is currently pulling back off of the high of the day and looks like it will close the day with a harami candlestick.
Note the Stochastic RSI which is currently in downtrend with the RSI trending up. Volume would bring a bullish MACD cross.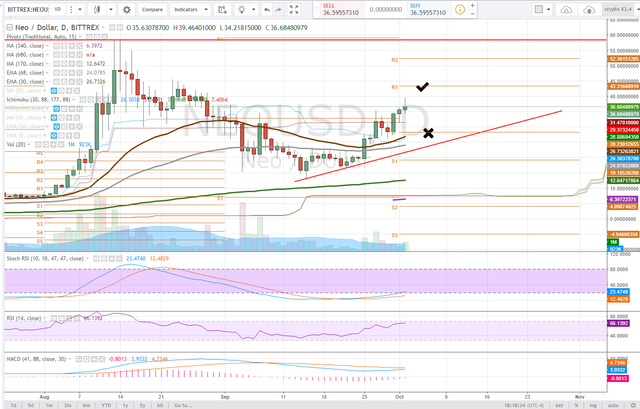 4 hour
On the 4 hour time frame we are watching the stochastic RSI that appears to have begun trending down and could drive a pullback.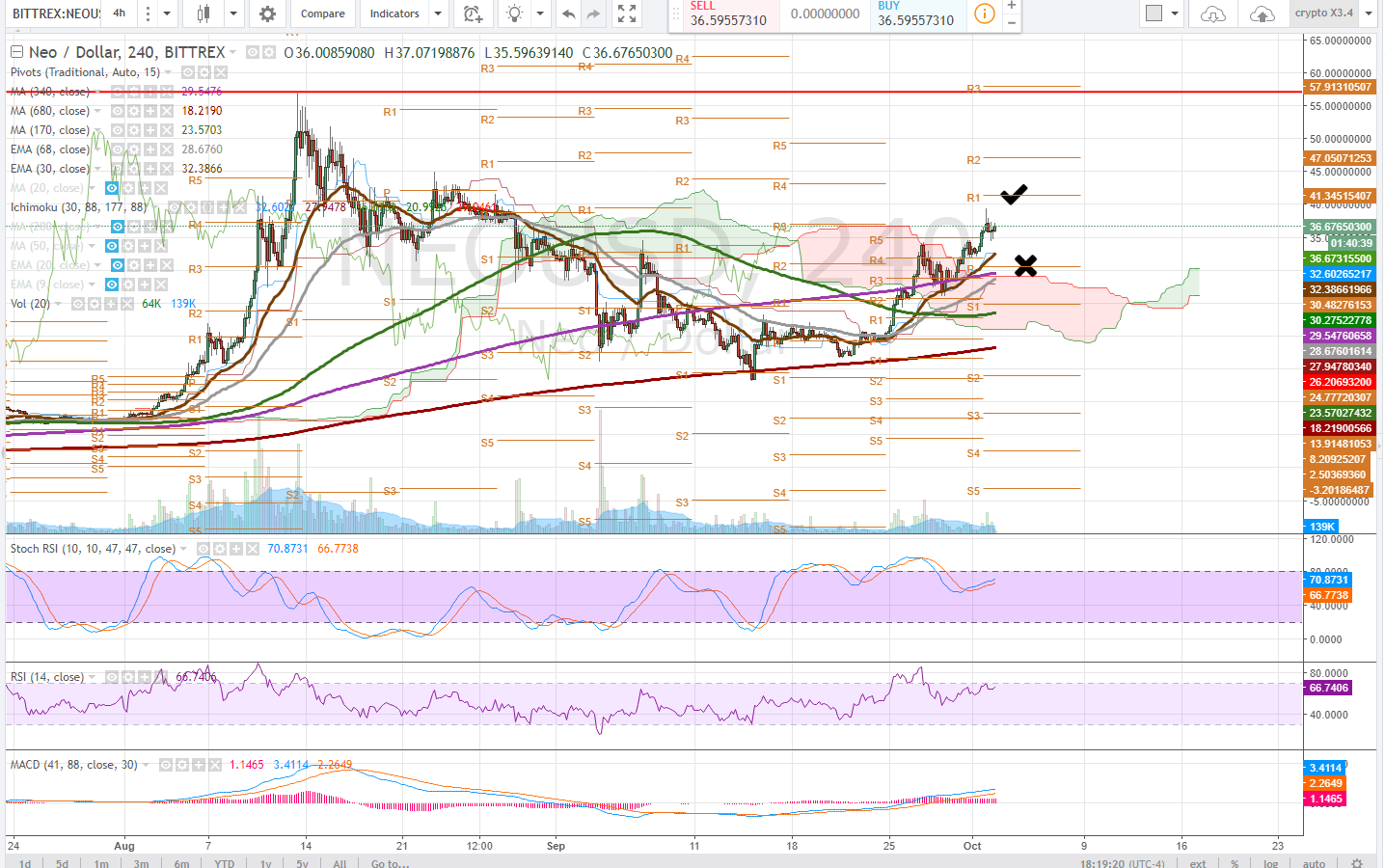 1 hour
The 1 hour time frame shows a bearish MACD cross possible while it conflicts with the curl upwards in the stochastic RSI after the price found support on the 30ema. Bulls need to hold this level of support.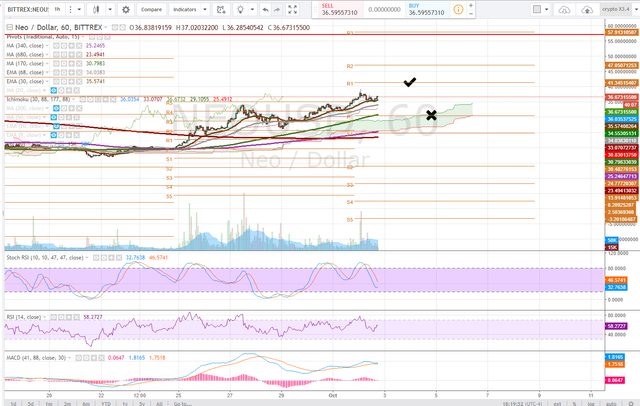 Bullish Above: $44, would look for capturing this level to hold and drive the price to $58s
Bearish Below: $33 - would look for a test of the pivot $28. Very bearish below $28
RISK TRADE: scale into a long position here, sell below pivot.
don't forget to set stop losses!
1 week
The weekly chart is part of what caught my attention with NEO. As mentioned earlier, falling short of a test of the $58.50 level would indicate a longer-term downtrend. Failing to break it, bulls, investors, would look for a higher low on this time frame to print.
From a technical perspective, the strength of the bounce off of the 30ema on this time frame was a higher low and there was a lot of strength behind the move.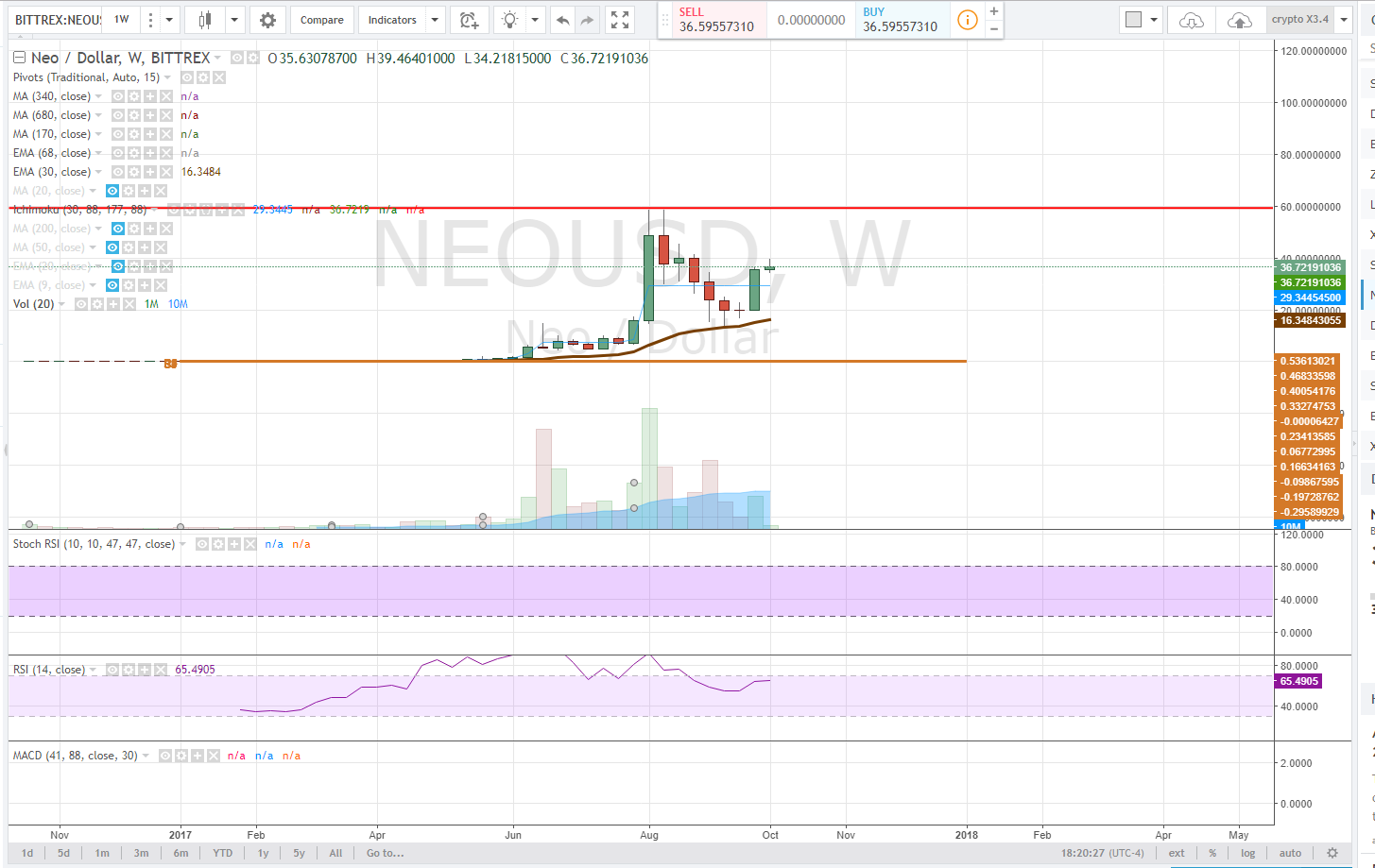 Previous Articles:
BCCUSD
LTCUSD
ETHUSD
BTCUSD
XMRUSD
Follow at your own risk, Not a financial adviser, understand the risks associated with trading and investing. Manage your own Risk - in other words you could lose it all and it is your own fault