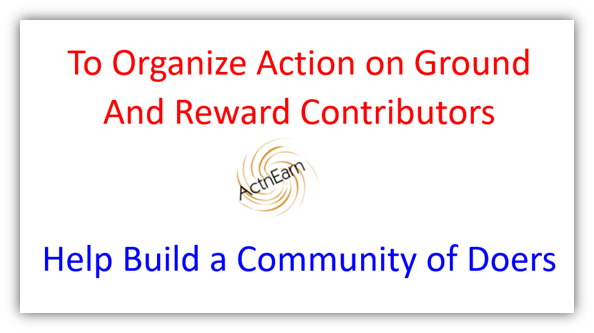 What and Why
Most of us think to bring change around us but feel not equipped to bring that change. Someone has money but no time and expertise, another has expertise but no money, while others can have time but no money or expertise. Therefore, there is a need to develop a platform that aggregates different set of resources from many people for a common cause/action. Steem blockchain provides best opportunity, due to its unique reward mechanism through ever generating reward pool for being inflationary, to develop and fund such a platform. In this initiative all participants will be rewarded not only financially and they will also become recognized leaders/doers for their chosen activity and can use that reputation, network, and experience to further their dreams. We can achieve more together than alone.
Possible Uses
To bring positive changes in and around us
To reward contributors who take action on ground
To fund and drive action for campaigns close to our heart
To fund and drive visibility campaigns for brands
To fund and drive any other cause
How to use now
Start your post with the image of our logo
Create a post listing action that members have to take e.g.

Ask to share your post on twitter, facebook, linkedin etc
Plant a tree
Play a game

Spell out reward that you would provide to members who take action
Spell out what proof they will have to provide in comments for taken actions e.g.

Share links of shared posts in comments
Share video/picture of game playing or tree planting. If Video it can be first uploaded on their twitter, facebook, or youtube accounts

Post and Engage with contributors taking action on the ground in comment section
Be honest and trustworthy
How we will support
actnearn account will be initially funded by 100+SP and gradually increased to 10000SP by the founders team
actnearn account will resteem all posts that are found to be motivating positive changes
actnearn account will upvote next best trending post with tag #actnearn in addition to upvoting contributions to its own initiated actions
How you can contribute
Follow us
Resteem and upvote posts made, curated, and resteemed by @actnearn
Delegate SPs to @actnearn. You will receive 10 actnearn token per month for each delegated SP when SMTs are launched. To delegate SP to @actnearn you can use this link https://steembottracker.com/delegation.html to enter your username, the amount of SP you want to delegate, and place actnearn as the user you are delegating to.
Be part of team that will develop and promote SMT, iOS, android apps, and webapp for actnearn
Future Plans
Launch webapp to manage platform
Launch iOS and Android apps
Start awarding actnearn tokens even before actual launch of SMTs
Launch SMTs
Above plans will be taken up if and when actnearn account achieves - 10000 followers, 10000SP delegation, and 1000 dedicated doers. This will make us confident that the concept is accepted by community and worth pursuing further to automate and scaleup.
We look forward for your valuable feedback
Any account that tweet it and share the link in the comment - will be upvoted with full 100% weight.