First Day Hike at Hobbs State Park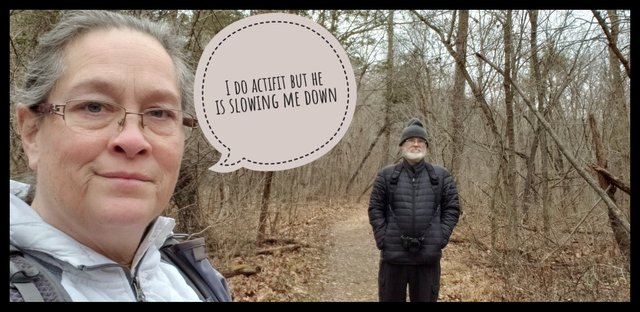 Photo by myself and snarky comment by @brittandjosie
There is a tradition among hikers and park enthusiasts that happens on New Year's Day that we have been trying to join in with for the past four years. It is called the First Day Hike and it happens at most of the National and State Parks around the United States. There are often Park Ranger guided hikes, but we did not get out early enough for that so we just went on our own.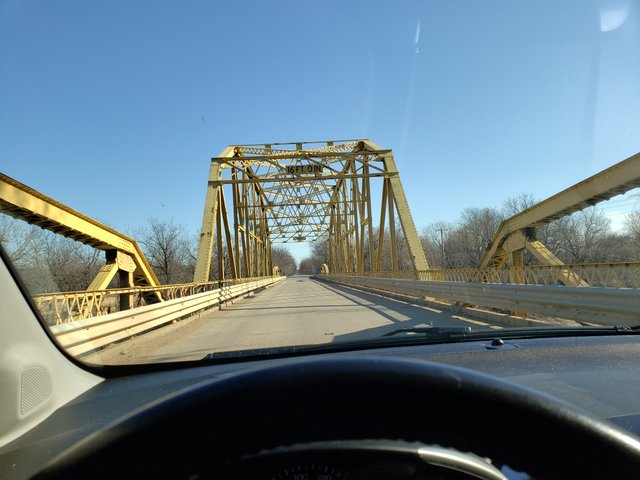 We came across this old bridge as we headed to Arkansas.
Because there had been some pretty rough rain the past few days, we decided to head to Arkansas' Hobbs State Park just east of Rogers on Scenic Highway 12E in the northwest corner of the state. We have been on this steep and curvy road a few times so it was familiar and I was able to speed up a bit more. It was a thrilling drive for sure.
This is one of the parks we have driven through, but never really had a chance to do any hiking so we were pretty excited. There are two trails next to each other that are extremly easy and each only half a mile long. Since we didn't arrive until 2:30 pm, this would be perfect.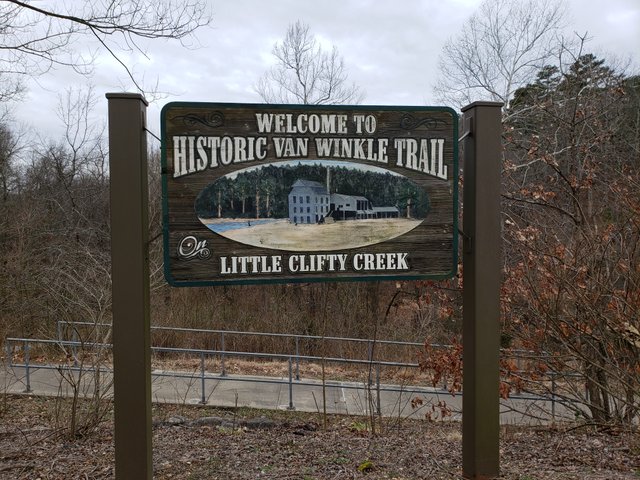 This is the site of a Civil War historical site and is well maintained.*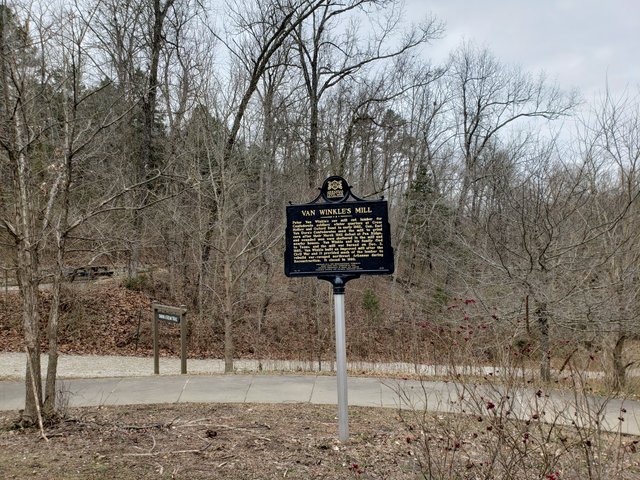 *This historical marker explains the history of this area.
Here, in this valley along the Clifty Creek, was a small community who manned a saw mill, a grist mill, blacksmith shop, and small store. The family was named the Van Winkles. This mill was there before the Civil War, but when the Confederacy came, the took the mill and used it for arming them with wood they needed for wagons and food for their troops. The mill was destroyed and rebuilt a few times. Today nothing except the foundations can be seen here. The family home was relocated to a living history museum in Oklahoma.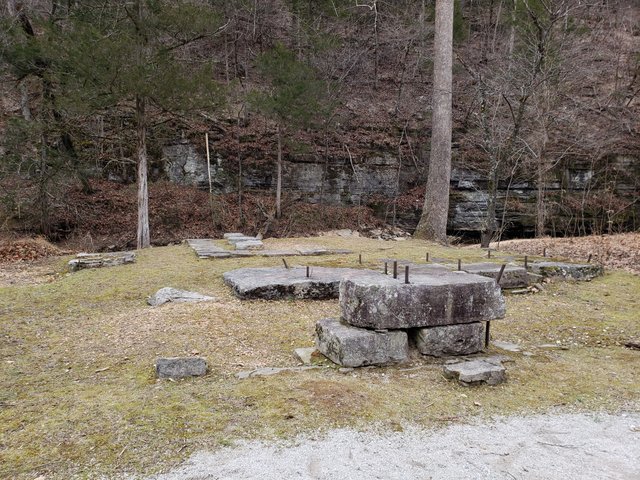 Here is the foundation of the mill along the creek.
The Sinking Creek Trail went down to the valley floor and followed the creek. It was well maintained and clear of fallen trees. In early November there had been a tornado through this area and on the drive there we saw many downed trees. The park staff and groups that volunteer had done a wonderful job making sure everything was safe and the trail marked. If you look, you can see a white mark on the tree. This is to help hikers know which trail they are one. There are about 15 different trails here, so the marking is very helpful.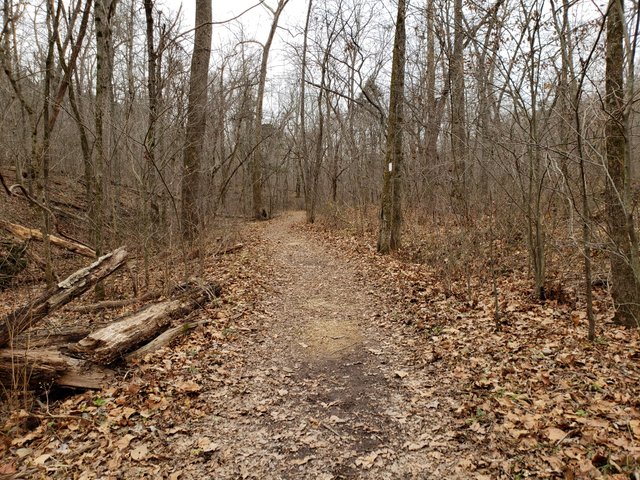 A well maintained trail that was easy to hike.
One of the things we have found about the Arkansas State Parks is that they try to preserve the historical value while still keeping the nature natural. They keep things as close to what the areas would have looked like. Because of this you will not find many trees and plants that are invasive where historical preservation is happening. However, they try to keep the "wild" spaces just as they are. No pruning of invasive plants or cleaning up feld trees off the trails.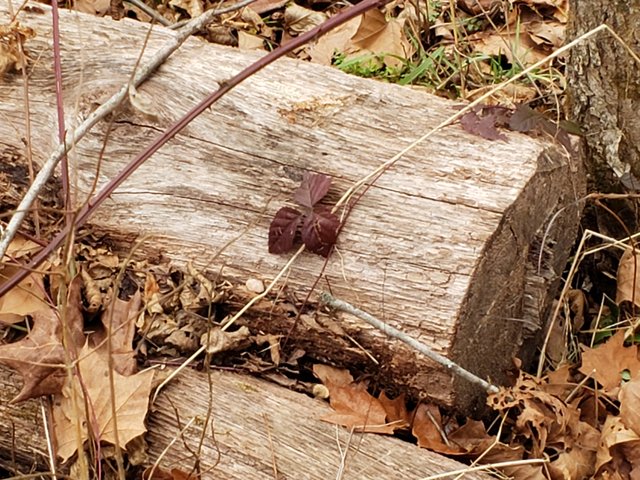 A cut log that had fallen on the been left because it was not on the trail. An invasive vine grows around it giving it a splash of winter color.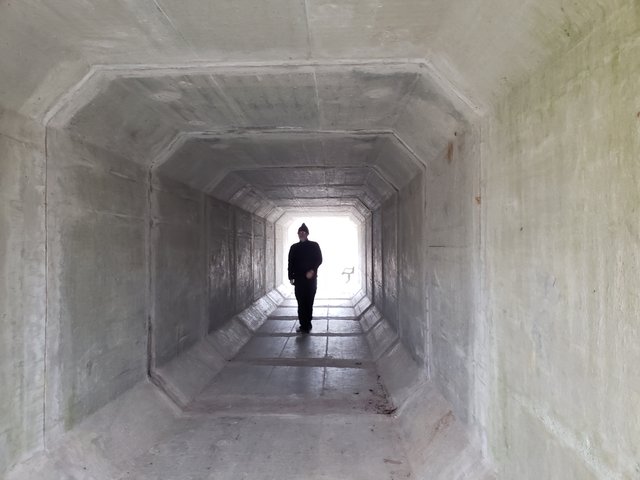 An interesting tunnel to keep people from crossing the highway to get to the trail.
The Van Winkle Historical Trail and the parking area are on opposite sides of highway 12 and it is dangerous for hikers to cross so the park created a tunnel to safely reach the historical site. Scott has a thing about singing in these places to hear the echo. The sound was actually beautiful to hear and the effect of the light behind him made a wonderful photo.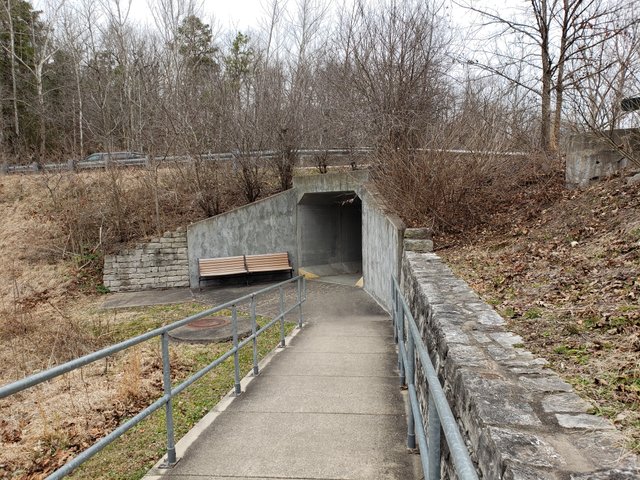 View of the tunnel entry way.
The past year, 2019, was a hard year for for me. I am determined to make this new year better than the last. My goal is to walk at least 20 minutes a day hiking when I can or just walking near where I live; keep my mind active doing various creative projects; focusing on
@steem-aide
,
@steemterminal
, and
@heyhaveyamet
; and setting goals for the future. Today was part of that change. It was a wonderful First Day Hike into a new year.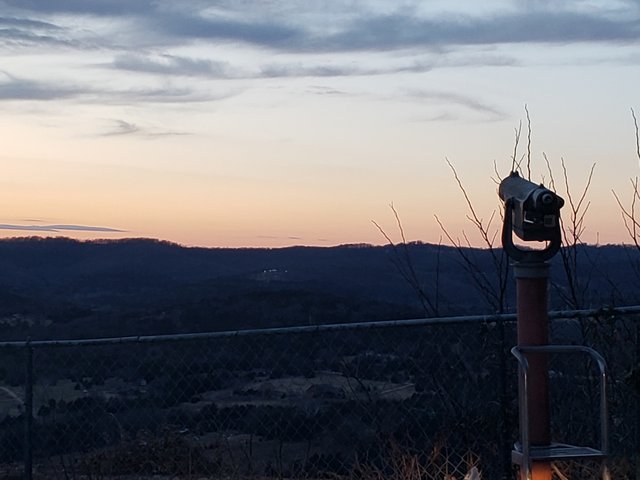 The sun setting behind the Boston Mountains near Eureka Springs, Arkansas.
Thanks for joining me on the first of MANY adventures this year.
Ren



10051