Nápad kravský ;-)
Včera jsme měli v plánu dvě rodinné návštěvy. Když jsme autem předjížděli a blížili se k jedné dominantě, kterou je poutní kostel Homol, vyslovil jsem nahlas jeden "kravský" nápad: "Co tak tam zastavit a ty schody si vyběhnout?"
Schodů je tam 153 a odpočívadel 16. Jako zdrávasů a otčenášů v růženci. Stavitel tedy určitě neplánoval, že poutník se nahoru dostane rychleji než za půl hodiny...
Ozval se jen dotaz ve smyslu "to jako vážně?" A kupodivu byl tenhle plán celkem rychle schválen pěti hlasy z pěti...
Ono to z dálky z auta vypadá jako mraveniště. A nahoře jsem několikrát v životě byl. Ale nikdy, nikdy jsem to nezkoušel vyběhnout. 😉
Zkusili jste tohle někdy bez tréninku, v nevhodném oblečení i obuvi a ještě po několika dnech, kdy se cpete kaprem, bramborovým salátem a cukrovím?
Nahoře nám nejstarší, již dospělý potomek málem omdlel a dolů jsme ji museli podepřít. Mě v půlce po přepáleném startu začaly vypovídat službu nohy a nahoře jsem byl rád, že jsem nehodil šavli... Ale všech pět nás schody zdolalo, všichni jsme přežili...
No a já slíbil, že letos už si tyhle kravský nápady odpustím. Ještě, že už to "letos" nebude tak dlouhý 😉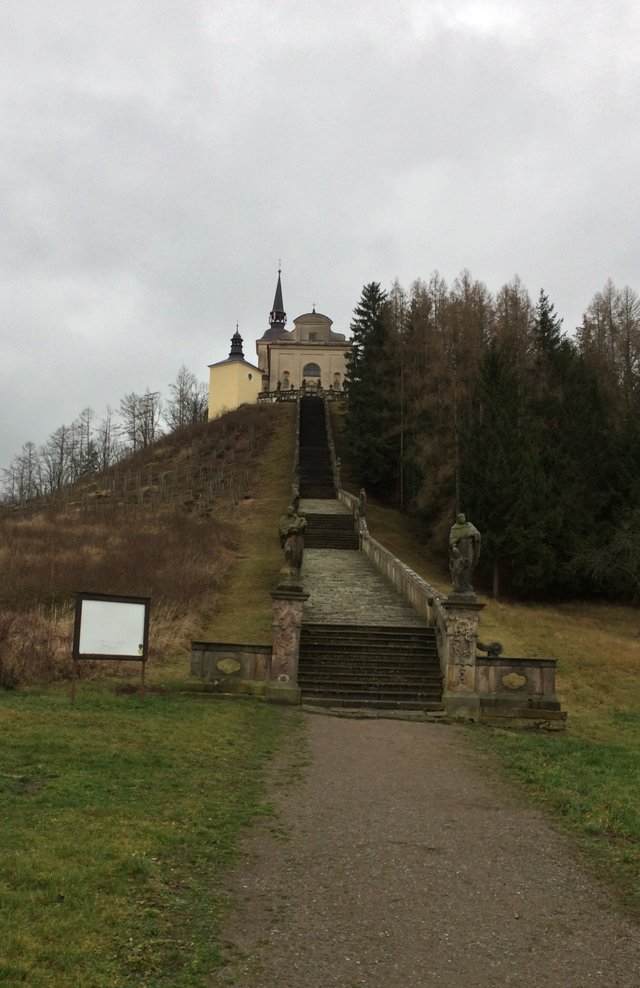 8580

Daily Activity,Walking,Running