Family Fun at Fritz's Adventure
Today's excitement can be traced back to Thursday. My Dad stopped by to pick up two of my daughters for a special birthday celebration. It is amazing how quiet things are when you lose two of your clan for a couple of days.
They went down south to #Branson (a tourist city in our area). They played at an indoor water park, ate too many cookies, and Made great memories. And today my Mom and Dad invited the rest of the family to join the celebration at Fritz's (an indoor adventure park with climbing elements, rail elements, warped walls, and more).
I hit over 10,000 steps and 9 floors (not bad since we were in the van for 2.5 to 3 hours today). I can already tell that I will be sore tomorrow. This old body is not use to scaling the heights I experienced today or diving below ground in such narrow tunnels.
As is the case with most adventures, fear can set in. Curly Q struggled most of the day. She just wanted to keep both feet on the ground, but before we left she climbed a three to four story ladder. See my last post for a video. I am so proud of her.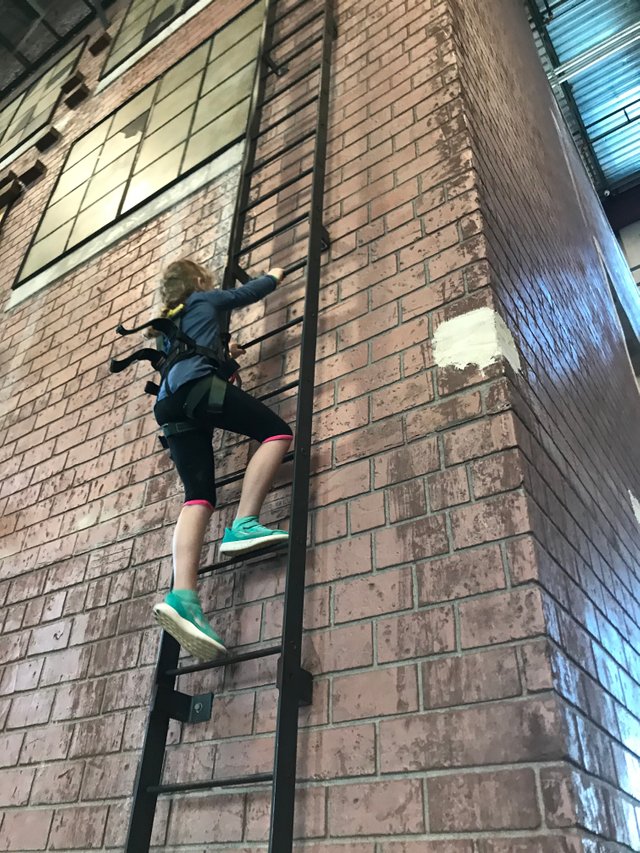 Little Guy did great. He loved all of the excitement even though he stayed on the ground. However, he missed two naps, which was not a problem until he fell asleep 15 minutes before arriving home. A late bath was not its usual enjoyable experience.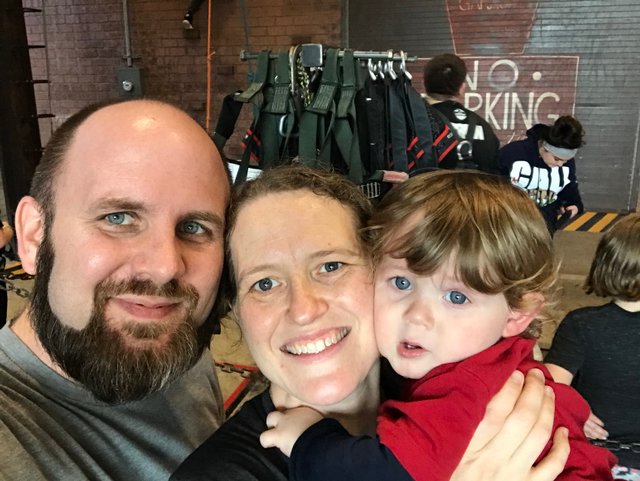 I am proud of my wife. We have both been working hard to get in shape. She is reaching her fitness goals and is the strongest woman I know. She soared high with some of our kiddos on the high rail course.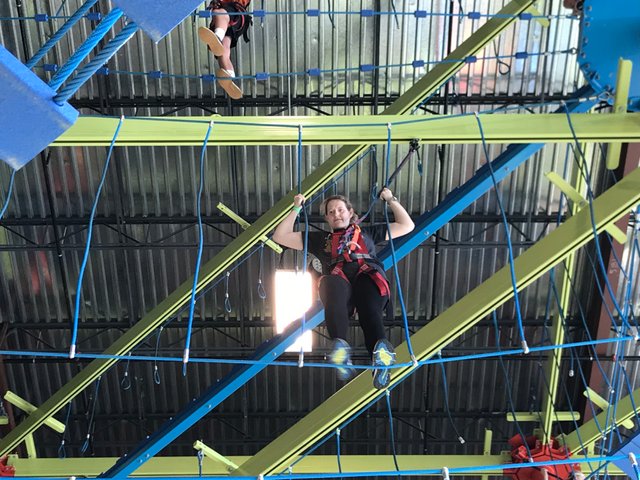 There were so many moments not captured in photos (at least note on my phone), but the memories will live on:
my oldest almost making it up the 11-foot warp wall (I bet she will make it next time)
strangers becoming friends - my second was kind and compassionate to a girl he needed some companionship today
my Mom and Dad enjoying all of the kiddos (even the big ones) having a great time
little ones needing extra help and attention (my littles are growing too fast so I need to make sure to enjoy every moment)
big smiles, laughs, and giggles
Life is lived in the moment. Life is about the present. For all the planning I do about the future, I want to make sure I live life well today. Today I did!




10240