Actifit Report Card: April 20 2019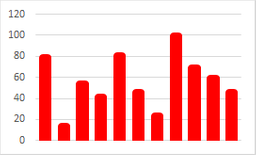 Welcome to my daily @actifit update with the overall Actifit and my personal statistics. All information is taken directly from the STEEM Blockchain.
Let me start by welcoming our new Actifitters and wish them a lot of fun and health using the dApp: @maraluca, @sukmhaske, @journey-girl, @plp93, @edyygreat, @you34, @ziatata, @yuriitonkov, @kolde, @heimleiter, @rolehadorn57, @greenmask9, @kaynly, @cuban, @anwer1, @francuzzz, @feelsogood, @erikaflynn and @hersnz.

Actifit daily results
This section provides the results of today's reward cycle. The tables and chart contain the Top 10 activity count, the category split used for the User Rank, totals of the day, the Mobile Phone OS breakdown, activity count distribution and the
@actifit
account age distribution.
I would like to congratulate @dhoian with the highest activity count of 65,526!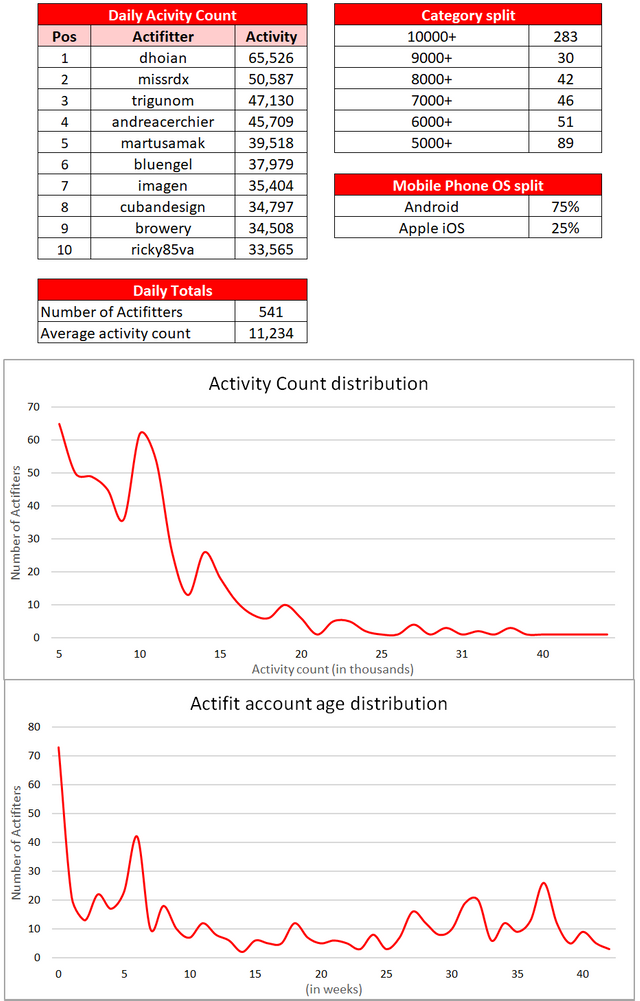 Actifit all-time results
In this section you will find the developments since the start of
@Actifit
. The following tables and charts are included:
Top 10 total activity count, this table includes the 10 accounts with the highest total activity count since the start of Actifit.
Highest daily activity count, contains the 10 accounts with the highest activity count posted in one day.
Top 10 daily number 1 positions, these are the 10 accounts with the highest Number 1 positions.
Total Top 10 positions, this table comprises of the 20 accounts with the highest number of position in the Daily Top 10.
Daily Category XXXX+ positions, these are 5 tables displaying the accounts that have posted the highest number of Activity Count in a specific range. For example, the category 5000+ is from 5000 to 5999 steps and the category 6000+ is the range 6000 to 6999 steps.
Overall Actifit account growth, provides the daily growth in new Actifit users.
Actifit retention rate, shows the number of accounts in a 10-days and 90-days period who have posted at least one report.
Mobile Phone OS breakdown, contains the breakdown in the two types of phones supported: iOS and Android.
The chart of the Top 10 Minimum & Maximum Activity Count, displays on daily basis the activity count of Position 1 and Position 10.

Rewards
Since the start of the project,
@actifit
has been providing rewards to users who posted their results. In the table below you will find the total granted rewards. The first and second chart illustrates the daily rewards development. The third and fourth chart display the daily and average STEEM distribution to Actifitters, curators & beneficiaries via upvotes. The final chart presents the daily AFIT distribution for delegation, posts and upvotes.

Personal results
Finally here is the overview of my personal performance since I started with Actifit. Results are obtained from a Fitbit Charge 3.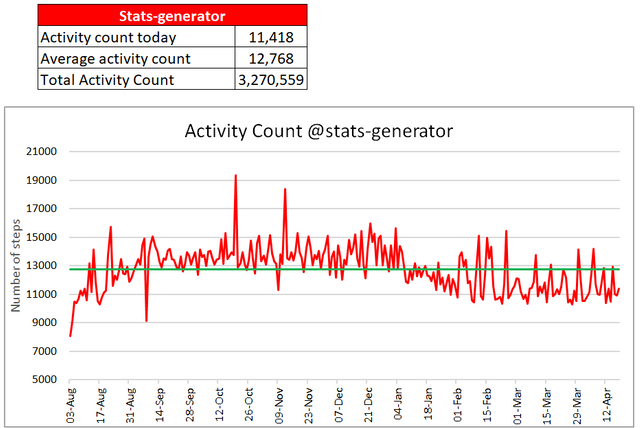 This concludes my daily update, until the next time and keep Actifying!


Vote for Actifit as a Witness
Delegate to Actifit 10SP | 20SP | 50SP | 100SP | 250SP | 500SP |
1000SP | 5000SP | 10000SP | 20000SP | Custom Amount
Chat with us on discord | Visit our website
Download on playstore | Download on app store




11418