#RunningLog - Another hard and quick run / Otra carrera difícil y rápida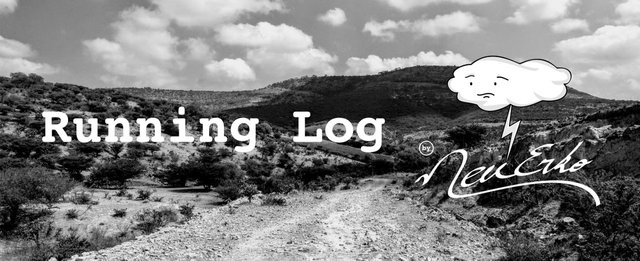 ---
¡Hola Steemians! Aquí está el Running Log del día de hoy.
Está vez si pude salir y alcanzar más de 5K pasos en la app de @actifit para poder subir mi post.
Por supuesto que no es necesario alcanzar el mínimos de 5 mil pasos para poder subir un post a Steemit, pero, trato de ponerme metas y no caer en lo simplón. Y más aún si tenemos en cuenta los cambios que han venido sucediendo, de forma un tanto inesperada, dentro de la comunidad.
El Hf21 por fin llegó y parece ser que los cambios que se plantearon han traído cosas buenas. En mi página de trending posts ahora veo más y más artículos de calidad y cada vez menos post "copy paste" con ganancias exorbitantes. Pero también he notado algunas cosas no tan buenas.
Me parece que empieza a surgir un mal uso del tan anhelado downvote que tanto habíamos esperado. Me explico.
Parece ser que grupos de usuarios, la mayoría nuevos perfiles, se empiezan a organizar para realizar downvotes masivos. Hasta ahí nada mal, verdad, el problema es cuando pareciera que los rallys de downvote no están plenamente justificados o si quiera con un poco de orden. Pareciera que simplemente se trata de hacer trolling.
Espero que esta situación no se vaya a salir de control.
Hello Steemians! Here is today's Running Log.
This time I could go out and reach more than 5K steps in the @actifit app to upload my post.
Of course it is not necessary to reach the minimum of 5,000 steps to upload a post to Steemit, but, I try to set goals and not fall into simplicity. And even more if we take into account the changes that have been happening, somewhat unexpectedly, within the community.
The Hf21 finally arrived and it seems that the changes that have been raised have brought good things. On my trending posts page I now see more and more quality articles and less and less "copy paste" posts with exorbitant profits. But I've also noticed some not-so-good things.
It seems to me that a bad use of the long-awaited downvote that we had expected so much begins to emerge. I'll explain myself.
It seems that user groups, most of them new profiles, are starting to organize to carry out massive downvotes. So far nothing wrong, right? The problem is when it seems that downvote rallies are not fully justified or even with a little order. It seems that it is simply about trolling.
I hope this situation won't get out of control.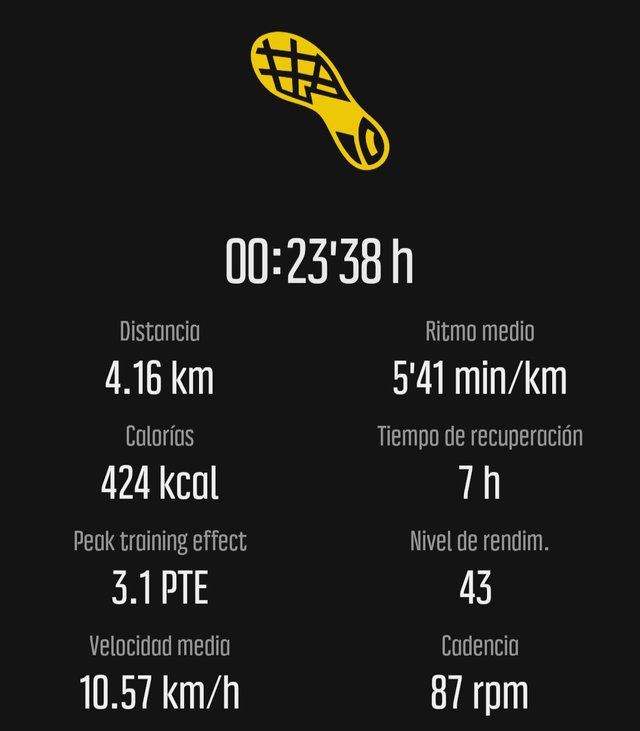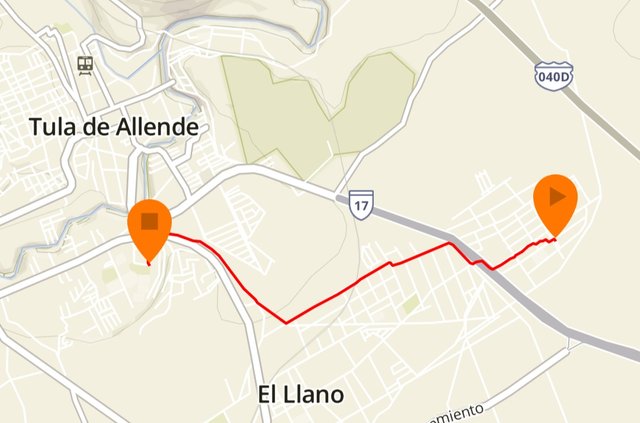 Pero volvamos al asunto principal de este post. El día de hoy esperaba que volviera a nublarse el día y poder salir a correr tranquilo. Pero no fué así.
Me ocupé con algunos imprevistos y tuve que salir tarde a correr, las nubes nunca ocultaron el sol. Me quedó poco tiempo para entrenar.
Decidí hacer un sprint de 4 kilómetros y sacarle un poco de provecho a la situación. Al final de la sesión fueron 4.16 Km a un ritmo de 5'41 min/km, nada mal si consideramos mi estado físico actual.
Espero que el día de mañana pueda hacer un poco de distancia a un ritmo más tranquilo.
Eso es todo por ahora. Hasta la próxima.
But let's go back to the main issue of this post. Today I expected the day to get cloudy again and to be able to go for a quiet run. But it was not like that.
I got busy with some unforeseen events and had to run late, the clouds never hid the sun. I had little time to train.
I decided to do a 4-kilometer sprint and get some benefit from the situation. At the end of the session they were 4.16 Km at a rate of 5'41 min / km , not bad if we consider my current physical condition.
I hope that tomorrow I can make a little distance at a quieter pace.
That's all for now. Until next time.

Steemit | Twitter | Facebook
Instagram | Movescount | Strava


9101