My Actifit Report Card: August 28 2019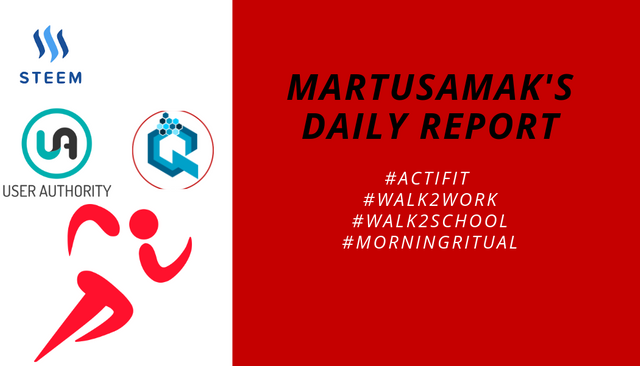 Today's entry for my #actifit daily report goes as follows:



Daily Routines
- Morning:
I woke up at 10:30
Acomplished my morning ritual (drink water, exercise for 10 min, have a great breakfast)
Took a quick bath;
Worked on my Steem projects!
Did my
#walk2work
.
- Afternoon:
I Started my workshift at 12:00;
I had lunch at 15:00.;
- Evening:
Did my second
#walk2work
of the day (I work two shifts);
Started working at 19:00;
Having dinner at 01:00;
Finishing my workday around 2:00.
Daily Goals
(Partialy acomplished)
Wake up at 10:30
Drink water;
Have a great breakfast;
Exercise for 10 min.;
Post my morning ritual activity! (failed)
Take a photo of my #walk2work or #walk2school path
Daily leaderboard position:
Resuming the Day:
Hoping to get more interaction I am looking to participate more in the comunnity!
Also strugling to get to the top 25
#AFITX
holders.
My last tow weeks haven't been great for my personal goals. My energy is being drawn by my job which is going throw it's peak season. With that volume of work I haven't been able to be more active and comunicative. Still things will get to its normal state and I will increasemy engagement with
@actifit
and its users.
Question:
Tell me what you would think about a daily competition based on one's daily habits.
How do you think it should go? Based on one individual being compensated for achieving its own daily quest? And being "punished" when not posting about its habits using the post as a proof of activity? Or something more like a random chosen name from the comments, the use of a tag, etc.?
A special thanks to:
@actifit
@steemitportugal, @steempt, @ptgram-power, @brazine
@amico, @michaelb, @definethedollar, @spectrumecons
@steembasicincome, @steem-ua, @qurator, @steem-plus, @steemraiser, @upvotebank
@banjo, @cleverbot, @automation
@djimirji
And many others that #support me…


11385