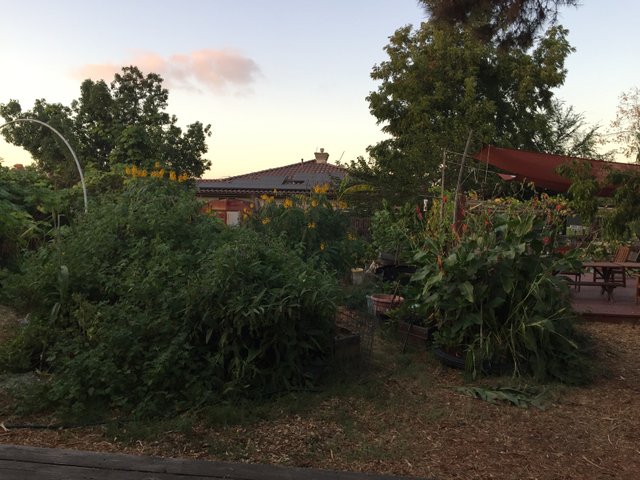 Another beautiful day in San Diego. The nights are getting crispy and the early mornings are quite cool.
Once the sun is up, it is really nice outside. My plan was to get a lot of gardening done today, but all my dudes and the dudess came over. The garden can wait!! People are more important.
Dude 1 build a blanket fort between two chairs. He stuck his head out exclaiming that he had build a kids cave.
"It's like a man cave but for kids."
Thanks for explaining, dude 😀
Everyone was too wiggly today to get a good picture.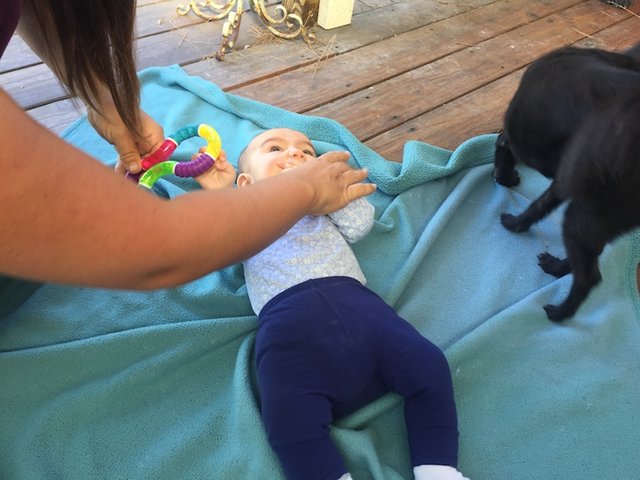 Miss BB kept wanting to check out the baby while Dude 3 was relentlessly feeding her. He knows that she gets some coconut oil on her food. Let's just say that she got a lot of that today and some landed on his pants too :)
My husband was sitting on the veranda while my daughter, daughter in law, the baby and I had moved inside to have some cobbler. Suddenly, he send me a picture similar to the one above saying: "The yard right now."
immediately, I had visions of 3 dudes with garden shears and loopers being let loose by him. I have seen what those boys can do before And some extremely weirdly trimmed trees are my witnesses.
Did you know that fall and winter is a major gardening season in San Diego? At least in the coastal areas and mostly inland as well. It gets colder the further east you go (in the summer it is the opposite- every mile further inland it gets hotter )
I will share what I am planting as I get going. Lots of travel and visitors have delayed my winter garden.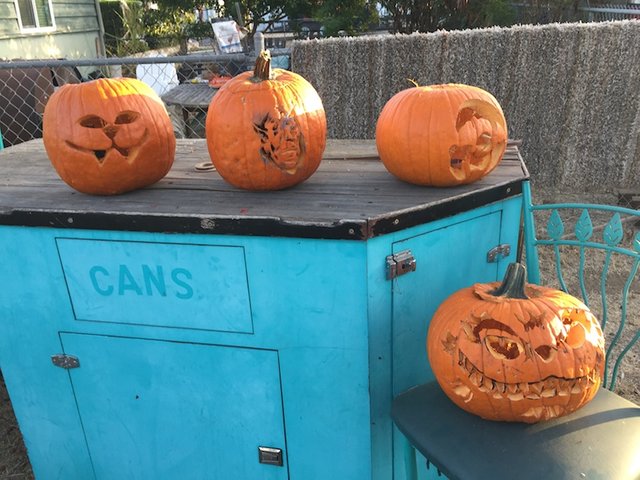 While taking Miss BB on a short walk through the Lemon Grove neighborhood, we came across these beauties. Someone had lost of fun!
I am hoping to find a lot of carved pumpkins on the 1st. They make great chicken food and enrich any compost

Join us for the daily 5 - Minute Freewrite. Check my profile for a new prompt every day.

All images are my own unless otherwise cited.
Graphics made on Canva.



Animation By @zord189

#SoCalSteemit is building and supporting the Steemit community of Southern California. If you are from SoCal and are into creating quality content here on Steemit, we'd love for you to follow us @SoCalSteemit and join our group on Discord!

Join @Actifit, become healthier by being active and earn as you walk. My referral link
Join us at the Freewrite House for fun and games!!! Weekly drawing for SBI memberships and so much more!!

And get your Freewrite House Swag here


5164