My Actifit Report Card: February 18 2020
I rode the e-bike down to the eighteen basket disc golf course this morning and played best shot doubles with a group of friends. It was really good weather for the game and nice and sunny but a little bit chilly in the morning.
Part way through the game the wind picked up a bit and my friend who was playing on my team lost his disc in the river on basket eight. Usually this happens off the tee but this time it went in on the second throw from my drive from the tee. I was worried about throwing a fast driver disc from the tee because I've come close to loosing a disc in the river from all the ground action, so I threw a putter and it landed short. The other tee shot went off into the woods pretty far away.
Basket eight is not all that hard but there is an issue with the river. If I am not to worried about it I can usually birdie the basket with my Wraith disc. You have to commit to throwing it hard enough and give it enough room to skip right on a forehand without skipping too far into the river.
We could see the disc in the water. I volunteered to go and get it but nobody wanted to take that much time off to disrupt the game. We thought maybe I could do that after the game was over but by the time we had finished everyone had forgotten about the disc. Oh well, I know where it is so maybe we can get it tomorrow.
The rest of the day I did some work around the house and mowed the yard. The grass grows slowly this time of year but if it gets nice enough to partially dry out, I like to mow it. The grass is very green this time of year.
Here's a picture of tonight's dinner: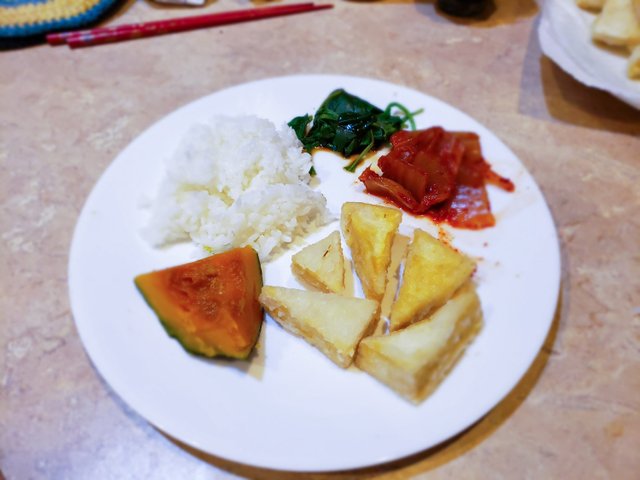 Rice, deep fried tofu, pickled cabbage, squash and some other condiments. Yum.
---
Thanks for reading! I always value your support and comments. The pictures were taken by me with my Galaxy S9+. Text and graphics copyright lightsplasher & litesplasher.

---


13828

Cycling, Daily Activity, Golf, House Chores, Yard Work