My Actifit Report Card: February 13 2020
I rode the e-bike down to the eighteen basket disc golf course and played a couple rounds with my friends. I'm feeling a little tired out tonight and walking around a bit stiff. I think I'll take it easier tomorrow just in case the tournament get played on Saturday. It has been rescheduled the last few weeks because of the weather.
Today's game was fun but by the second round I think everyone was getting tired and the scores were not so good. The tee pads were slick from the rain and the wind was kicking up again.
The weather was not nearly as nice as it was the day before.
A lot of people have been very interested in disc golf and have asked how much it is to get started. I think it is nice that the game is getting so popular.
I have heard that the money from the tournament is planned to be used for some new turf tee pads. That would sure be nice. One of my friends was suggesting we all get together and do a big party for putting in some concrete pads. I like throwing off concrete pads the best and they would last a lot longer.
Here's a picture of tonight's sunset: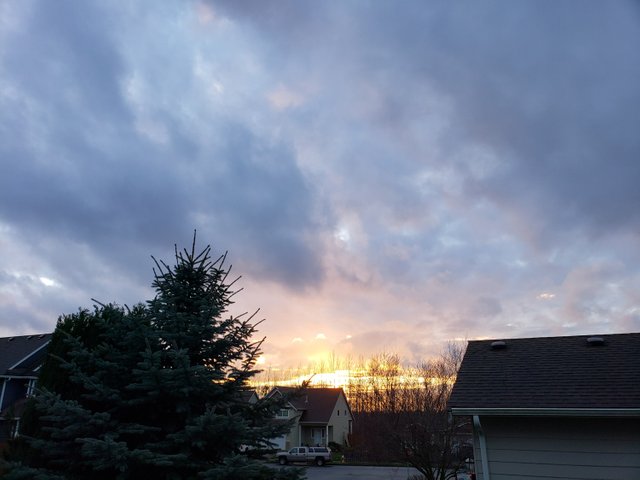 My friend managed to convince me to sell my Mamba disc to him. He had been using it a lot lately and liked it and said it was broken in just right. I don't typically throw that disc much so I thought that would be fine. I liked the disc but when someone really likes it, I like letting them have it, if I'm not using it that much.
I guess I need to fill the really understable driver spot and put the Tenacity back in the bag.
I hope everyone has a Happy Valentine's Day tomorrow! 💕💖❤
---
Thanks for reading! I always value your support and comments. The pictures were taken by me with my Galaxy S9+. Text and graphics copyright lightsplasher & litesplasher.

---


16142

Cycling, Daily Activity, Golf, Walking