My Actifit Report Card: February 12 2020
Today I met a friend for a disc golf round at the eighteen basket course. The weather was really nice and the first round went well although we were not keeping score. By the second round we were both playing in tee shirts.
On basket eight my friend has been doing some really nice spike hyzer throws that go extreemly high and wide out over the river to land planting vertically in the soft muddy ground next to the basket.
I usually throw a forehand line skipping up on the ground. There's maybe a fifty fifty chance at a birdie when the wind is calm but it us usually safer for me because when things go bad it doesn't usually head for the river. There's a tree blocking the lower backhand hyzer line that I usually take and a high spike hyzer is not in my bag of tricks of shots I practice much.
We both took our respective shots. My friends arced over very empressively to land in a pretty good spot. Mine was not the best forehand drive and skipped close to the edge of the bank but still safe for putting. My friend dared me to take the backhand hyzer line. The gantlet was thrown. I looked in my bag for a sacrificial over-stable disc and the Boss came to mind. It was too light to really throw the same as my other drivers and it might float if it ended up in the river.
I tossed it over and it landed safely but short of the basket. It was not nearly as high and nice looking a throw as my friends. Not to be outdone and inspired by my partial success, I decided to try a disc I thought I could get out over the river and around the tree with. My red Shryke disc seemed like a good choice.
But... we watched as the Shryke turned up and out towards the river and it was obvious there was not enough hyzer and height on it. It landed here: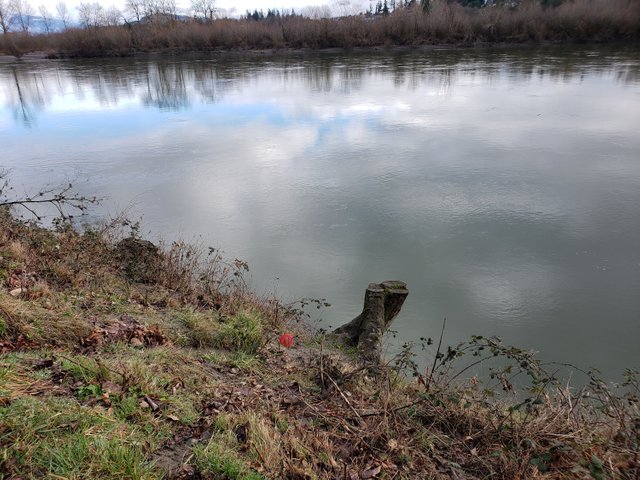 Lucky for me the ground was soft and there was enough of a spike hyzer fade on it to have it plant nicely into the ground. That is two days in a row that I have been really lucky not to have this disc get lost.
Later on in the round we were not so fortunate.
My friend tossed a really light under-stable midrange driver on a longer throw and it bounced off a tree. The disc floated very nicely after the tree contact... right into the river.
He was understandably a bit upset after that although he did not say too much. I had given him this disc a few days ago, after I found it on another course and he was having really good results throwing it on many difficult lines.
We may have to contact a scuba diving club and entice them to come out and recover our discs someday, lol. Maybe this summer if the water gets warmer and clearer we might recover some of them.
---
Thanks for reading! I always value your support and comments. The pictures were taken by me with my Galaxy S9+. Text and graphics copyright lightsplasher & litesplasher.

---


14770

Cycling, Daily Activity, Golf, House Chores, Walking