My Actifit Report Card: February 10 2020
The weather was nice today but a bit chilly. At least it wasn't raining. I was feeling a bit tired so I decided not to do too much and took a long nap in the afternoon. Dog-oh was really not doing well yesterday for some unknown reason. He was shacking and jittering more than usual and keeping me awake. He seems fine now though.
Today I just paced around the house and did a bit of cleaning. I need to do the taxes too which is always fun but that doesn't produce much physical activity.
I should not have to pay much this year and should get a refund since I didn't make much. It looks like things are shaping up better for this year but I don't like to make predictions.
If it is not raining too much tomorrow I might head out to one of the more difficult disc golf courses around here. It is doubtful I would be able to play the entire course because I'm not really that into avoiding all the seasonal water hazards and potential loss of discs and wet feet from them.
Here's a picture of tonight's dinner: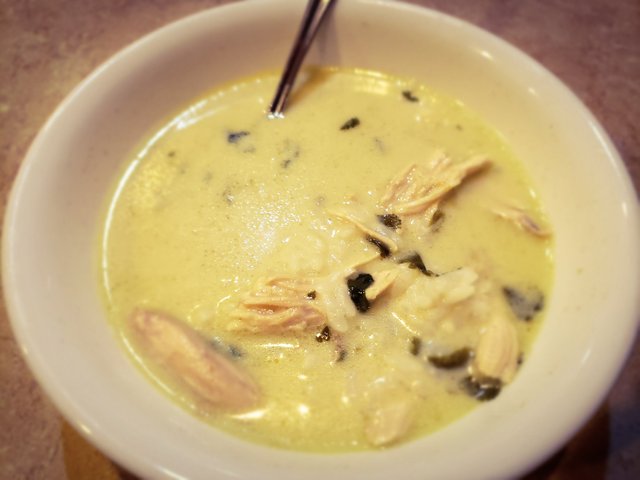 It was a really tasty green curry chicken and rice dish. There were some home grown lime kaffir leaves in the soup. They really add some flavor but it is kind of odd seeing the house plant tree's leaves in your food. The tree has really not done too well the last few years since the climate around here is not very good for this type of tree. Hopefully eating a few of its leaves will encourage it to grow more.
---
Thanks for reading! I always value your support and comments. The pictures were taken by me with my Galaxy S9+. Text and graphics copyright lightsplasher & litesplasher.

---


5015