Good evening Steemians!
I hope everyone had a wonderful time during the holidays and the new year celebration. Yay! We made it to 2019. 2018 certainly felt like a blur. There were periods where it felt like limbo and other times it felt like a fleeting dream. Other times I felt I was tumbling on a raft in a whirlpool of craziness. Hopefully I'm a lot stronger now than I was before.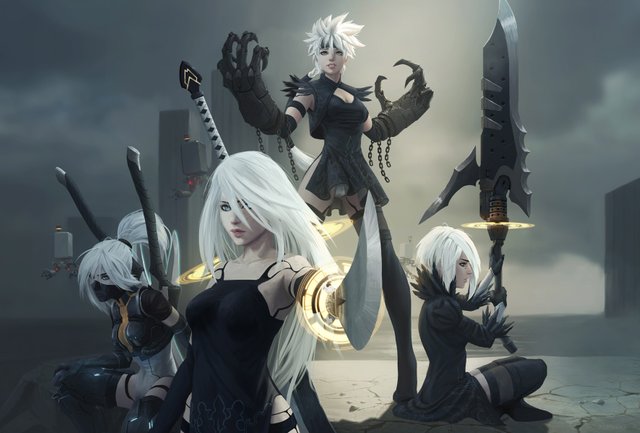 Fanart from NieR Automata. Yorha unit A2 and her team drawn by Paul Remy
January 2nd was my first day back at work. I wasn't expecting to have so much trouble coming into work. My entire shift was devoted to one issue. And it couldn't get resolved in a day despite all my coworkers, supervisor and their boss working the issue. It's one of those things that's the cornerstone of the department and the root of the problem came from higher up where they pushed policy down and made changes without consulting our team of the potential impacts. I'm glad my team tried to help rather than leaving me alone to take on all the responsibility. Giving up on collaboration and working with the teams in another department. We adopted and made our own solution with some sacrifice. But at least that server is working today at the last few minutes of my shift.
I can't believe it's Friday tomorrow, it's practically time to debrief the department before everything starts up again full steam on Monday. Despite all the craziness and all these critical projects. I still have work from before I went on vacation and work from this week today. I was complaining to a subordinate that I admire those that can handle four or more major projects. I'm often stubborn and persistent and work on a single project until it's impossible, unfeasible, get pulled away for another project or it gets completed but that is Soo rare. Often projects get delayed until it's forgotten.
Yesterday I wanted to post on actifit but I was literally falling asleep on the keyboard. Rather than torturing myself I rested.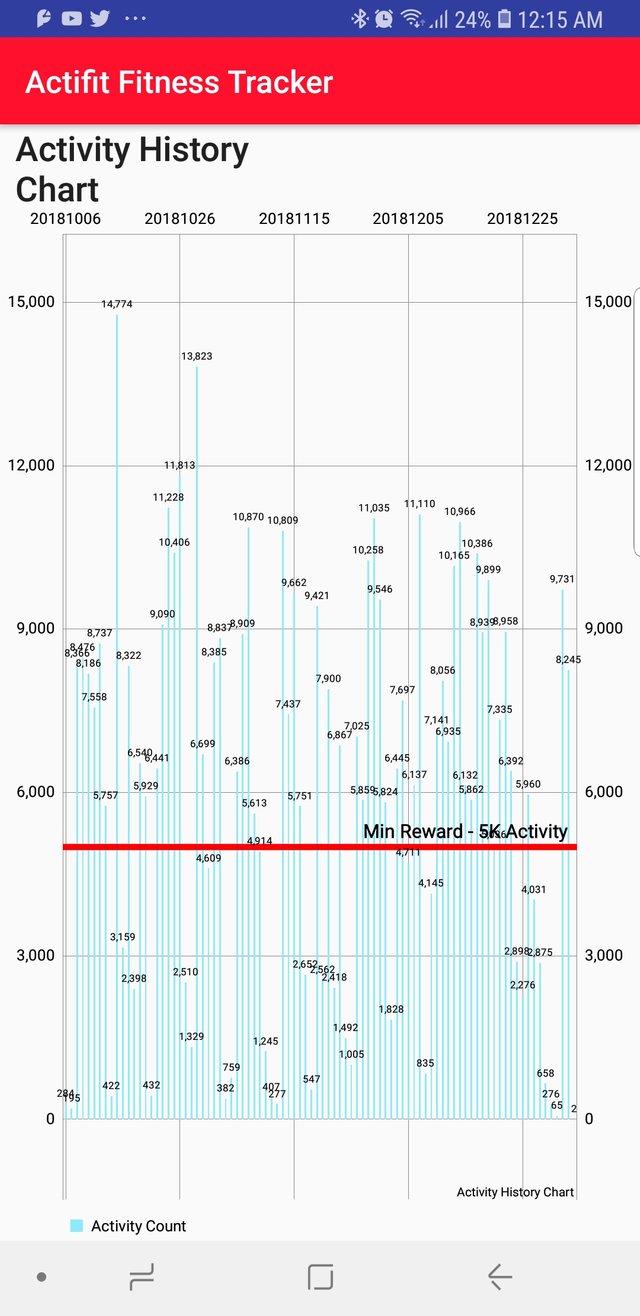 Hopefully tonight can be my first nice of restful sleep. Today the electrician came and fixed my electrical circuit. Turns out the wiring in the attic got burned out. He found the segment that was burned and chard up and replaced it. Almost good as new. He's going to come back this Saturday and having a meeting with my mum and I and hopefully we can discuss upgrade the fuse box to a circuit breaker and hopefully upgrade the capacity from 100 amps to 200 amps make it a modern home. But there's a possibility to expand the capacity of my bedroom/office/server room/mining farm with a subpanel or separate circuit so my shenanigans don't affect the rest of the house XD I'm really crossing my fingers for a good quote.
Jan 2nd I managed to go back to the gym for the first time since Dec 27th and went again today. Minor lose in gains but stronger in others. I showed my supervisor my checkins to the gym over my vacation, he often spends more time at the gym than he does at home and he was shocked I went to the gym more than he did during the holiday break. It was very pleasing!
I'm getting more an more consistent in my endurance if running a mile at a steady speed of 4.5 miles per hour and time of 13 minutes and I think 20 to 45 seconds. I'm steadily increasing on the weight machines but I still don't feel confident in my ability to handle free weights with the big muscle guys o.o I'm pretty sure they can pick me up and start benching me and ask me to hold extra weight for them!
There were some good dance songs I listened to at the gym and some that helped motivate and inspired me not just to do well at the workout but to aspire to something greater and not be held back by our circumstances, our fear and our own doubt. We have to look up high, challenge ourselves and work on our craft and passion day after day and when we look back - we'll be astonished of the accomplishments we achieved
For the dance tune I kept on loop a remix of a retro Sonic the hedgehog game from the OCReMix.org community. It was so catchy I couldn't but do a little dance on the machines. Was a bit of fast tempo, synth, electrica and trance. I hope you guys enjoyed as much as I did!
Sonic the Hedgehog 'Childhood (Act 2)' [Act Clear, Green Hill Zone] by Paul John
Normally I'm not much into rap, but I found this song also another remix from a retro Sonic game that I felt had a good message about humble beginnings, working hard in our passion, appreciating the good vibes from our loved ones, striving to do better and giving back. This tune is hip-hop and chill. Sometimes listening to the lryics of this song makes me tear because in one way or another we've all been in a similar situation.
Sonic the Hedgehog 3 'Memories Frozen in Time' [Ice Cap Zone: Act 1] by DCT, Just Us
Hearing the remix Memories Frozen in Time made me think back of the '90s. From the time of toonami. I remember my parents didn't care for cartoons but anime often has powerful messages that gives us perspective and some good lessons. Most of the 90s toonami tunes were chill beats but went so well to their music videos.does anyone else remember this video? Heh got to love the nostalgia
Toonami - Broken Promise [Dreams]
Hope you guys are enjoying the new year and all that it has to offer, take a chance, reach for new opportunities and hopefully this will be a prosperous year. Have a good night!


8245

Daily Activity, Jogging, Moving Around Office, Running, Treadmill, Walking, Weight Lifting