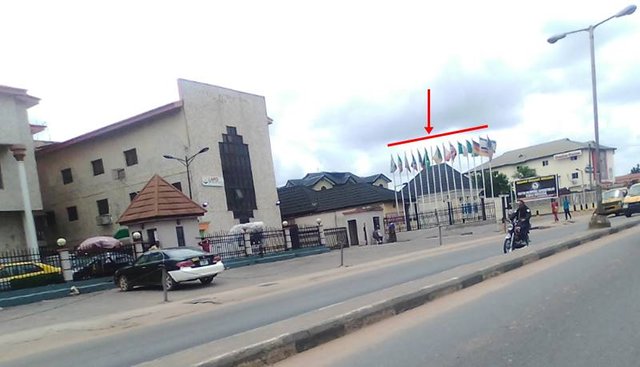 Hello friends🕺,
Thanks for dropping by,
My day started with a journey to the office, I haven't been able to go for morning walks because I am exhausted when I go to bed and I've got loads of work waiting for me at the office. And today was like others, had meetings with a client that took loads of my time, we were trying to get agreement of final structure and pricing for their project. The chocking part of it is that the event is billed to happen next week Saturday, adverts and publicity should be at its' peak by Monday so everyone is now under pressure to make sure they succeed.
My afternoon dragged on in the same manner but I was able to go get some late lunch before rounding up and heading home. On my way home I observed this church with loads of flags, I could grab the name but I saw International Church at the end. So I wonder, is it the flags that make it international? Lol.
After having dinner I went for a walk in the evening to lighten myself a bit before hitting the sack. That is all I can monster for today, really need that sleep badly.
Before crashing light goes out enjoy this song by Harrysong and friends "Reggae Blues". Hope you can feel the beat. Lol.
https://www.youtube.com/watch?v=C4nT3Od5cxI
Harrysong - Reggae Blues ft. Olamide, Iyanya, Kcee, Orezi
Thanks for reading my post, like I always say, upvote it if you liked it I'll truly appreciate that. Keep your comments coming and follow me if you have not already done that. Again, thanks a lot for your support to me always.

<br><img src="https://cdn.steemitimages.com/DQmXv9QWiAYiLCSr3sKxVzUJVrgin3ZZWM2CExEo3fd5GUS/sep3.png"><br><table> <tr> <img src="https://cdn.steemitimages.com/DQmRgAoqi4vUVymaro8hXdRraNX6LHkXhMRBZxEo5vVWXDN/ACTIVITYCOUNT.png"> </tr> <tr> <div class="text-center"><b>5325</b></div> </tr></table><table> <tr> <img src="https://cdn.steemitimages.com/DQmZ6ZT8VaEpaDzB16qZzK8omffbWUpEpe4BkJkMXmN3xrF/ACTIVITYTYPE.png"> </tr> <tr> <div class="text-center"><pre><b>Daily Activity, Moving Around Office, Walking</b></div></pre></div> </tr></table><div class="text-center"><img src="https://cdn.steemitimages.com/DQmNp6YwAm2qwquALZw8PdcovDorwaBSFuxQ38TrYziGT6b/A-20.png"><a href="https://bit.ly/actifit-app"><img src="https://cdn.steemitimages.com/DQmQqfpSmcQtfrHAtzfBtVccXwUL9vKNgZJ2j93m8WNjizw/l5.png"></a><a href="https://bit.ly/actifit-ios"><img src="https://cdn.steemitimages.com/DQmbWy8KzKT1UvCvznUTaFPw6wBUcyLtBT5XL9wdbB7Hfmn/l6.png"></a></div>