11K on another hot day!
The sun was out and it was in the upper 90s today. We are well into October and it's still these high temperatures, amazing!
I didn't go out during the afternoon because it was too hot, so I waited until tonight to take a nice walk. I saw a half moon out there and it looked nice.
Today I played a lot of #steemmonsters and got a nice set of four cards from doing a daily quest. Check it out! I got one of each type of card: common, rare, epic, and legendary. 😎👍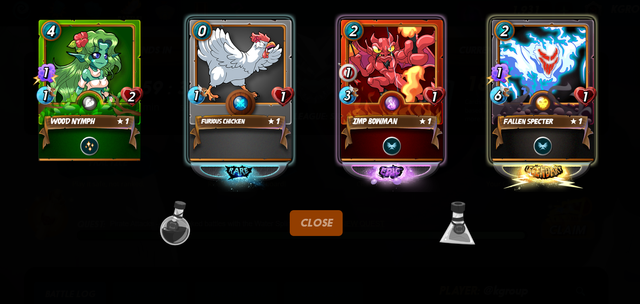 I also played #EOS #Prospectors and I'm doing pretty well at that. The CPU limit error seems to be gone today. What a relief; that was a pain!
I also have been trading both CAT, and CATS and KITTENS tokens on steem-engine. I'm trying to accumulate tokens from both projects. The CAT project will comment some of your posts with cute cat pictures and up vote your posts. The CATS project will give you 1 KITTENS for each CATS that you have, every day. Then you can trade in your KITTENS for one CATS at a rate which is determined by the most recent sale price of a CATS token in Steem. If you didn't understand that, read it again or ask me questions in the comments! It's pretty easy to understand once you see it in action over on steem engine. What's your favorite token over there on steem engine?
well it's Friday so I hope you had a great day and I wish you a great weekend ahead!!! ❤👍❤


11033