Punch in this life 打卡今生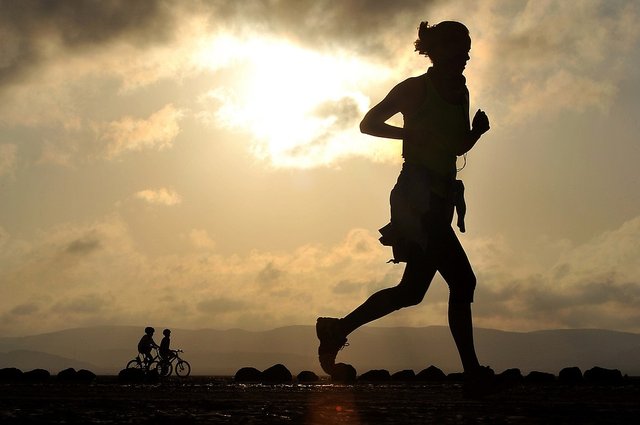 Source
After dinner, walking along a path beside the residence, enjoying the green waves and the afterglow of the sunset while the wind blows the seedlings. It was beautiful. At that time, my mind was only concerned with counting the accumulated Actifit, and forgot to take pictures of this beautiful evening scene with my mobile phone. Unfortunately, it was a pity.
At dusk, a few farmers were still busy working in the farmland beside the road. Not far away, there were several graves. I couldn't help but think of a passage in The Heart of Wisdom Eye Zen:
They are eager to grow up and then lament the lost childhood.
They trade health for money, and soon they want to use money to recover.
They are anxious about the future, but ignore the happiness of the present.
Therefore, they live neither in the present nor in the future.
They live as if they would never die.
Before dying, it was as if they had never lived.
Alas! This unfathomable life is so elusive that only the real wise man can see through the sky.
However, Buddha and Jesus are far away from us. How can we save ourselves and punch in this life?
Don't ask me, Master Ming is in your heart.
---
晚饭后,到住所旁边的一条小道上信步,边走边欣赏风吹禾苗的绿浪和落日的余辉,美极了,当时心里只顾着累积Actifit的计数,忘记用手机拍下这黄昏美景,可惜了。
黄昏下,路边的农田里还有几个农人在忙活,不远处有几座坟,心里不禁一动,想起《慧眼禅心》中的一段话:
(人们)他们急于成长,然后又哀叹失去的童年;
他们以健康换取金钱,不久后又想用金钱恢复健康。
他们对未来焦虑不已,却又无视现在的幸福。
因此,他们既不活在当下,也不活在未来。
他们活着仿佛从来不会死亡;
临死前,又仿佛他们从未活过。
唉!这深不可测的生命,让人如此难以捉摸,唯有真正的智者方能窥破天机。
然而佛陀、耶稣已离我们远去,我们该如何拯救自己,打卡今生?
莫问我,明师在你心中。



5894