So war mein 9.11.89 Mein Mauerfall erleben...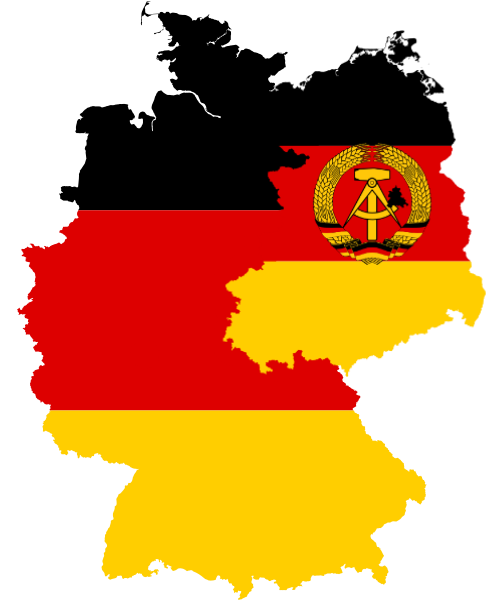 [DE] Mein Mauerfall
Heute vor genau 30 Jahren fiel die Mauer. Was ein Ereignis und ich war dabei. Am 9.11.1989 war ich gerade mal 8 Jahre alt und stand kurz vor meinem 9. Geburtstag. Es war ein Donnerstag und wir aßen gerade gemeinsam mit meinen Großeltern unser Abendessen. Wie jeden Tag pünktlich um 17:30.
Nach dem Abendessen so gegen 18:15 Uhr wollte mein Opa dann seine Sendung schauen welche aber nach seinen Angaben aber durch die Pressekonferenz vom Politbüro ausgefallen ist.
Ich selber saß zu derzeit an meiner Modelleisenbahn, welche ich 2 Jahre zuvor zu Weihnachten geschenkt bekommen habe. Auch das war ganz typisch für mein Leben, ich liebte diese Modelleisenbahn. Plötzlich hörte ich es im Haus schreien und war total erschrocken. Meine Großeltern sprangen herum und freuten sich. Sowas hatte ich so direkt zuvor noch nie gesehen. Meine Mutter hingegen war irgendwie nicht so gut drauf.
Was ich sagen will, sie war bei der Stasi, arbeitete wie heut auch noch in der Stadtverwaltung und wir hatten dadurch ein recht angenehmes leben. Was mir noch einigermaßen in Erinnerung geblieben ist, wie oft damals das Telefon klingelte. Meine Großmutter war Oberschwester in der damaligen Poliklinik in Calbe/Saale und meine Mama wie erwähnt bei der Stadtverwaltung. Ausreichende Gründe um ein Telefon besitzen zu dürfen.
Jede Menge fragen kamen wohl auf bei Kolleginnen oder besorgten Bürgern. Jedenfalls stand dieses Telefon am Abend nicht mehr still.
Der nächste Schultag war dann ganz klar unter dem Thema Grenzöffnung gestanden. Dazu hab ich mich mit Mitte 20 noch mal mit meiner damaligen Klassenleitung unterhalten. Sie war zu der Zeit sehr irritiert, als Lehrerin natürlich dem Sozialismus verschworen, aber als Privatperson in freudiger Erwartung.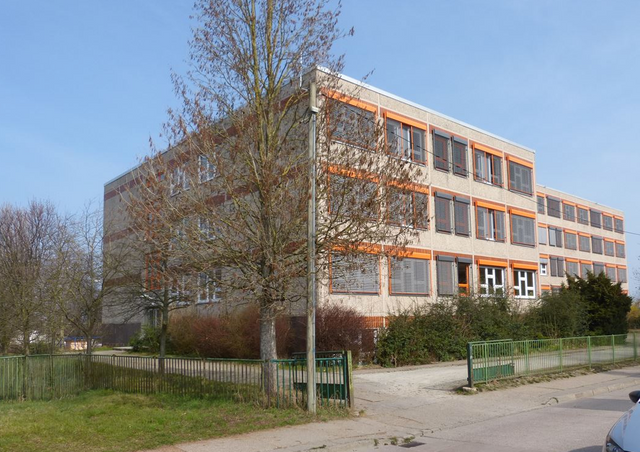 früher Ernst - Thälmann - Schule , heute J.-G. Herder , Quelle
Nun sie machte natürlich gewohnt mit dem Unterricht weiter, jedoch immer mit den Worten der Sozialismus wird ganz klar bleiben. Sie hatte auch nicht vermuten können das es ein Jahr später dann zur Wiedervereinigung von Deutschland kommt.
Ja das waren sie schon die Momente für mich. Ich erzähl euch im zweiten Abschnitt aber noch was über meine Kindheit in der DDR.
(EN)The Fall of the Wall
Exactly 30 years ago today the wall fell. What an event and I was there. On 9.11.1989 I was just 8 years old and was about to celebrate my 9th birthday. It was a Thursday and we just ate our dinner together with my grandparents. Like every day punctually around 17:30.
After the dinner about 18:15 o'clock my grandfather wanted to watch his show which was cancelled by the press conference of the Politburo.
I myself sat to at present at my model railway, which I got 2 years before to Christmas given. Also this was quite typical for my life, I loved this model railway. Suddenly I heard it scream in the house and was totally shocked. My grandparents jumped around and were happy. I had never seen anything like it before. My mother on the other hand was somehow not in such a good mood.
What I want to say, she was with the Stasi, worked like today also still in the city administration and we had thereby a quite pleasant life. What I can still remember is how often the phone rang. My grandmother was the head nurse in the former polyclinic in Calbe/Saale and my mum was, as mentioned, in the city administration. Sufficient reasons to be allowed to own a telephone.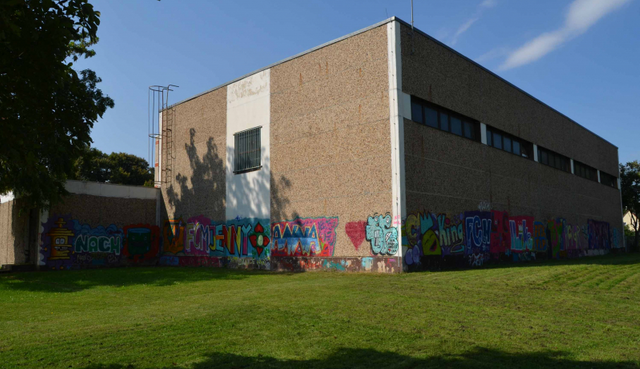 Sports hall of the school , Quelle
A lot of questions probably came up at colleagues or worried citizens. In any case, this telephone was no longer at a standstill in the evening.
The next school day was clearly about the opening of the border. In addition I talked again with my class management in the middle of my 20s. At that time she was very irritated, as a teacher naturally conspired to socialism, but as a private person in joyful expectation.
Well of course she continued with the lessons as usual, but always with the words socialism will remain very clear. She had also not been able to suspect that one year later the reunification of Germany would take place.
Yes, they were the moments for me. But in the second section I'll tell you something about my childhood in the GDR.
---
[DE] Hymne
Auferstanden aus Ruinen
und der Zukunft zugewandt,
laß uns dir zum Guten dienen,
Deutschland, einig Vaterland.
Alte Not gilt es zu zwingen,
und wir zwingen sie vereint,
denn es muß uns doch gelingen,
daß die Sonne schön wie nie
über Deutschland scheint.
Glück und Friede sei beschieden
Deutschland, unserm Vaterland.
Alle Welt sehnt sich nach Frieden,
reicht den Völkern eure Hand.
Wenn wir brüderlich uns einen,
schlagen wir des Volkes Feind.
Laßt das Licht des Friedens scheinen,
daß nie eine Mutter mehr
Ihren Sohn beweint.
Laßt uns pflügen, laßt uns bauen,
lernt und schafft wie nie zuvor,
und der eignen Kraft vertrauend,
steigt ein neu Geschlecht empor.
Deutsche Jugend, bestes Streben
unsres Volks in Dir vereint,
wirst du Deutschlands neues Leben.
Und die Sonne, schön wie nie
über Deutschland scheint.
[ENG] Anthem
Risen from ruins
and turned to the future,
let us serve you well,
Germany, united fatherland.
Old misery must be forced,
and we force them together,
for we must succeed,
that the sun is more beautiful than ever
about Germany.
Happiness and peace be upon us
Germany, our fatherland.
All the world longs for peace,
reach out your hand to the nations.
When we unite fraternally,
we beat the people's enemy.
Let the light of peace shine, that no mother will ever be
Weeping over her son.
Let us plow, let us build,
learns and creates like never before,
and trusting in his own strength,
a new sex rises.
German Youth, Best Striving
our people are united in you,
you'll be Germany's new life.
And the sun, more beautiful than ever
about Germany.
---
[DE] Meine Kindheit in der DDR
Mir hat es an nichts gefehlt. Im Gegenteil. Wenn ich mir die heutigen Kinder anschaue, ihnen fehlt Freiheit. Ich konnte raus, musste nicht extrem aufpassen das mich ein Auto überfährt. Meine Eltern brauchten keine Angst haben wenn ich mit 6 Jahren allein zu meiner Oma ging. Ich hatte Betreuung in der Schule, wir haben unsere Hausaufgaben dort machen können. Es wurde sich auch darum gekümmert das wir die Hausaufgaben auch machen. Heut erlebe ich das sehr sehr häufig anders. Ich für meinen Teil hab dann noch Handball gespielt und das nicht nur so als Hobby sondern richtig gut gefördert. Eltern brauchten nicht tief in die Tasche greifen um die Kinder in Vereinen zu haben.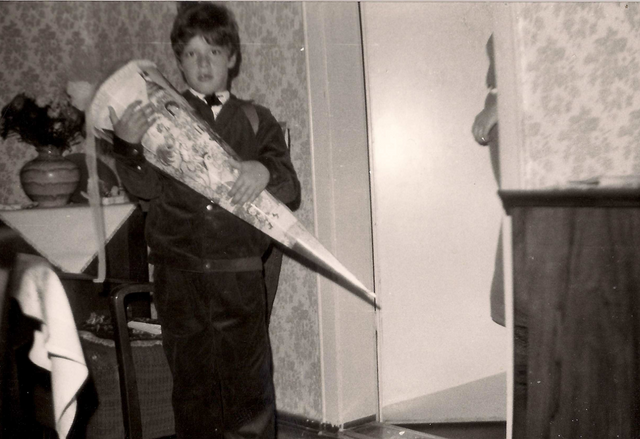 Ich hatte ein Jugend und Kinderclub direkt neben der Schule ähnlich eines heutigen Jugenszentrums, wo sich aber viel mehr um die Kinder gekümmert wurde die waren auch Samstag und Sonntag offen.
Ich hab am Wochenende meist Zeitungen gesammelt um mir damit ein Taschengeld zu verdienen und ich war Samstags noch in der Schule. In den 8 Wochen Sommerferien war ich im Ferienlager in Dabel und hatte dort meinen Spass. Was soll ich sagen, uns ging es doch allen recht gut und uns war nicht langweilig.
Was in der Schule etwas nervig war, die Anzüge der Jungpioniere. Blaues Halstuch, weißes Hemd und Mütze. Aber egal, wir waren es gewohnt. Genau wie den Fahnenappell jeden Montag.
Wir Jungpioniere
lieben unsere Deutsche Demokratische Republik.

Wir Jungpioniere
lieben unsere Eltern.

Wir Jungpioniere
lieben den Frieden.

Wir Jungpioniere
halten Freundschaft mit den Kindern der Sowjetunion und aller Länder.

Wir Jungpioniere
lernen fleißig, sind ordentlich und diszipliniert.

Wir Jungpioniere
achten alle arbeitenden Menschen und helfen überall tüchtig mit.

Wir Jungpioniere
sind gute Freunde und helfen einander.

Wir Jungpioniere
singen und tanzen, spielen und basteln gern.

Wir Jungpioniere
treiben Sport und halten unseren Körper sauber und gesund.

Wir Jungpioniere
tragen mit Stolz unser blaues Halstuch.
Wir bereiten uns darauf vor, gute Thälmann-Pioniere zu werden.
So war es, ja und wir haben uns an die Gebote gehalten. Wir haben sogar für ältere Menschen noch freiwillig den Platz im Bus frei gemacht das sich diese setzen können. Rückblickend betrachtet war es eine gute Zeit. Als Kind hast du auch keine Reisefreiheit vermisst, da war es eine Weltreise wenn du mit dem Fahrrad eine Gegend erkundet hast, welche du zuvor nie allein betreten hast. Da war ein Urlaub an der Ostsee oder im Erzgebirge einfach spannend genug. Warum auch weiter weg Reisen.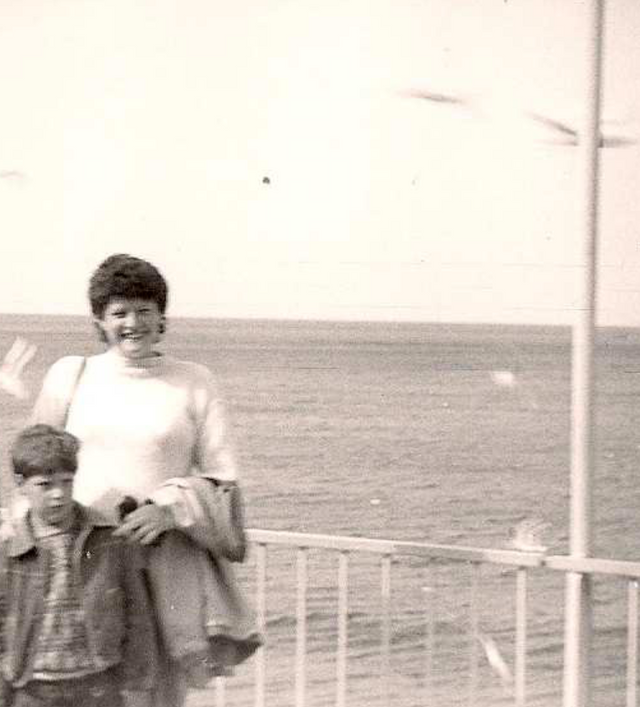 Irgendwie kam mir die Kindheit leicht und unbeschwert vor und ich habe nix vermisst.
Gute Nacht.
[ENG] My childhood in the GDR
I've missed nothing. On the contrary. When I look at today's children, they lack freedom. I could get out, didn't have to be extremely careful that I was run over by a car. My parents didn't need to be afraid when I went alone to my grandmother when I was 6 years old. I had care in the school, we could do our homework there. It was also taken care of that we also do the homework. Today I experience this very often differently. For my part I played handball and not only as a hobby but promoted it really well. Parents didn't have to dig deep into their pockets to have children in clubs.
I had a youth club and children's club right next to the school, similar to a youth center today, but where much more care was taken of the children they were also open on Saturday and Sunday.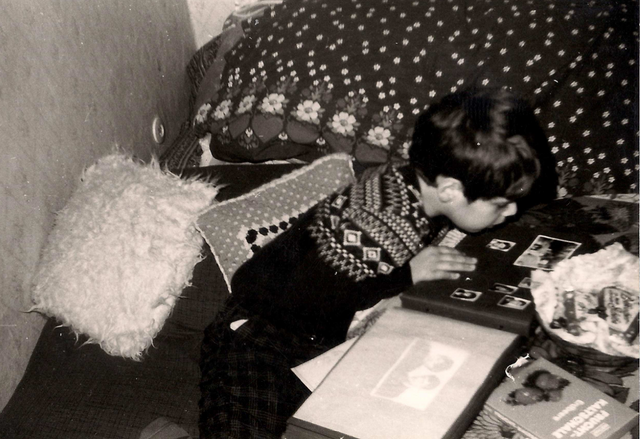 I mostly collected newspapers at the weekend to earn some pocket money and I was still in school on Saturdays. In the 8 weeks summer holidays I was in the summer camp in Dabel and had my fun there. What can I say, we were all quite well and we were not bored.
What was a bit annoying in school, the suits of the young pioneers. Blue scarf, white shirt and cap. But no matter, we were used to it. Just like the flag roll call every Monday.
We young pioneers
love our German Democratic Republic.

We young pioneers
love our parents.

We young pioneers
love peace.

We young pioneers
maintain friendship with the children of the Soviet Union and all countries.

We young pioneers
are diligent, orderly and disciplined.

We young pioneers
respect all working people and help everywhere efficiently.

We young pioneers
are good friends and help each other.

We young pioneers
sing and dance, play and do handicrafts.

We young pioneers
exercise and keep our bodies clean and healthy.

We young pioneers
proudly wear our blue scarf.
We are preparing to become good Thälmann pioneers.
That's how it was, yes, and we kept to the commandments. We even volunteered for older people to sit down in the bus. Looking back it was a good time. As a child you didn't miss the freedom to travel, so it was a trip around the world when you explored an area by bike, which you never entered alone before. A vacation at the Baltic Sea or in the Erzgebirge was simply exciting enough. Why travel further away?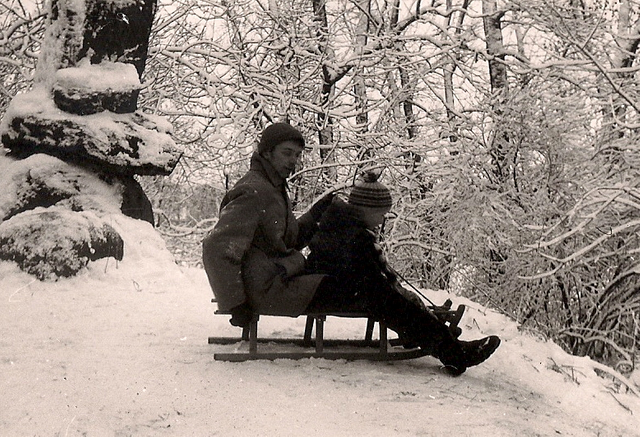 Somehow my childhood seemed easy and carefree and I didn't miss anything.
Good Night
---