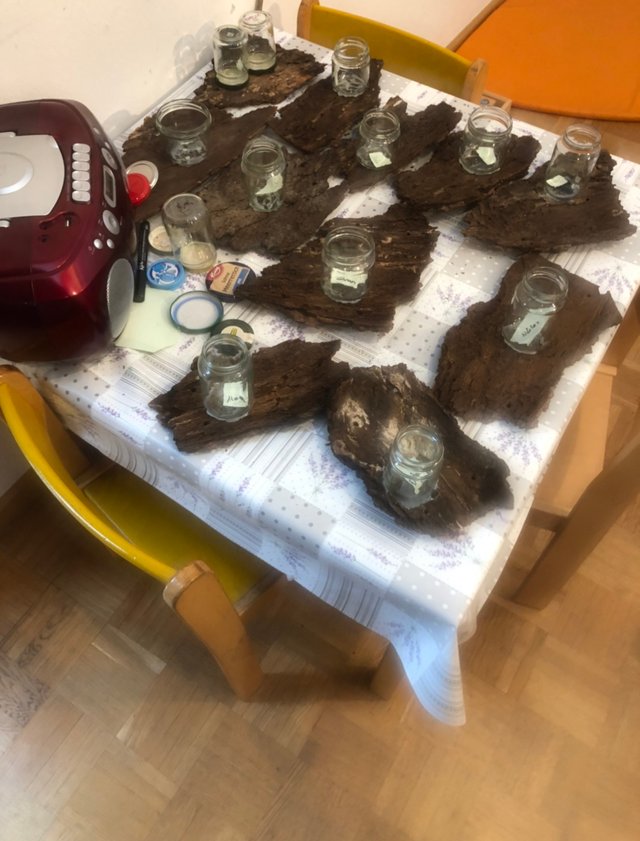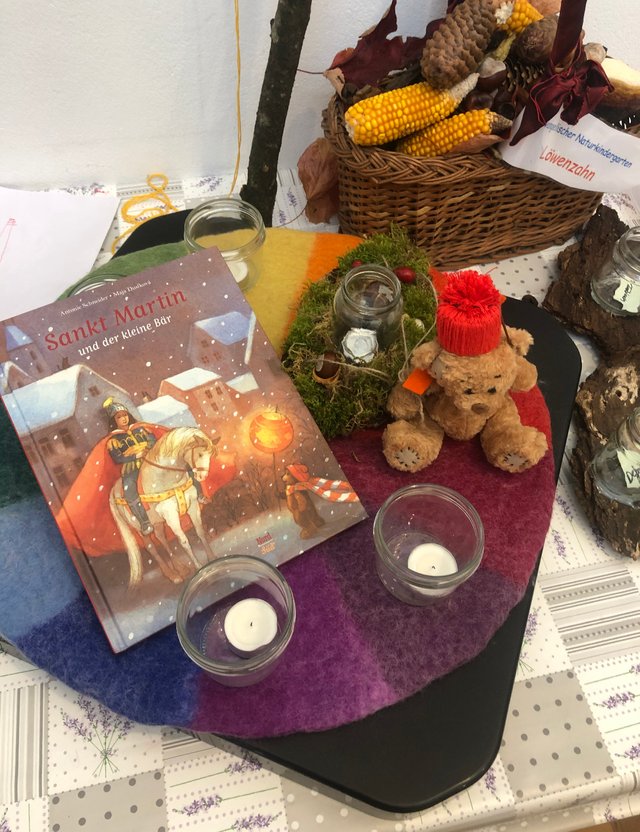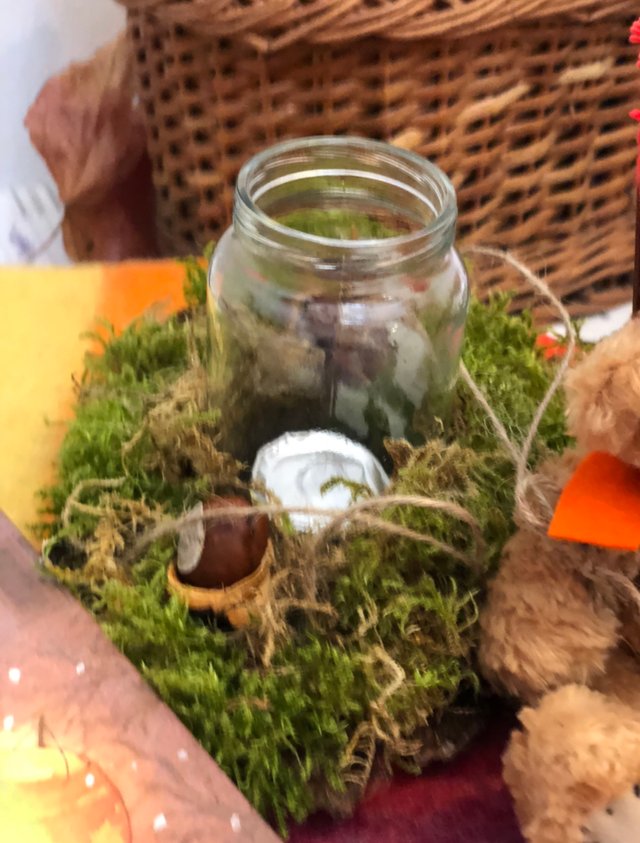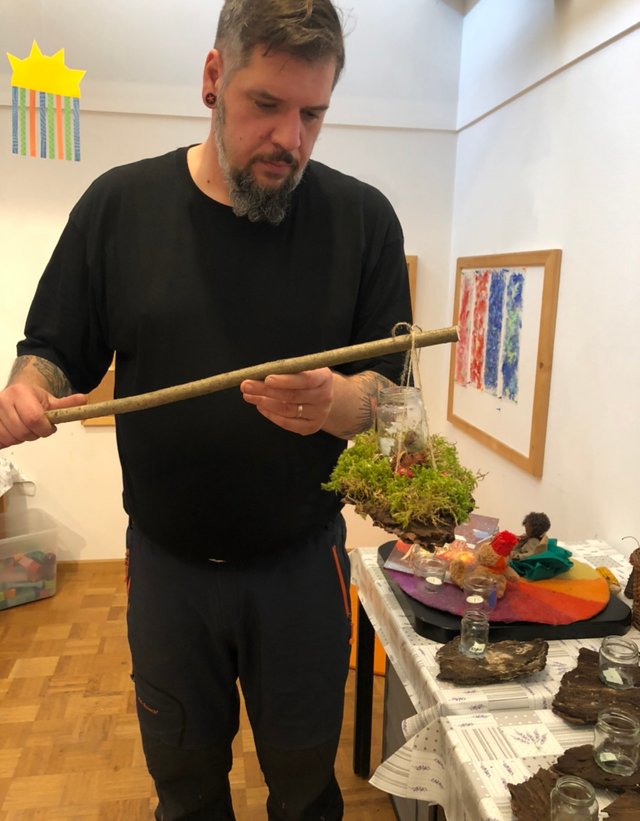 [DE]Positive Energie
Trotz der negativen Einflüsse die sich auf unsere Einrichtung breit machen, lassen wir uns natürlich die gute Laune nicht verderben.
Sankt Martin steht vor der Tür und ich habe euch ja schon davon berichtet das wir uns natürlich auch Laternen basteln. Ganz klar steht bei uns dazu das Thema Natur im Vordergrund.
Zusätzlich wird natürlich das Thema Sankt Martin behandelt und Themen die in der Geschichte vorkommen.
Am Mittwoch hab ich dazu das Vergnügen die Kinder zum Thema Armut aufzuklären und zu berichten. Aufgegriffen wird da natürlich der Teil als Sankt Martin dem Mann einen Teil von seinem Mantel gibt.
Was bedeutet aber Armut? Also es gibt da einige Definitionen dazu. Aber im Grunde kann man sagen wenn man zu wenig hat und wirklich am Existenzminimum leben muss und nicht weis ob es heut was auf den Tisch gibt.
Ich glaub das Thema könnte was für den MQ sein der ja morgen auch wieder dran ist. Ich werd sehen.
Ja also zurück zum Thema Laternen. Wir haben uns dazu am Nachmittag in einem Raum der evang. Kirche zusammen gesetzt und mit den Kindern angefangen zu Basteln.
Dazu durften sie mit Heißkleber ihre mitgebrachten Gläser auf die Rinden aufkleben. Als Anschauung dient das Muster was Caro erstellt hat. Ich find die Idee super und es macht einfach Spass den Kindern bei der Arbeit zu zu sehen und dabei miterleben was sich aus so einer Aktion für eine Dynamik entwickelt.
(EN)Positive events
In spite of the negative influences that are spreading to our facilities, we of course do not let the good mood spoil us.
Saint Martin is at the door and I have already told you that we also make lanterns. Clearly the topic nature is in the foreground.
Additionally the topic Saint Martin is treated naturally and topics which occur in the history.
On Wednesday I have the pleasure to enlighten the children on the topic of poverty and to report. Of course the part as Saint Martin gives the man a part of his coat.
But what does poverty mean? So there are some definitions. But basically you can say if you have too little and really have to live at the subsistence level and don't know if there is anything on the table today.
I think the topic could be something for the MQ who will be there again tomorrow. I will see.
So yes back to the topic lanterns. We sat down in the afternoon in a room of the evangelical church and started to do handicrafts with the children.
They were allowed to stick their brought glasses on the barks with hot glue. The pattern Caro has made serves as an illustration. I think the idea is great and it's just fun to see the children at work and to see what a dynamic develops out of such an action.
---
---
[DE]Ideales Versteck
Heut haben wir wieder mal verstecken gespielt. Dazu hab ich AL und L mal kurz unter meinen Regenponcho gesteckt. Das hat echt ne Zeit gedauert bis sie gefunden wurden. Lustig wars.
(EN)Ideal hiding place
Today we played hide and seek again. I put AL and L briefly under my rain poncho. That really took some time until they were found. It was funny.
---
[DE]Update zum gestriegen Post
Heut war wieder die Polizei und 3 Anwohner bei uns im Bereich des Waldes. Wie sich heraus gestellt hat, haben die Herrschaften die unsere Kita verwüstet haben, auch noch Autos der Anwohner mit Lack besprüht Hmmmmm ich glaube das die Personen da jetzt ganz viel Ärger auf sich zukommen lassen müssen. Immerhin gab es auch andere Kinder, welche die Jungs dann noch gesehen haben, so stellte es sich heute heraus. Mittlerweile sind Namen und Adressen bekannt und ich denke das die Polizei heute noch die Eltern aufgesucht hat.
(EN)Update on the vandalism
Today again the police and 3 residents were with us in the area of the forest. As it turned out, the gentlemen who destroyed our kindergarten sprayed cars of the residents with paint Hmmmmmmm I think the people there now a lot of trouble to themselves. At least there were other children who saw the boys, so it turned out today. Meanwhile names and addresses are known and I think that the police still visited the parents today.
---
---
[DE]Sport hab ich natürlich auch gemacht.
Nach der Arbeit bin ich dann selbst noch fix ins Fitnesstudio um was für mich zu machen. Bissi Radeln und Pumpen an den Geräten. Ich war ja nun einige Zeit körperlich nicht unbedingt auf Hochform und hatte ne ganze Zeit das Problem keine Freigabe vom Arzt zu haben. Fürs Studio. Nun darf ich aber wieder und nutze das natürlich aus. Es macht wieder Spass und hilft mir für Körper und Geist.
So nun wünsch ich euch aber einen angenehmen restlichen Dienstag.
(EN)Burn Baby Burn
After work, I'm still fixed on going to the gym to do something for myself. Bissi bikes and pumps on the equipment. I wasn't in top physical form for some time now and had the problem of not having my doctor's approval for me for a long time. For the studio. But now I am allowed again and use it of course. It is fun again and helps me for body and mind.
So now I wish you a pleasant remaining Tuesday.
---


15023