This update represents a compilation of the recent news, updates and projections about our Actifit project, including top actifitters for the preceding voting cycle, as well as updates on our account and delegations !
Reminder: Two-Week 200+ STEEM Signup Competition (12 days to go !)
Couple of days back, we launched another Actifit mega contest, with a large prize for signing up new actifitters, and expanding Actifit beyond the Steem blockchain.
In a nutshell, anyone who refers a new signup via our actifit.io website (new signups pay 5$ in STEEM), will earn 5 STEEM in referral, 13 AFIT tokens, and be eligible for winning up to 200 STEEM, if they are among the top three referrers.
New signups receive a feast of perks for their signup via Actifit, including a free STEEM account, a minimum of 66 AFIT tokens for a 5$ investment, 10 SP delegation for a month, as well as daily Actifit rewards (STEEM upvotes + AFIT tokens) for posting activity reports.
Oh and top that with healthy life style and a wonderful community!
For more details and to participate, check out our official competition announcement here!
Website Updates !
We've been quite busy over the last week or so on making cool changes to actifit.io.
Following our recent updates on the wallet and the STEEM transfer/claim/power up/down, we've done additional work on making the experience also more user friendly.
Some of the updates included:
Competition Notification & Countdown
The notification window and countdown timer, to properly announce our competition (hey you should participate ! :) ), and to bring the info to all our actifit.io visitors and showing on our different pages.


We've also made sure the notification is not too intrusive, by making it collapsible. It stays this way across screens too.

Markdown Support Improvement
To ensure a better experience when reading posts on actifit.io (Hint: we will be launching an additional reward system for curating and editing posts on actifit.io, stay tuned ;) ), we've made some major changes to our markdown support system.
What this entitled is switching to a different markdown library, but also coding our way into better functionality. Although the experience is not 100%, yet this is a major improvement over the prior status.
Some of the improvements include better support for image display, irrespective of type and hosting, but also support for playing youtube videos within our actifit post display. We also improved the support for linking steem usernames as hyperlinks, similarly to how other interfaces do that.
An example of multi-image display per post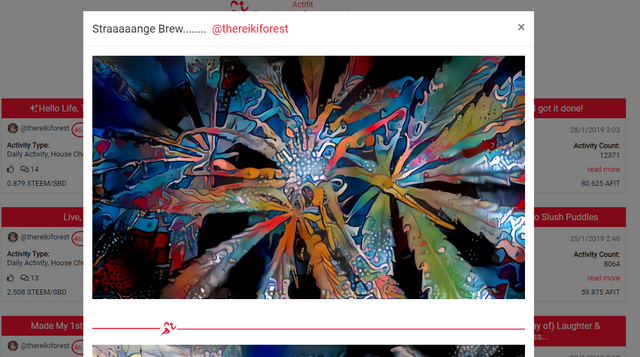 An example of embedded youtube video display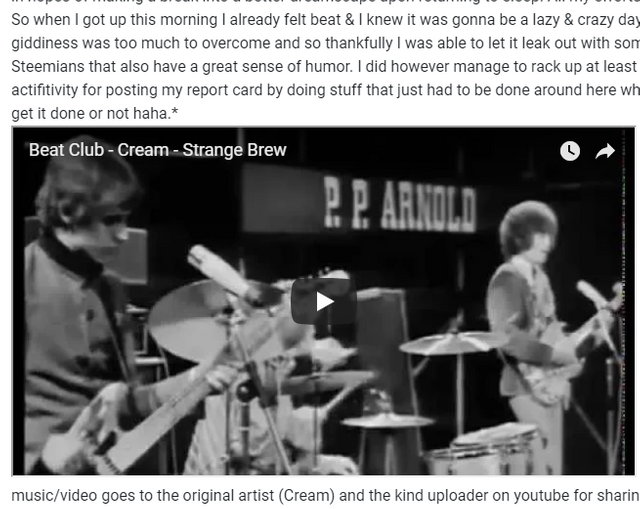 An example of well-formatted tabular display along steem usernames as proper links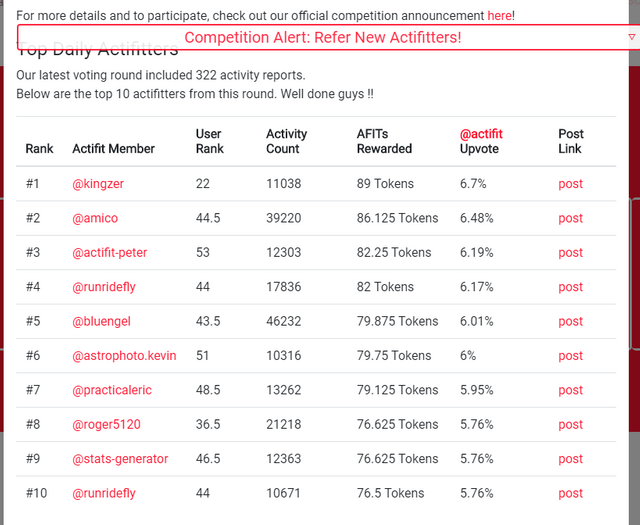 Proper Messages To Logged Out Users
Previously many of our screens did not deliver enough information to our readers who did not have a proper account. We've adjusted this so as users are aware what they are looking at. For instance, screens such as wallet, referrals,... would notify the user of the need to login or register before accessing data.
Other public places remain accessible to the user, and only require login when action is needed, such as activity listing.


Signup Screen Additional Confirmation
We received a valid suggestion by our community to the necessity of requiring a password confirmation upon account creation/signup.
This definitely made sense, so we went ahead and implemented that on the relevant screen.
Now a new user signing up will need to copy and paste the password to move forward.

Referral Screen Social Media Sharing
While you could easily copy your referral link before, we recently made the process of sharing it across social media and communication platforms much easier via including sharing buttons just below the referral link. How easier can it get?

Home Screen Layout
We kinda get bored every now and then with the front page image on Actifit, so you probably see it changing. This time we decided to go with a cool collage of different activities, make by our very own @katerinaramm, thank you for that!
Do you like it? do you have other cooler images for us to use? let us know :)
Top Daily Actifitters
Back to our daily updates!
Our latest voting round included 305 activity reports.
Below are the top 10 actifitters from this round. Well done guys !!


A kind reminder to all actifitters: some versions of esteem app still cause issues when used to edit your reports, via removing essential info Actifit uses to identify proper reports. This prevents related reports from receiving rewards.
Until this issue is officially fixed via the esteem team, we advise that you use other Steem interfaces for editing, including our own actifit.io, steemit, busy or others.
Doubled UP Rewarded Actifitter
Today's Random Double Up Reward went to @toofasteddie!
This lead to doubling up the AFIT token rewards and the STEEM upvote value, and also be the top rewarded actifitter.
Congrats!
| Rank | Actifit Member | User Rank | Activity Count | AFITs Rewarded | @actifit Upvote | Post Link |
| --- | --- | --- | --- | --- | --- | --- |
| #1 | @toofasteddie | 25.5 | 8621 | 111.25 Tokens | 8.94% | post |
Will your rewards get doubled UP tomorrow? :)
Our Newest Actifitters
In case this is the first time you see this section, essentially it aims to introduce new actifitters to our amazing community.
During the last voting round, we were happy to welcome the below new actifitters, joining more than 1,900 unique users who had posted an actifit report.
Our recent joiners are: @maxschneider, @yoshiko, @yadamaniart, @missaj and @gniksivart.
Feel free to check out their recent reports and welcome them to the Actifit community!
Delegation Status
Actifit continues to receive great delegations and support by more members of our community.
Below is the recent delegation updates' list:
@sanchezpuukko(200 SP)
@amico(200 SP)
@fotogruppemunich(1,030 SP)
@bluengel(364 SP)
@moderndayhippie(600 SP)
@amvanaken(25 SP)
@kaylinart(1,000 SP)
@onealfa(2,807 SP)
@runridefly(925 SP)
@isarmoewe(20 SP)
@kaelci(200 SP)
@kabolo(50 SP)
@roger5120(100 SP)
@hmayak(125 SP)
Accordingly, @actifit account is now at 273,967 SP
Thank you to all delegators for the wonderful support! To see the list of all our delegators, check out actifit.io/delegators
The amount of delegated SP has a large influence over not only the daily/weekly delegation reward, but also on the amount of rewards the actifitter receives on daily reports, as it constitutes a key element in User Rank.
Which is why being an Actifit delegator now has more influence on your rewards, coupled with number of AFIT tokens and other factors highlighted before.
Add to that, and a key important item that will benefit Actifit by receiving more delegation, is the ability to claim and create more user accounts.
Delegators share a max cap of 100K AFIT tokens according to their delegation amount, and also earn a 5% beneficiary reward from actifit posts' beneficiary earnings.
Since many ask, here we describe again an easy way to calculate your AFIT tokens for a full day of delegations:
(Your Delegated SP) * 100,000 AFIT MAX / (Actifit Account Delegated SP - without account own SP and any delegators who opted out).
So for instance if you had delegated 100 SP, your daily earnings would be around:
100 * 100,000 / 260,000 = 38.16 AFITs
We are appreciative of more delegations to be able to better award actifitters and support our project, so thank you for doing that !
When you are looking to increase your delegation, you need to use the new total amount as the delegation amount, and not only the increased amount. Otherwise only the new amount will be used, and the remaining amount will be undelegated.

To delegate to Actifit, you can use any of the following links:
10SP, 20SP, 30SP, 50SP, 100SP, 250SP, 500SP, 1,000SP, 5,000SP, 10,000SP, 20,000SP, Custom Amount
Make sure you have at least 15 SP left on your account.
consider voting for Actifit as witness
Our Top Delegators
An additional big thank you to some of our top supporters
@freedom | @fitat40 | @cryptoeera | @humanearl | @selfvotejustice | @taskmaster4450 | @trumpman | @mobbs | @fedesox | @justtryme90 | @pault70 | @organduo

Our wonderful ambassadors
@flauwy| @taskmaster4450|@rosatravels | @toocurious

Our amazing moderators
@alfamano| @katerinaramm|@kpreddy| @ciuoto| @thereikiforest| @vishalsingh4997| @stats-generator | @rabihfarhat

Thanks to @katerinaramm for the daily image design
Haven't downloaded Actifit yet? download it from the playstore or from the app store and start your journey to fitness and rewards!