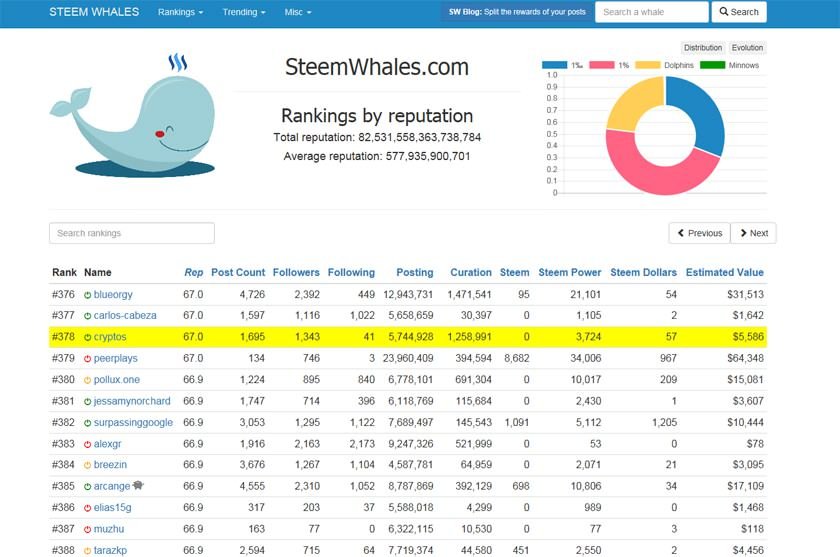 It is Friday again and yet another week has passed since I have registered and started using Steemit, taking it to a whole year already. I've decided I may do some stats as I haven't posted this for quite some time like I used to do in the past every week. My activity on Steemit has been much lower than the first 20 or some weeks after registering, but unfortunately I don't have that much time to spend writing as I had last year...
The Important Stats
Current Reputation Level: 67
Number of Followers: 1439
Total Number of Posts: 1695
Number of Blog posts: 306
Data provided by Steemit

The Not So Important Stats
Rank by Estimated Account Value: 1697
Rank by Reputation: 378
Rank by Total Posts: 775
Rank by Number of Followers: 458
Rank by Posting Rewards: 594
Rank by Curation Rewards: 277
Rank by Steem Power: 1518
Ranking data provided by SteemWhales

Checking and comparing this statistical data on a weekly basis can provide interesting insights and can also be pretty motivational as you are seeing how things change based on your activity. So if you are spending a lot of time on a daily basis on Steemit I suggest that you may try doing something like this yourself to track your progress, even if you do not post it - just for your own reference.

If you have a question or want to add something, then please leave a comment below.
---
Did you like what you have just read? Check my other posts on steemit @cryptos
If you like what I'm doing for Steem and on Steemit you can support me as a Witness