Cot Uleu Raja Timoh || Bukit Pelangi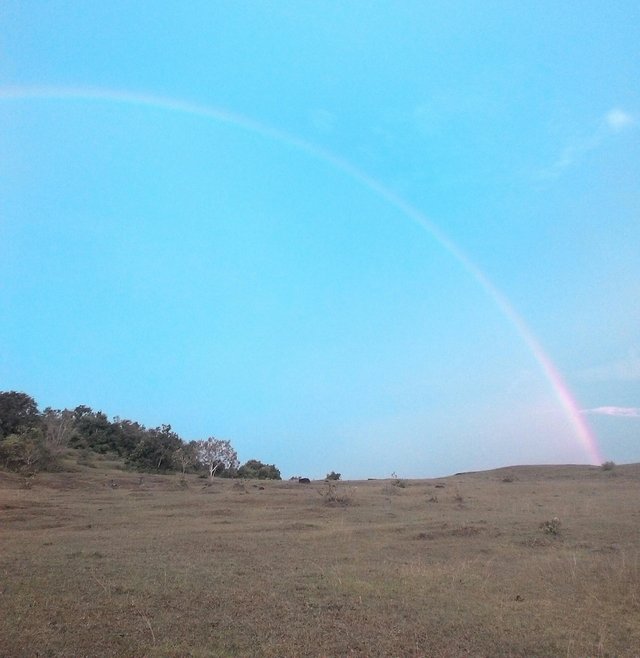 Foto "Cot Uleu Raja Timoh" ku beri judul sekaligus namanya, bukan E tapi EU mulut tak perlu dibuka lebar, biasa aja.. ! Dengan satu napas bacanya.
Terinspirasi dari lagu "Gank Tengkorak - Uleu Raja Timoh" ciptaan Zulfan Amroe and the genk, serta cerita rakyat yang berkembang dalam masyarakat Aceh.
Di akhir tahun 2015 silam tepatnya kamis, 3 desember 2015 sore hari sehabis hujan , moment ini ditangkap kamera handphone dengan resolusi seadanya, di sebuah bukit di kota Jantho, dekat dengan kantor bupati Aceh besar, iya...! pas di ujung turunan jalan sebelum tikungan, lanjut jalan.
Aku bersama teman se-angkatan ku di UKM Mapala Hukum Unsyiah, kala itu tengah berkendara motor hendak kembali ke lapangan tempat di mana kegiatan Diksar XVI UKM Mapala Hukum berlangsung, tepatnya di Gampoeng Bueng 'ya..!' kota Jantho juga masih Aceh Besar.
Aku dan temanku ini baru saja selesai berbelanja logistik di pasar, 'lagi - lagi...!' kota Jantho, kali ini kabupaten Aceh Besar, untuk kebutuhan beberapa hari kedepan dikarenakan telah menipisnya logistik panitia di lapangan, yang bila tidak sampai pada waktunya pasti mereka kelaparan, dan apabila kami iseng tidak kembali pasti mereka kelabakan, lalu kemasukan setan hutan (marah besar), dan akhirnya pingsan karena nggak makan. Becanda deng...
Jadi, nama teman ku itu Nailul Authar Hasri panjangnya... alias Ramong, begitu kami menyapanya. Ketika itu dalam perjalanan kembali, Ramong yang merangkap sebagai supir secara tiba - tiba menghentikan laju motor yang kami kendarai, padahal kami harus segera kembali ke tempat kegiatan, aku pun heran dan bertanya;
"Kenapa mong.. ? Mogok... ?".
"Cak ko liat ponk, keren li wak pelanginya...", sambil menggelengkan kepala dan menunjuk pelangi dengan jari tangannya.
"Jangan ko tunjuk pakek jari wak..., bengkok nantik jari ko tu", celutuk ku.
"Mana pulak bengkok, ada - ada aja ko...", spontan dia menoleh sekenanya karena terhalang helm.
"Oou...alah ko ni, macam orang nggak pernah liat pelangi aja ko, meu gampoeng that..! (Kampungan kali..!)", kataku.
"*Bah meu gampong keudeh...!, nyang peunteng 'kodak' ilee... *(biarin aja kampungan...!, yang penting 'foto' dulu...)", jawabnya.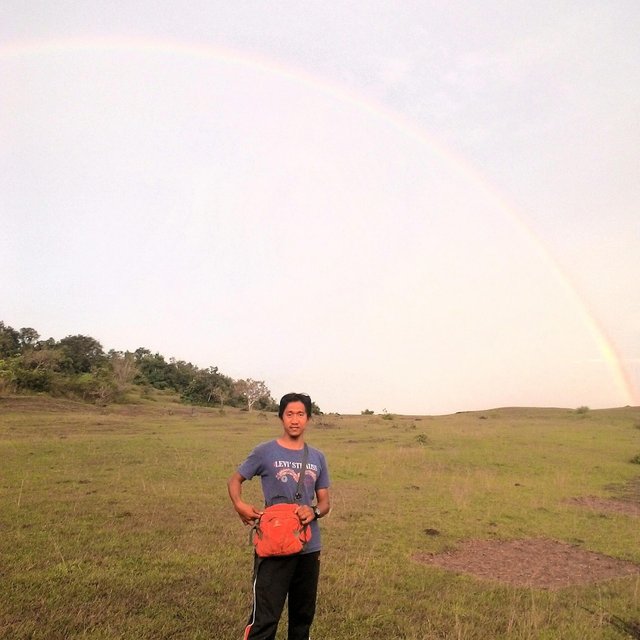 "Omak... mong, keren juga ni aku pengen jugak lah sekali, hahahai...".
"*Eeeh... peugah gob meu gampoeng, atra kah meu gampong shit, alaah... hai gam! *(Eeeh... bilang orang kampungan, padahal situ kampungan juga, alaah... kau ini!)".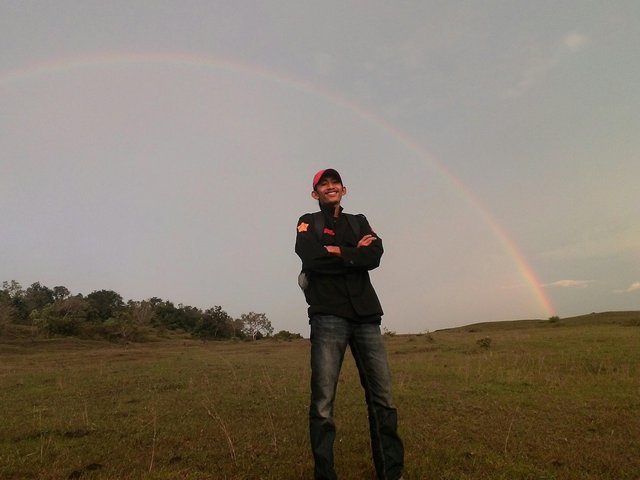 Kembali ke laptop, "Uleu Raja Timoh" atau pelangi di dalam dongeng, adalah salah satu cerita rakyat yang hidup dalam masyarakat Aceh menceritakan tentang keindahan pelangi yang kebanyakan kini orang Aceh sendiri terutama generasi muda kurang tahu akan hal itu (ini opini pribadi), yang kemudian diangkat menjadi sebuah lagu yang di peruntukkan untuk anak - anak atas dasar kegelisahan si pencipta lagu, karena kurangnya lagu - lagu yang layak untuk di dengar oleh "aneuk manyak tjut" zaman now.
Berikut lagu serta cuplikan video "Genk Tengkorak - Uleu Raja Timoh" :
Berdasarkan penjelasan cuplikan video yang di unggah untuk pertama kali pada tanggal 1 september 2015 oleh akun youtube Agus Fernanda @senja.jingga sekaligus merangkap sebagai penyanyi bersama @Iqbalubit dan Fuady Keulayu @fooart , serta Zulfan Amroe "Uleu Raja Timoh", menceritakan tentang ekor pelangi itu berada di gunung dan kepalanya berada di laut mencari makan.
"Duen...! Ijin putaa musik beuh...! (Bang...! Izin putar musik ya...!)". :D
Berikut lagu serta cuplikan terbaru video "Uleu Raja Timoh", :
Qiuuu...
Teurimong geunasah, wassalam.
Ponk.djonk