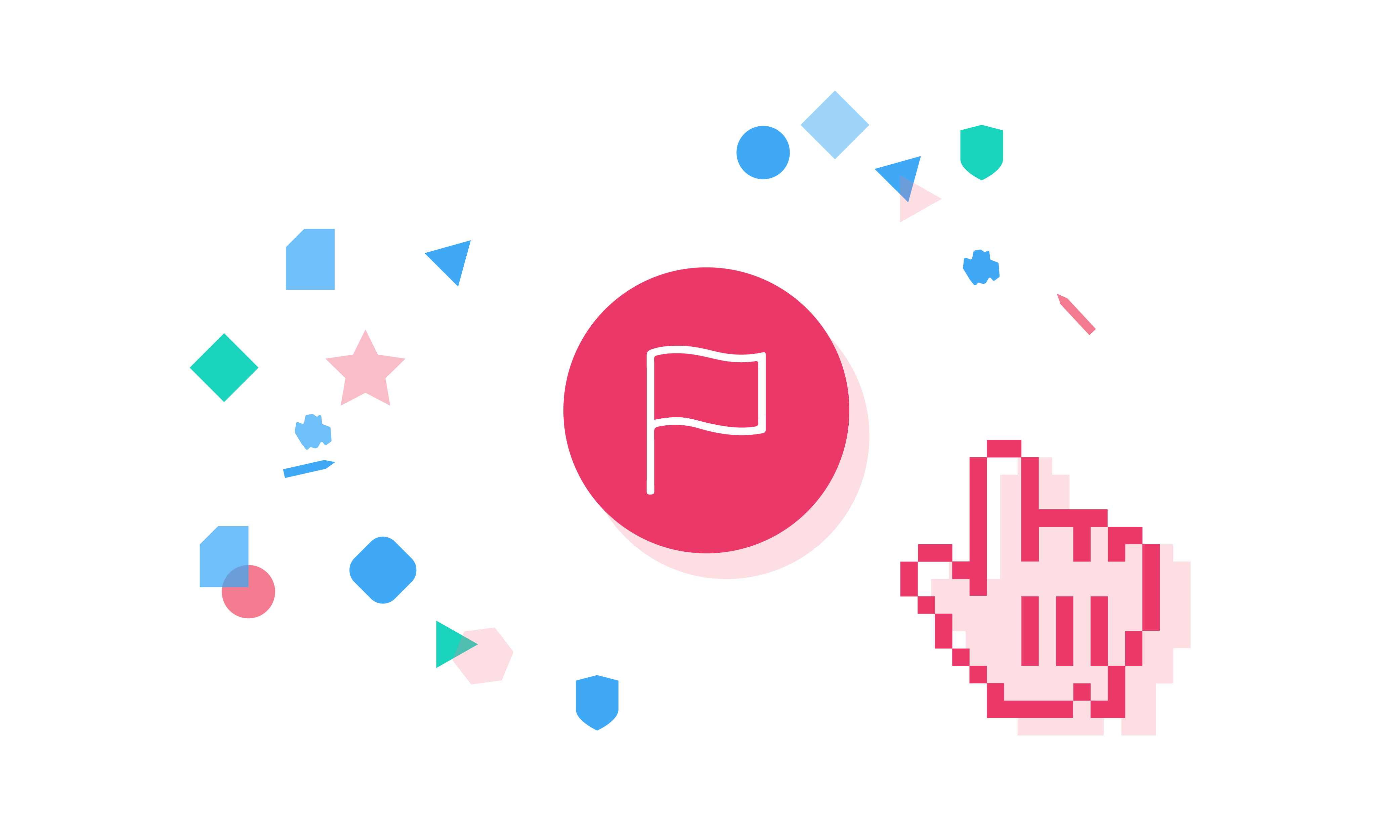 Coming to a Consensus
---
When the community of Steemians was much smaller back in late 2016, reaching consensus worked very differently. The blockchain math was different too. There was a time when post rewards paid out in 24 hours before it moved to the week-long window. Upvote strengths (according to each users' stake) has also changed. Each and every rule resulted in new norms with respect to which content "deserved" rewards. Today, the Steem community is growing rapidly and exists just ahead of a big new normal; Smart Media Tokens. Right now, communities of different generations are grappling with one another to find a healthy rubric to strive ahead with. As debates develop, it's important to know about all the tools that the Steem protocol provides us with.
So, let's talk about Flagging
---
Especially for a new user, it can be an absolute mystery in terms of what flagging is and when/how it should be used. In today's post, we'll look at a series of suggestions for this specific functionality of the Steem blockchain.

How does flagging work?
---
Flagging is the exact inverse of upvoting. This might seem obvious at first, similar to how a 'dislike' is the opposite of a 'like' on Youtube, but there are a few key differences as to how this functions with the DPoS Steem blockchain.
First, your flag/downvote still expends voting power. Within your daily allotment of voting power that decreases with each upvote, you can use some of that voting strength to take away rewards rather than give them. As such, there's a limit in which you can take away certain amounts of payouts per day depending on your stake.

Second, the downvote also affects ratings inversely if the flagger has a higher reputation (according to the Steemit FAQ). Flagging an account with a particular voting strength will decrease their rating according to the same algorithm that calculates how much received voting is needed to progress from 53 to 54 reputation for example.

Lastly, it should be noted that unlike upvoting, you gain no curation rewards by downvoting anyone. You cannot earn rewards for downvoting. (Though in the past there has been a cheeky debate in the past about "Dark Steem" rewards… it would be pretty cool to earn Dark Steem for flagging, right? Maybe one day.)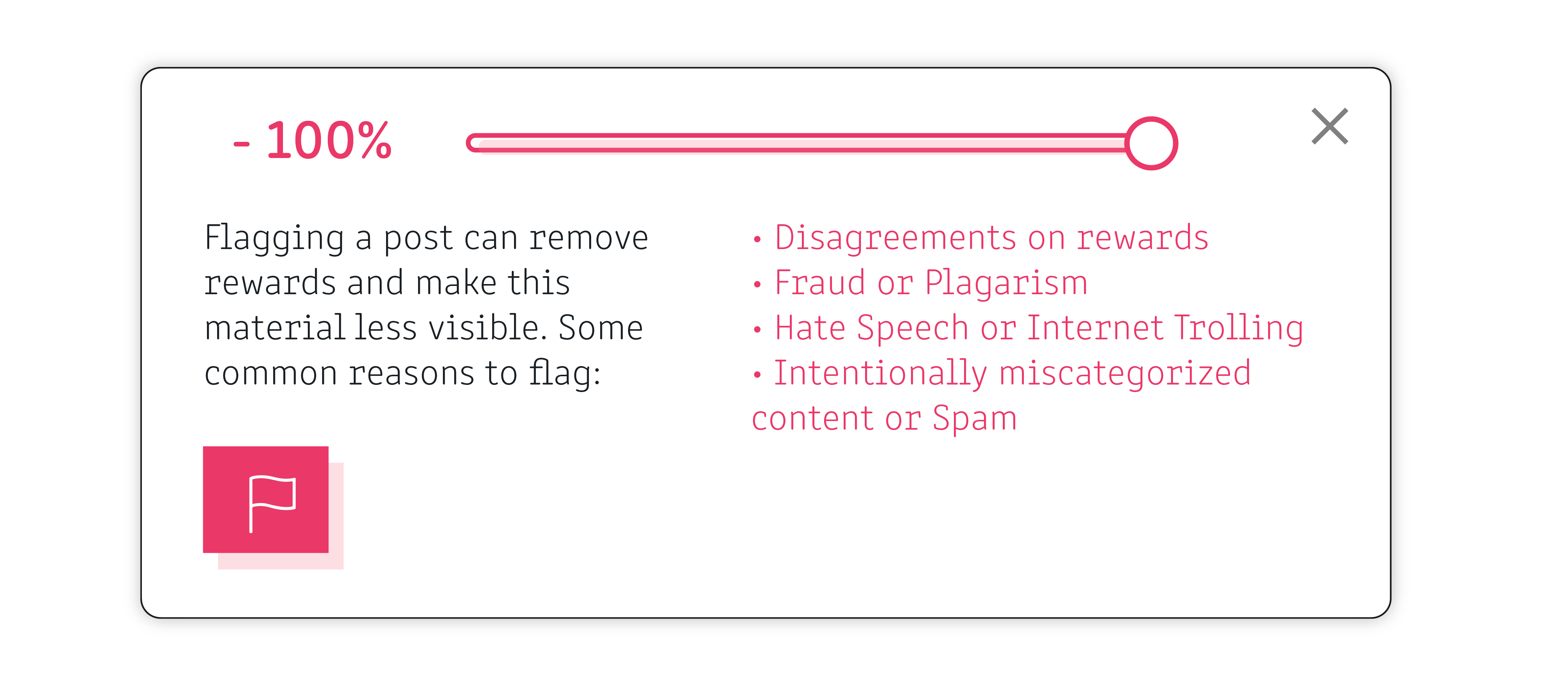 Checks and Balances
---
Since flagging also eats up voting strength, it should be used more strategically than a 'dislike' on traditional social-media sites. Here are some of the scenarios in which we would recommend a flag -
Disagreement on Rewards:
This is one of the more interpretative judgements for flagging. Essentially, if you believe that someone's payout is disproportionately high or is in some way abusing upvote services for example, your flag can be a signal that their practices are not in the best interest of the community and/or reward pool.

Fraud or Plagiarism:
The crypto world is fraught with unsavory behavior anywhere from phishing scams to simple copy/paste plagiarism. If you believe that content or comments are unethical in anyway, flagging is an effective way to dissuade negative actions and make them less visible.

Hate Speech or Internet Trolling:
This is another example of unproductive and aggressive behavior that could warrant a downvote. If something seems legitimately malicious, flag away!

Intentional miss-categorized content or Spam:
It takes a learning curve to realize what is "appropriate" behavior on Steemit. There are many nuances of preferred blogging practices, there are certain tags that are appropriate and others that aren't (i.e. tagging a popular subject that has zero relevance to the content of your post) and of course lot's of spammy comments.
Looking Ahead
---
None of these 'rules' are strict or well-defined and are of course up to user subjectivity. This is why ongoing discussions of specific examples are absolutely necessary as the "right vs. wrong" in any case is not clearly defined. The target is also constantly moving and the interpretation of what is good or bad practice is so determinant on market prices, social health on the platform, community features, activity, and so much more.
We're interested on hearing your experiences with flagging as well. Do you use the function in other scenarios than the ones we defined? Are there any changes you would make? Let us know in the comments below!
Exploring More @sndbox Steemit Toolkits
---
Thanks for reading! We hope you found this Flag walkthrough useful. Take a look at our full outline of resource / tutorial posts here. If you have any questions please don't hesitate to reach out in the comment section.
---
---
Help us spread the word. Follow our Twitter and YouTube Channel too!
---