One of the brand new TV series on ABC in the United States is named Whiskey Cavalier. It had its premiere in February 2019, and so far, two episodes have aired (I have only seen the pilot episode). Is it worth watching? What is Whiskey Cavalier all about?
I had no clue what Whiskey Cavalier would be all about before I streamed the first episode online. I did know that it would be some sort of secret agent, action, spy, or something like that TV series, but not much more. So, I sat down, and it only took me one minute to understand that this isn't the typical kind of TV series about secret agents. Our main hero, Whiskey Cavalier, sits in front of his TV crying and watching tragic/romantic love movies. His girlfriend has just broken up with him, and he is just a mess. Of course, as his friend and colleague call him to hear what's up, he denies his deeds, but we all know the truth. And that is also an important truth about this TV series - it isn't meant to be a pure action series, this is just as much a comedy series. In that way, I find it to be very similar to Brooklyn Nine-Nine, a series that was previously known to be a FOX series, but that was ended on FOX, only to be picked up by NBC one day later. In other words, you can currently stream the sixth season of Brooklyn Nine-Nine online at the NBC website.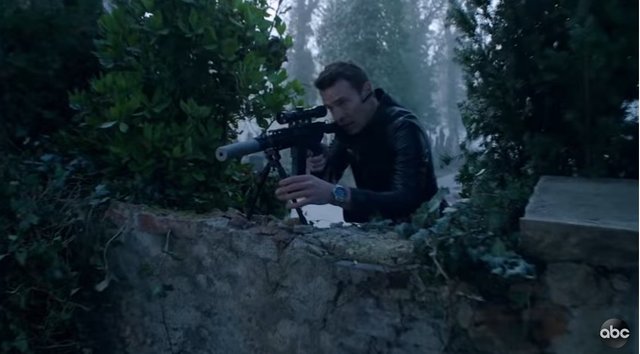 But, if you know Brooklyn Nine-Nine, you know have a feeling about the essence of Whiskey Cavalier. This is a show that will make you laugh. The team isn't exactly the best team, and they are rather a messy crew that tries to stop criminals that might bring great harm to the citizens of the world. Of course, there is action in it as well, and it is always interesting to see how they discover and catch the bad guys (and there is some action to it), but most of all, this is a comedy show.
Based on the first episode of Whiskey Cavalier, I haven't completely made up my mind yet. I kind of liked it, but I am not at all addicted to it yet. The characters are nice, and I especially like the two main characters (Whiskey Cavalier and his female colleague), as they seem to work nice together and they have a nice chemistry going between them.
Have you seen the first episode and maybe the second episode of Whiskey Cavalier as well? The second episode aired yesterday evening, so I haven't had the time to watch it myself yet. But, I would love to hear your thoughts about the TV show if you have seen it!
How to stream Whiskey Cavalier online?
The best way to stream Whiskey Cavalier online at the moment is at the ABC website in the United States. You can watch it there for free, and all you need is a VPN that will help you unblock ABC (if you live outside the United States). You can also find Whiskey Cavalier on Hulu in the United States, but here you will need a quite expensive subscription (starting from 6 USD per month), and in addition, you need to be in the United States. To make things even worse, it is almost impossible to pay for Hulu if you do not have a payment card issued in the United States, so that isn't at all an ideal option.
Whiskey Cavalier isn't streamed elsewhere in the world yet, but this is a TV show I believe will be picked up by quite a lot of TV networks worldwide, and if not, Netflix will for sure be happy to bring it into their streaming service.