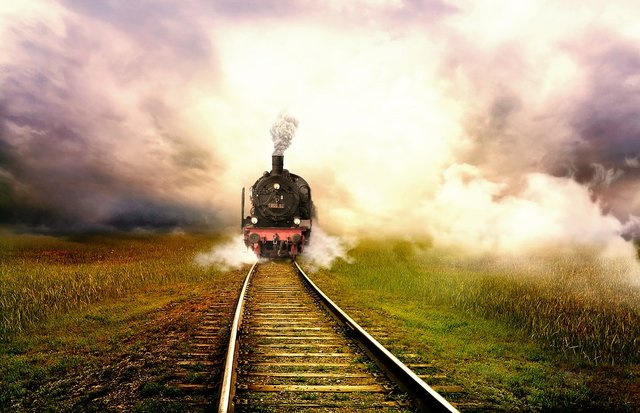 Image source: Pixabay image by SCR3AMFR3AK
Waiting for the Train
Noah bounced on one foot. His waffle had gone cold. He couldn't sit long enough to eat. "But
when
will the train come?"
His mother moved around the kitchen, wiping spotless counters. "This afternoon. You mustn't think about it every single minute."
The door jingled. Mrs. Smith from next door came in. Her daughter Ella hid behind her skirt.
Noah's mother clapped. "Come in! I'm just beside myself today."
Noah reached around Mrs. Smith, grabbed Ella's hand and pulled her from hiding. She giggled.
Noah and Ella played house under the table as their mothers made tea. Noah loved the secret space under the tablecloth. "Guess what," Noah whispered. "The war is over! My dad is coming home."
Ella blushed. "I know."
Next to them, the women spoke quietly. Mrs. Smith sounded concerned. "Are you ready?"
"I don't know. It's been so long. And he's… different."
"You'll adjust."
Soon, they waved goodbye to the Smiths and rolled down the driveway in the Packard.
At the station, the train chugged in, steaming and hissing. A crush of people descended. Women waved hankies and men in uniform swung them around.
And there he was — Noah's father — supporting himself on crutches. Noah knew him from the pictures. He walked to his father, seeing air where his left leg should have been. One trouser leg was pinned behind.
He looked up at his mother. Tears in her eyes. Smiling.
Noah reached, hugged his father's right leg. "Welcome home, Papa."
---
---
Thank you for reading my micro-fiction story. Recently I switched from writing 50-word micro-fiction stories to writing 250-word stories. I love the challenge of writing a complete story within a strict word limit. For this one, I had to cut quite a bit, and I kept finding new opportunities to choose more succinct language until I hit exactly 250 words.
You can see all of my micro-fiction posts on my WordPress blog. I have a section for micro-fiction.
As you can probably surmise, this story takes place at the end of World War II. The war ended on September 2nd, 1945, six years and one day after it began. I chose the image for this story because of the slightly melancholy colors of Autumn. It must have been glorious that September as husbands, sons and brothers returned from war. And yet so many didn't. The war had claimed millions of lives. According to Wikipedia, the estimates range wildly from 70 to 85 million.

---
Posted from my blog with SteemPress : https://jaynalocke.com/2019/02/03/waiting-for-the-train-micro-fiction/
---