Savoy Seafood Maharat Branch
Savoy Seafood Maharat Branch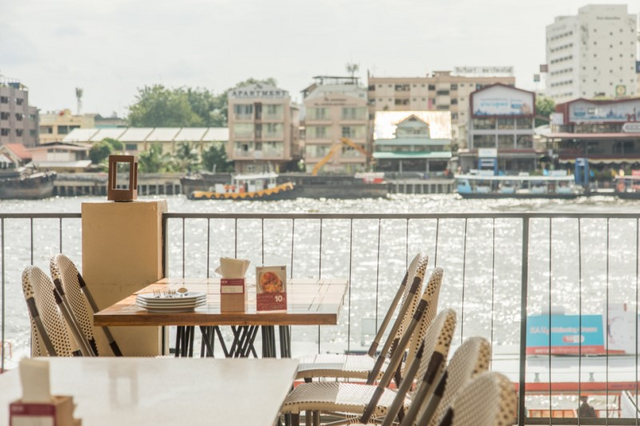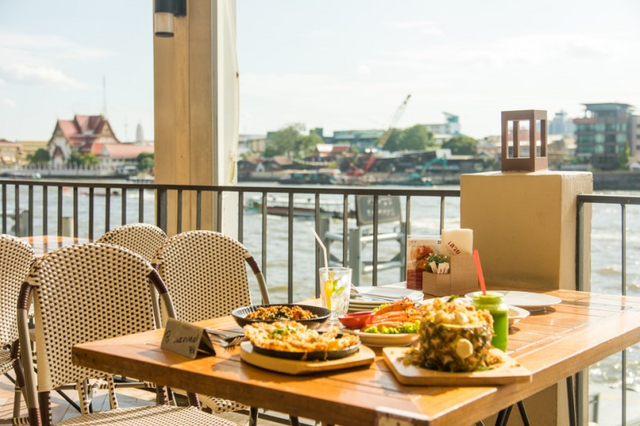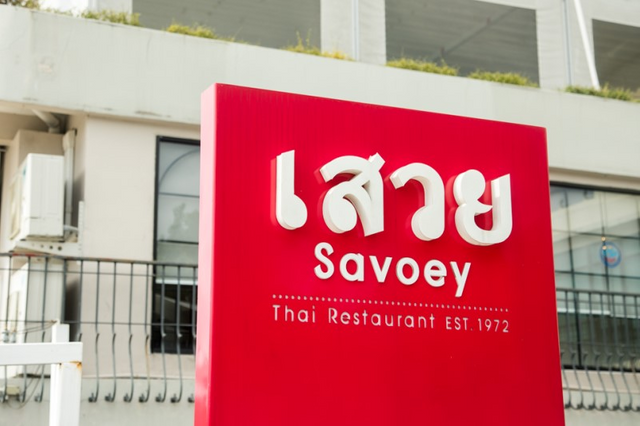 I had a great Thai dish at the Chao Phraya River
Savoy Restaurant
Here I also posted a review of Sukhumvit 26
I had a good meal and went once more
Let's go to a new branch this time! And the place I found
This is the riverside Maharat store.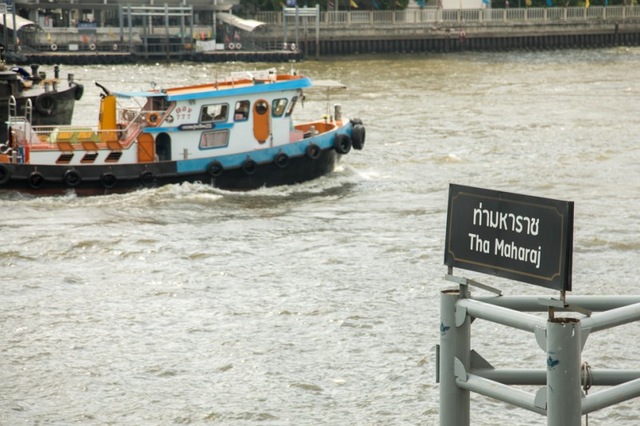 Ta Maharat
There is a large shopping mall right in front of the water bus stop.
Is there a Savoy restaurant in it
You can eat while watching the water bus and water taxis coming and going in front of the river!
You're here in Bangkok.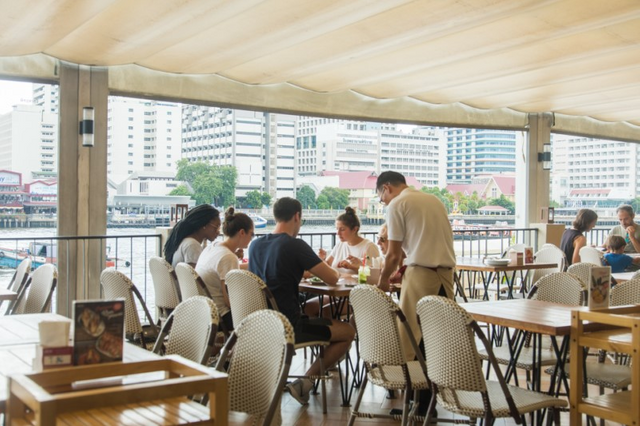 I want to make a video about Thai cuisine this time
I deliberately went to an ambiguous time when there were no guests as much as possible.
Was it around 3pm~~
Sunlight reflected on the river before sunset
It was a very beautiful time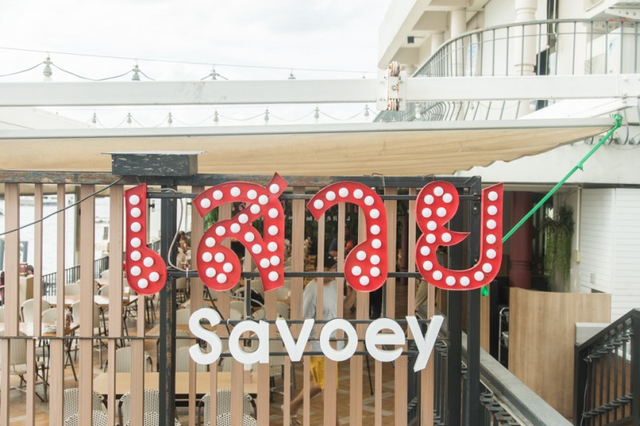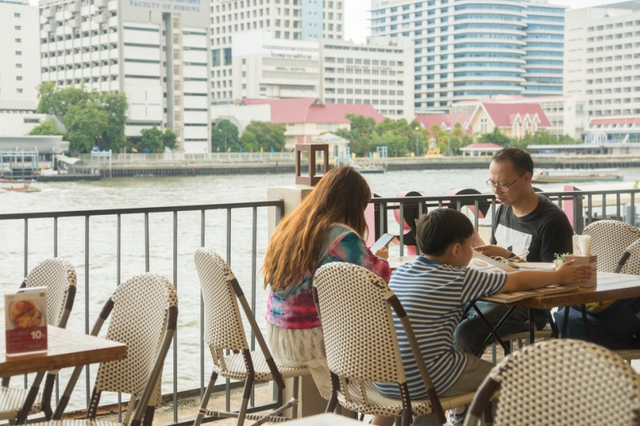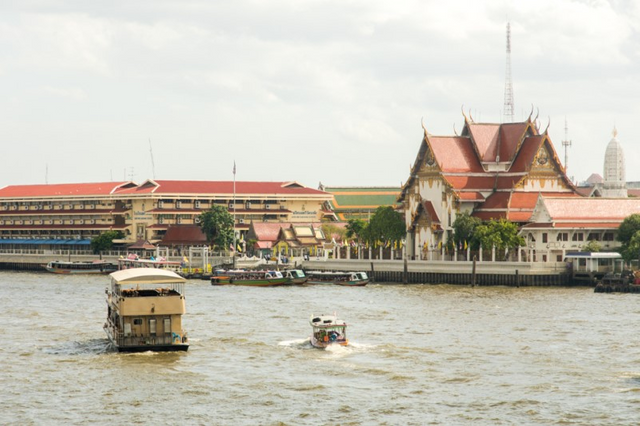 I will show you the foods I ordered at the Sahara Restaurant Maharat restaurant in Bangkok.
I sat at the riverside table and picked up my favorite menus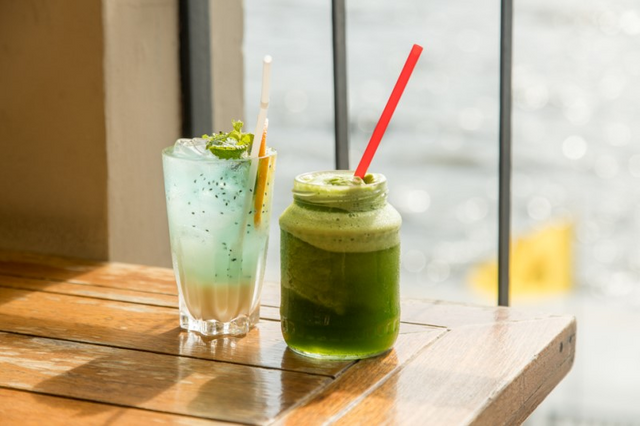 Order drinks first~~
This house is as tasty and pretty as the drinks in the famous cafe.
​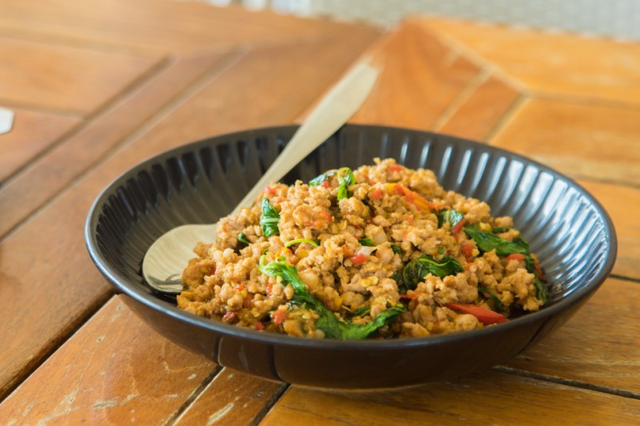 Pat Krapao is expensive
It's Pat Krapao Musap that you can easily see at street stalls like fried noodles.
Stir fry with minced pork, basil leaves, chilli and garlic
Street stalls are served with fried eggs on top of rice and served as rice bowls.
It will be cheap and delicious
Personally, I like it very much.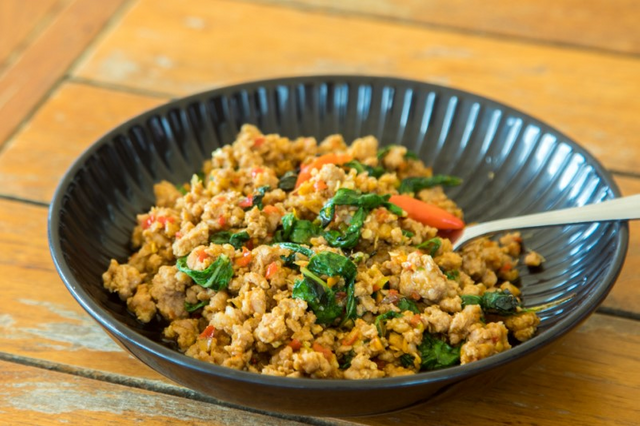 How do you explain this taste?
It doesn't taste like in Korea...
Basil, pork, and spicy pepper!
The world is in harmony :)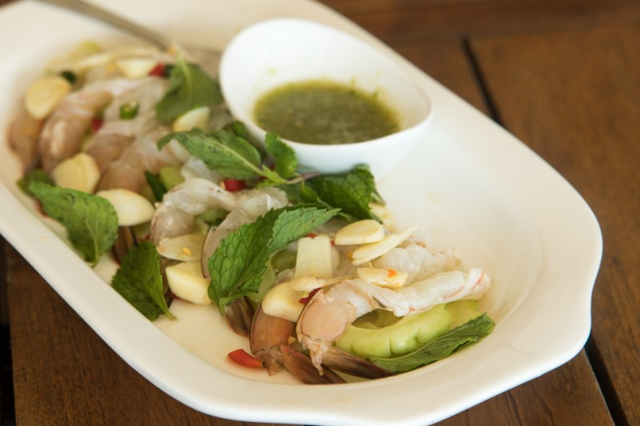 Chaenam Plaza
​
You know a lot of Thai crab crab
There are many people who don't know the shrimp farm
​
I would like to order the shrimp jangchaenampla more than crab crab puddle
It's easier to eat shrimp than crab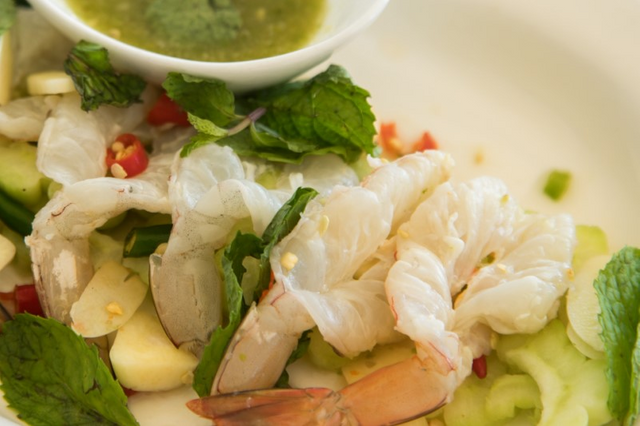 I put red pepper and garlic on the raw shrimp and dip the sauce
This is special!!!
​
It's served with a green seafood sauce, Thai seafood sauce.
It has a sweet and tangy taste.
​
I think Korean crab is more delicious than Thai crab
The shrimp sauce was better in Thai style than in Korea
Of course, this is an odor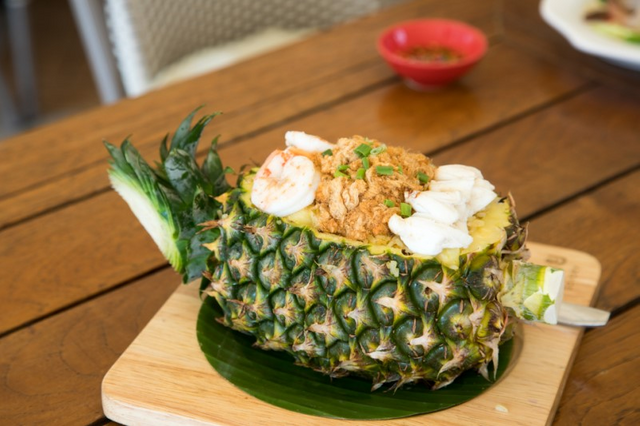 The next menu is Boreopbab
The typical boring rice is'kaopad' in Thai
The name changes depending on the ingredients you enter.
If you add shrimp, it's Khaopat 꿍
Pork Khaopat Radish
Chicken Khaopat Cai
Crab meat kaopatpu
Seafood Kaopat Thale
​
And this time, the pineapple bowl I ordered
It's Kaopat Safarot!
Pineapple is Saparot in Thai.
Fried rice with sweet sliced ​​pineapple
The sweet taste makes the children eat well
It is served in a bowl made of pineapple and the visual is also good
​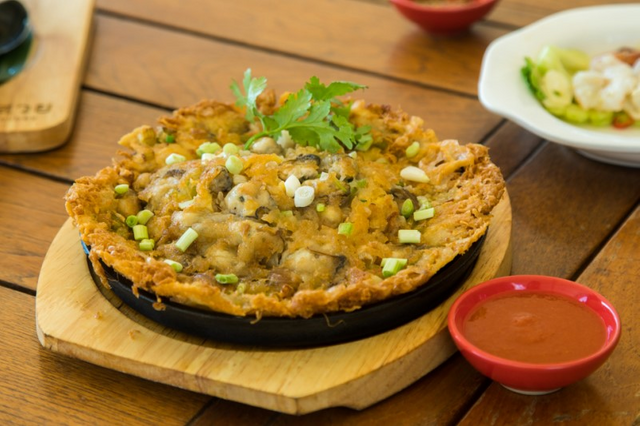 Au Xuan is a Thai omelette with a tangled oyster?
I'm? You can see
And oyster and glutinous rice starch, egg and bean sprouts.
​
For reference, if you go to a street stall or a night market, you can meet evangelism made with mussels, an inexpensive ingredient instead of oysters.
The requirement is called'Hui-Chan'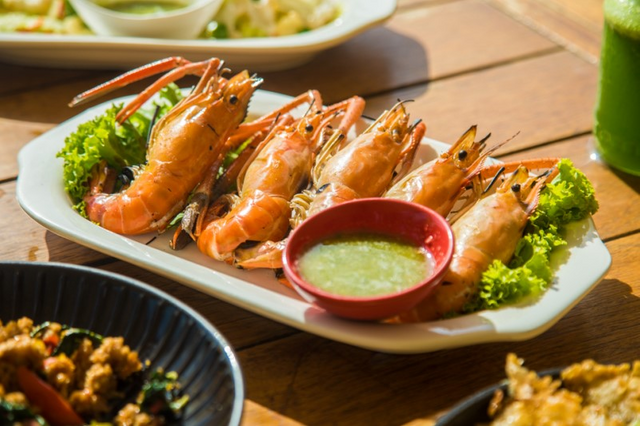 The next menu is without adding any sauce or sauce
It's simply charcoal-grilled seafood.
When ordering, I usually weigh it and calculate how much per key.
The most common grilled shrimp is called wokpaew.
​
​
​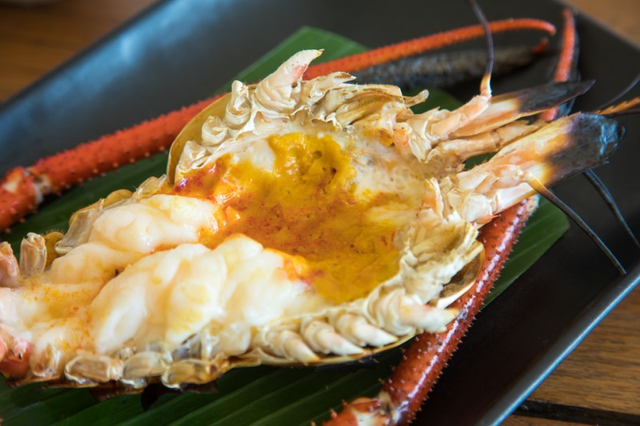 This is the highlight of today's food
Hero!!!
Best of Best
Big treat? Grilled lobster!!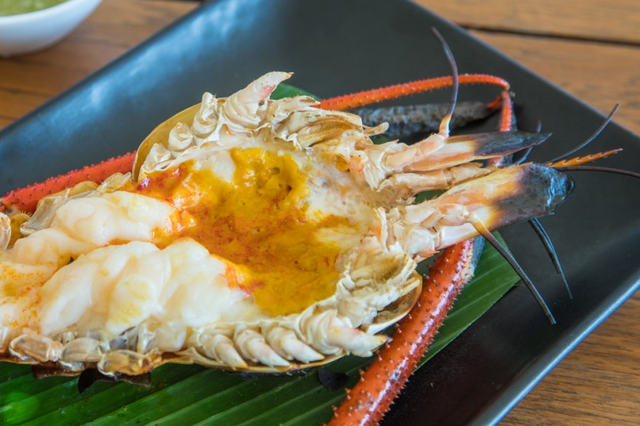 It was thicker than my forearm.
It was really big and fat
Chewy
That yellow sheet on my head...
Really JMT
​
It's seafood, so it's not cheap
Still, it is much cheaper than our seafood restaurant.
I ate it all the way and digested it by going around the mall.
I always play on the Sukhumvit aisle plunge tooth side...
It's been a long time since the riverside
I didn't even know there was a shopping mall like this,
Riverside is really good and good, but I have to go diligently.
Oh, by the way, if you buy a coupon in advance for a savoy restaurant in Bangkok,
From thirty-eight thousand seven hundred won to thirty-three thousand eight hundred won
About four thousand won discount
If you're going to eat it, buy a coupon and enjoy it at an affordable price!
​
When buying coupons, you have to choose group A or group B
The riverside Tamaharat branch I introduced today belongs to group B
You need to purchase branch B to use it here
​
The coupon purchase link is below