So 2020 has officially started and everyone is setting up their goals for this year. Today I sat down and wrote down some of my goals. I wanted to share them with you.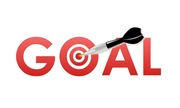 My Goals
To get good, well actually great grades
Workout and keep my body in shape
Change my attitude (positively)
Try something new
Do a Partiko/Steemit post that makes me money
And try to get more involved at school
I might still add some as time comes to pass.
I hope 2020 will be a great year for you all!