🚴 My Zwift Log | 30 mins of NYC | 06/07
I just finished a 12.15km cycle that lasted about 0hh:31mm:1ss !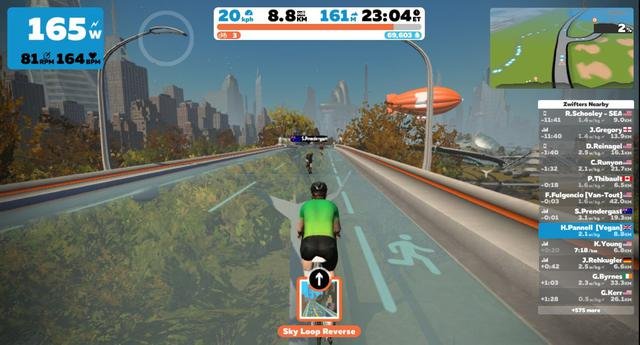 After running Parkrun yesterday morning, I decided that I'd do a double-session-day with 30 minutes of Zwift riding in the evening. I chose the NYC skyline route which was relatively flat apart from one gigantic "wall" right in the middle of my ride, and I managed to hit speeds of 67km/h+ on the descent. I averaged 160 watts over the ride which is a definite improvement, and after adjusting my cleat setup it felt a lot easier!
I'd bought a turbo trainer specific tyre (23c) a few days ago which fitted with a 25c inner tube meant the psi I could have was a lot higher than previously with a normal road tyre, and as such I definitely felt at least 10 watts of savings just through that. I'll be leaving my road bike as the 'turbo trainer bike' for me and my older brother to use, and I'm going to get his Bianchi Oltre (spare bike) serviced and I'll be using that one out on the roads.

Check out some detailed info at my EXHAUST page
Join me in testing out EXHAUST!