Jewish supremacist 'Noel Ignatiev' (Harvard professor)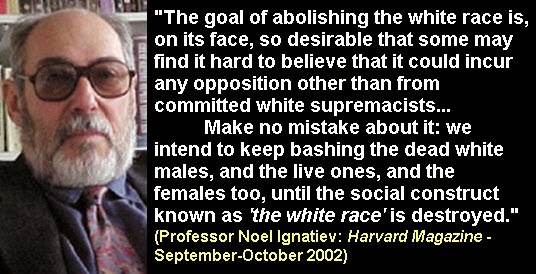 THE "ABOLITION" OF THE WHITE RACE, ACCORDING TO HARVARD PROFESSOR NOEL IGNATIEV, IS NOT ONLY DESIRABLE BUT ESSENTIAL. THE WHITE RACE, HE INSISTS, MUST BE DESTROYED. IT IS IRONICAL HOW IGNATIEF, A PROMINENT JEW, IS ALLOWED TO ADVOCATE WHITE GENOCIDE OPENLY AND GET AWAY WITH IT. WHAT IF SOME WHITE PROFESSOR WERE TO TAKE IGNATIEV'S EXACT WORDS AND SUBSTITUTE THE WORDS "JEWISH RACE" FOR "WHITE RACE"?
IT WOULD BE TOTALLY UNACCEPTABLE IF SOME PROMINENT NON-JEWISH ACADEMIC WERE TO PROCLAIM:
"THE GOAL OF ABOLISHING THE JEWISH RACE, IS, ON ITS FACE, SO DESIRABLE THAT SOME MAY FIND IT HARD TO BELIEVE THAT IT COULD INCUR ANY OPPOSITION OTHER THAN FROM COMMITTED JEWISH SUPREMACISTS…. MAKE NO MISTAKE ABOUT IT: WE INTEND TO KEEP BASHING THE DEAD JEWISH MALES, AND THE LIVE ONES, AND THE JEWESSES TOO, UNTIL THE SOCIAL CONSTRUCT KNOWN AS 'THE JEWISH RACE' IS DESTROYED."
EVEN HITLER DIDN'T DARE TO SAY THAT.
(source ; https://mikeyy.org/2016/08/28/project-white-genocide-the-dark-agenda-of-count-coudenhove-kalergi/)