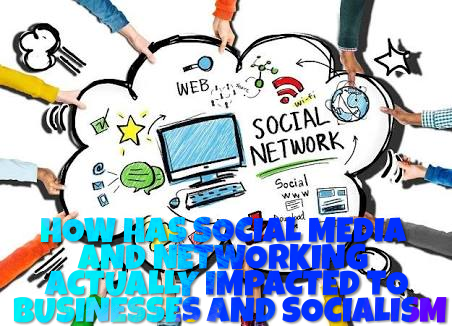 First and foremost before understanding the impact of social media and networking, we most first of all know and understand the meaning of "Social Media and Networking"
"Social Media " as the name implies can be said to be the collective distribution of online communications channels committed to community-based input, interaction, content-sharing and collaboration, it can also be said to be websites and applications that enable users to create and also share content or to participate in social networking.
"Networking" can be said to be
a supportive system of sharing information and services among some individuals and some groups having a common interest or goal, networking can also be defined as a legal and easy way to interact or communicate with others to exchange quality information and develop professional, business or social contacts, by bargaining, and also negotiating
Social media and networking has seriously helped to develop businesses by expanding personal networks, services, platforms and peer-to-peer selling. Social media and networking is the best and reliable way to build trust that leads to new business relationships.
People now commonly use social media to sell items, to promote their business and to also bring awareness to the public.
Most companies try to have a presence on social media, but it is the businesses that rely on personal connections which find it most worthwhile. We certainly see this in the U.S. as well with the explosion of online training and selling models.