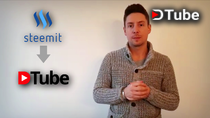 ---
Welcome everyone to the first episode of Steemit Sunday, a communal effort between @theywillkillyou and myself to try and drive as many of our almost 2 million YouTube subscribers to Steemit and DTube!
Along with this video on DTube, I have posted a trailer on my YouTube channel, talking about Steemit and Dtube and encouraging my viewers to check it out. The plan is to start doing this EVERY SUNDAY, to try and drive as many YouTubers over as we can. The full videos will also remain exclusive to Dtube for at least the first week. To get a better idea, you can check out that promotional trailer here:
Despite the very somber topic of today's video I can't help being in a celebratory mood. Being able to finally make a concrete contribution to growing the Steemit platform feels great after all the help Angelo and I have received so far.
A few people deserve a special mention. It was @alexpmorris who spent 2 hours on a Skypecall with me after just having "met" online. I had little clue about Steemit and he was nice enough to go out of his way and show me the ropes. 2 hours is a massive amount of valuable time for someone to dedicate to a person they don't even know. It came at no cost or commitment what so ever and I am still very grateful to this day.
@aggroed Is the one who relit our Steemit FIRE. His passion is contagious and his intentions are admirable. I'm excited to be on the Minnow Mayor Town Hall with him again tonight!
Then there are people like @teamsteem, @thejohahfiles, @starkerz, @yabapmatt, @acidyo and @heimindanger. These are whales, witnesses and passionate Steemians whose upvotes are massive emotional/monetary driving factors for us and many others. The fact is that this kind of support is literally a game-changer and it would be HUGE if we can eventually transition over from YouTube to Steemit and make more videos like this:
of course while bringing as many of our YouTubers over to the Steemit platform in the process! ;)
For me personally, that would be the end goal: To make many more original productions like the one Angelo and I shot with Pablo Escobar's former hitman Popeye, in Medellin last year. If I am ever lucky enough to make a living off of that then I'll be one happy camper!
---
▶️ DTube
▶️ IPFS