*** WARNING - DO NOT DEAL WITH YOUTUBE CHANNEL: "YOUR ALTCOINS" ***
Your probably most likely aware and you may have also come across this yourself that there are hundreds of fake YouTuber's claiming ownership to a particular YouTube channel and asking for money to create and/or sponsor material for you and other businesses. Most of these scammers spend there days trawling for unsuspecting victims on Telegram as this is their platform of choice BUT rarely do we see an actual real YouTuber like Your Altcoins that blatantly attempts to steal funds with no regard for moral standards and with no intention of refunding either
"B" from Your Altcoins (YouTube Channel) Will Steal Your Money!
We were approached by B's PR person: Roman Gertcev in an attempt to negotiate a mutually beneficial deal in order for our brand and website to be featured in an ICO review on the official Your Altcoins YouTube Channel. 
After our initial email conversation with Roman we agreed on paying a total of $2000USD which we agreed would be paid as 40% BTC + 60% Tokens. We also agreed that we would only pay 50% upfront and only upon video publication would the remaining 50% be paid.
We proceeded to make the 50% payment as follows:
BTC (0.1) sent: https://btc5.trezor.io/tx/ba4164bef4e312209156b5e0e65abca958d74b3d338164764a8c328c44c73ddf  
Tokens (4,364 ) sent:  https://etherscan.io/tx/0x7261b98e4fb35ced3c2091b9a987904d40e6af050efc750ddfed8358938a0943  
Below is the discussion we had with B's PR Person; Roman Gertcev via Telegram: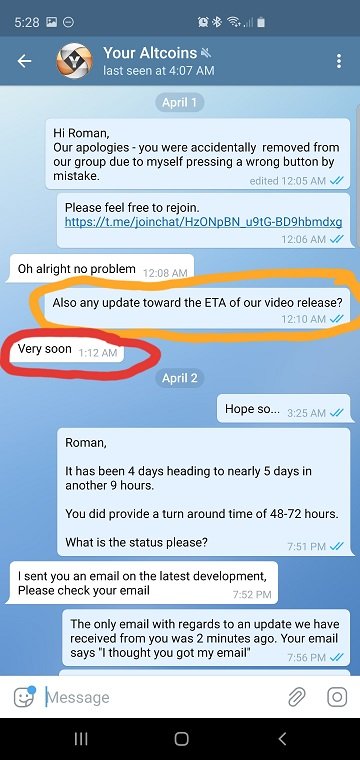 After a 5 day delay and no update we received this reply:
Basically stating that B from Your Altcoins did not want to proceed with the video and that we would receive a full refund.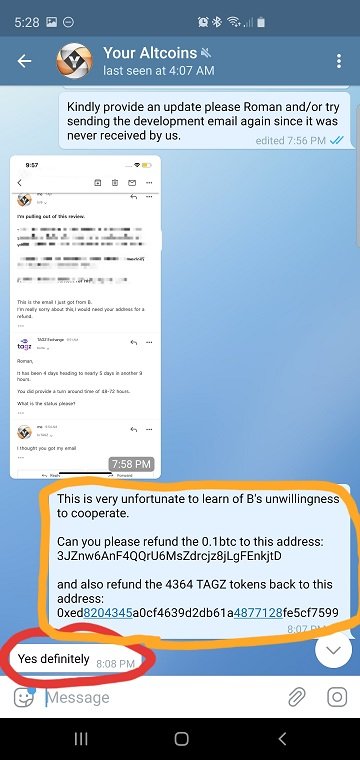 Then apparently he convinced B that he should still do the video?
We were given the Telegram username of B so we could communicate easier with B from Your Altcoins directly.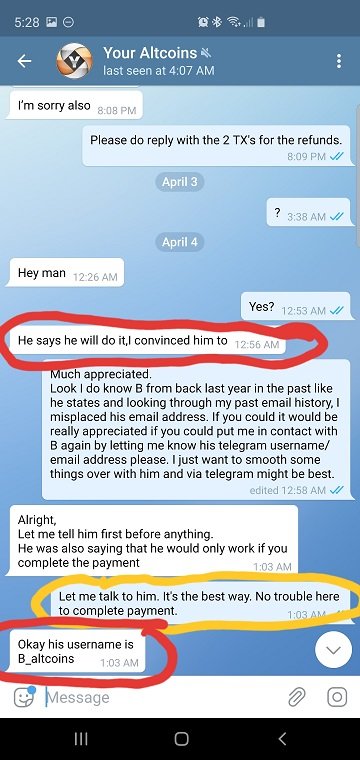 After a lengthy chat with B from Your Altcoins, B changed his mind and stated he wanted to proceed with making the video still.
We told this to B's PR person Roman and made the full payment as agreed. Roman acknowledged receiving it in the following image: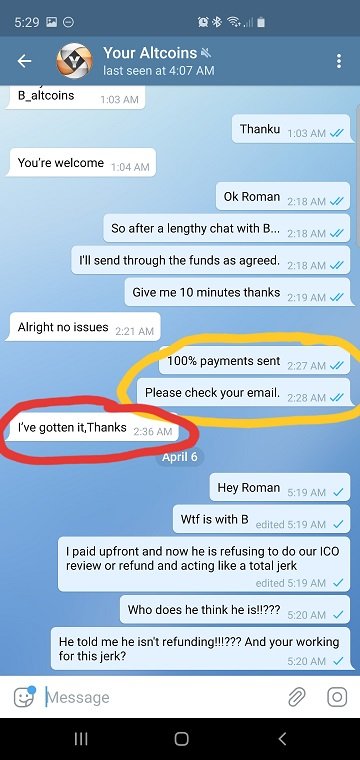 The above was the conversation with B's PR manager who handles all inquiries for the Your Altcoins YouTube Channel.
The below is the FULL conversation our CEO had with B from Your Altcoins directly:
The conversation ends with an absolutely disgusting attempt to not doing the video as agreed and keeping all funds that we sent in good faith and stating that he will not refund the money!
The initial beginnings of discussion went smoothly: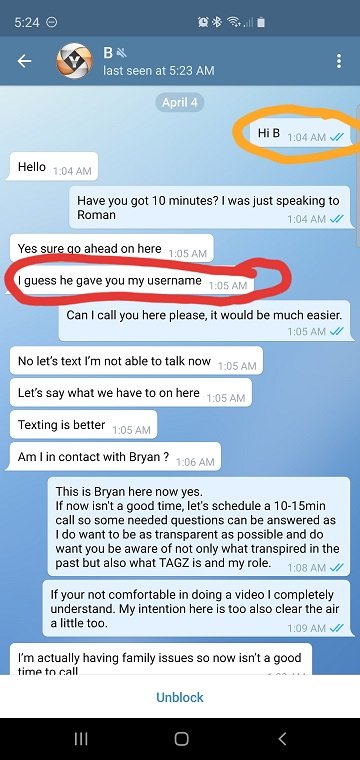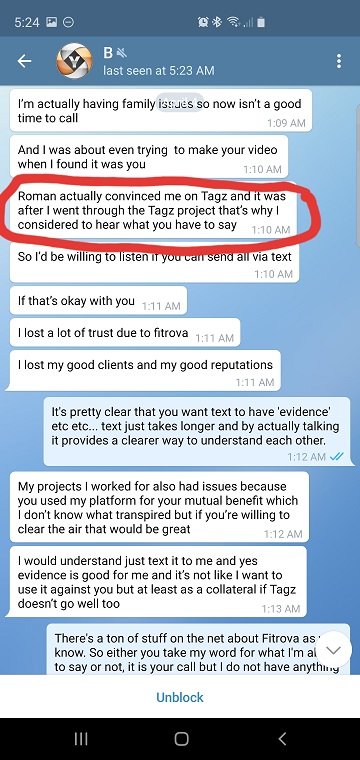 B asked for clarification around our CEO's dealings regarding a past project: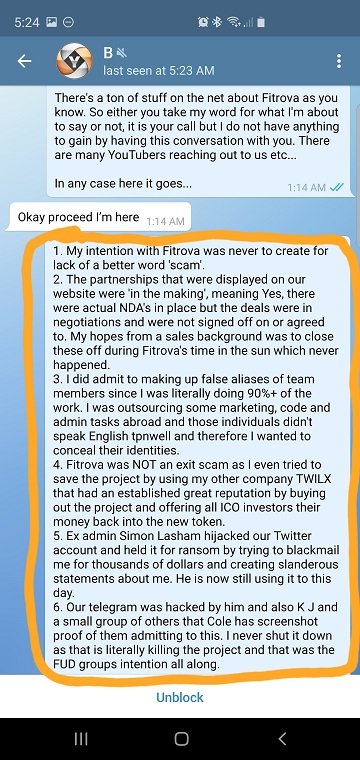 B Asking for further clarity around where the funds from a past project went to: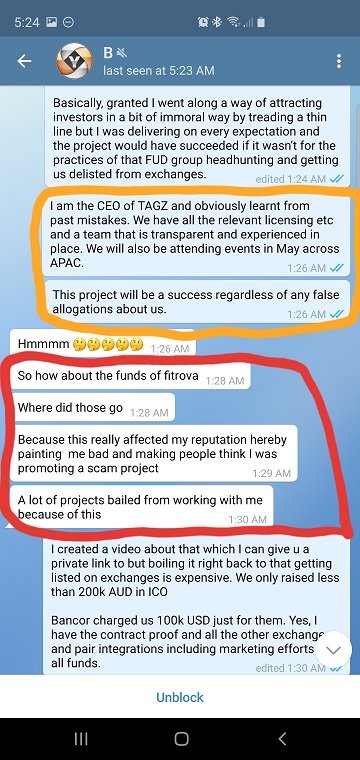 Our CEO explaining that exchange fees gobbled up all funds raised through the Fitrova ICO: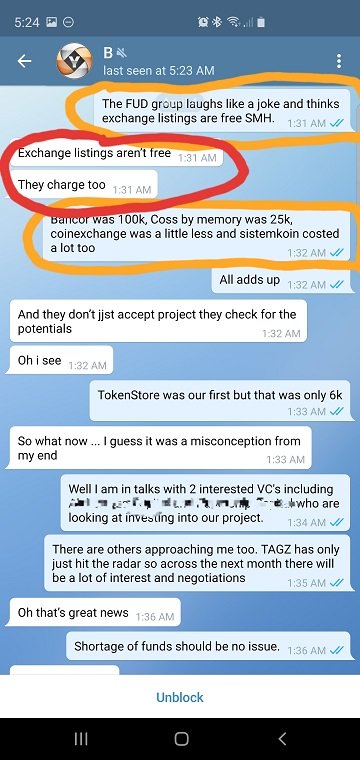 B saying that he still wants to review our project but now is now trying to change the deal that we had already agreed on and is now demanding full payment upfront: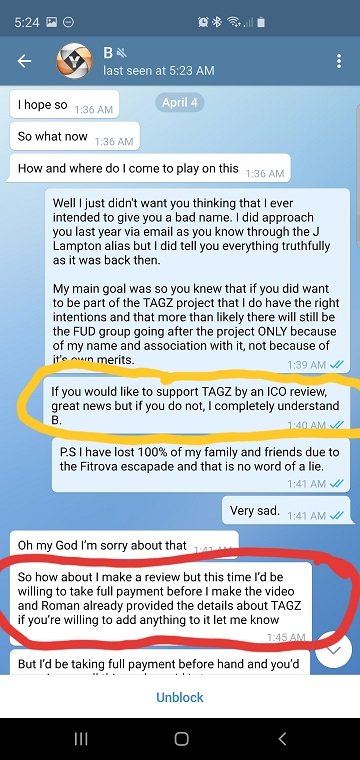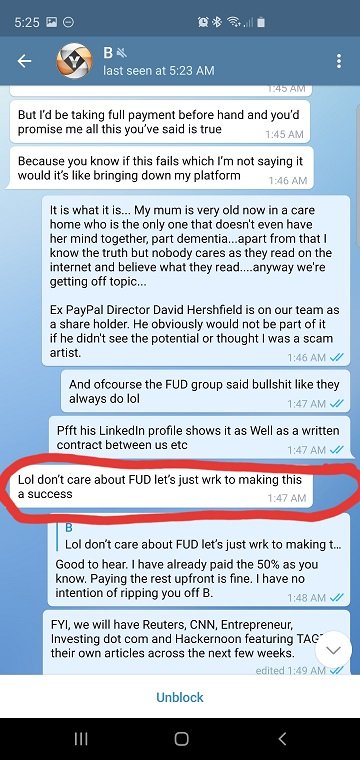 We agree to pay the full upfront payment as we thought there was trust:
B from Your Altcoins caught trying to increase the value of the deal that we already agreed to prior: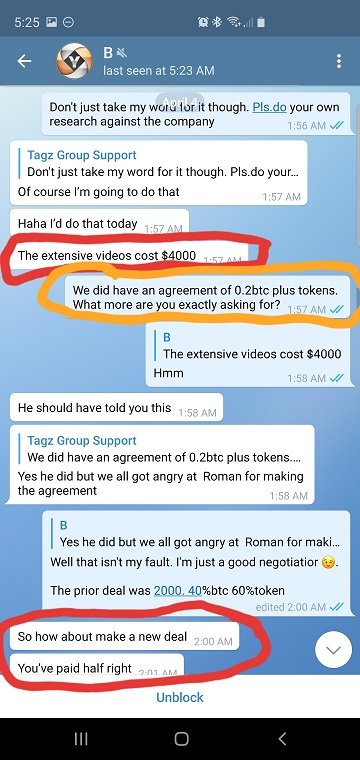 B from Your Altcoins acknowledging that we already paid half 50% upfront for the deal: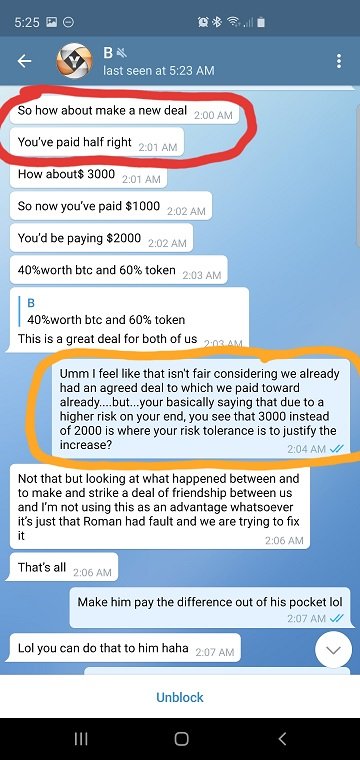 We eventually settled on a deal for a higher amount for $2,500USD: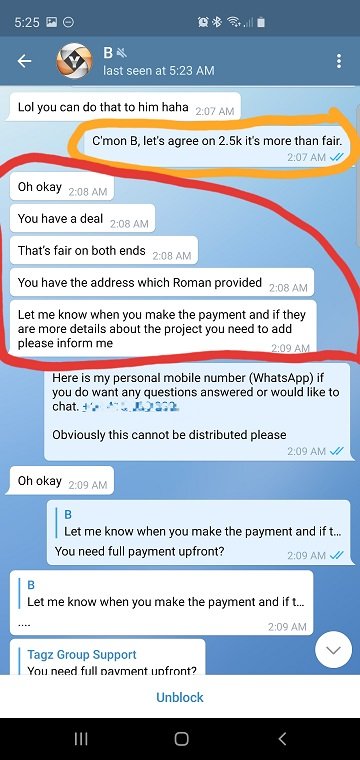 B from Your Altcoins demanding payment upfront: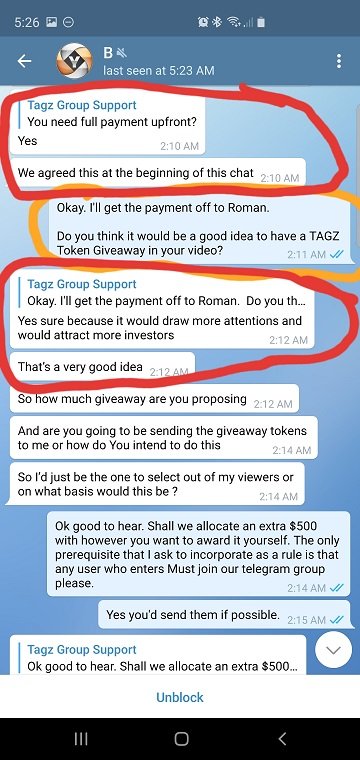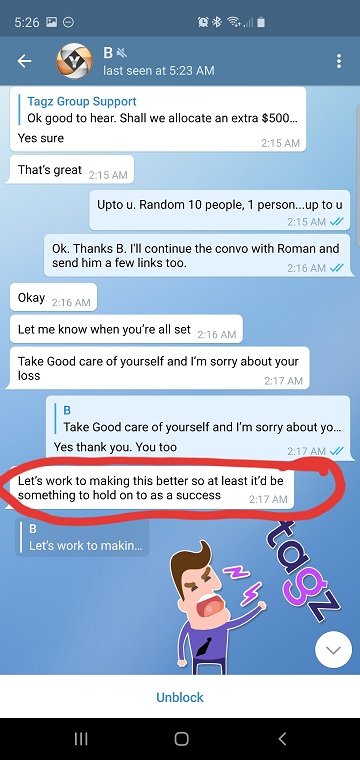 We were given a 5-7 day turnaround time for the video to be completed and uploaded onto the Your Altcoins YouTube Channel: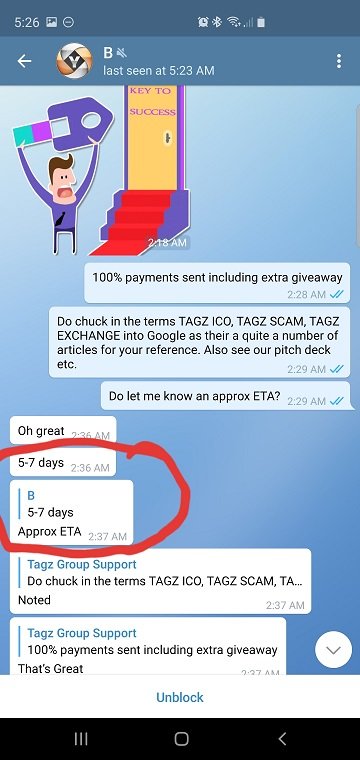 After a couple days we received a message from B as follows: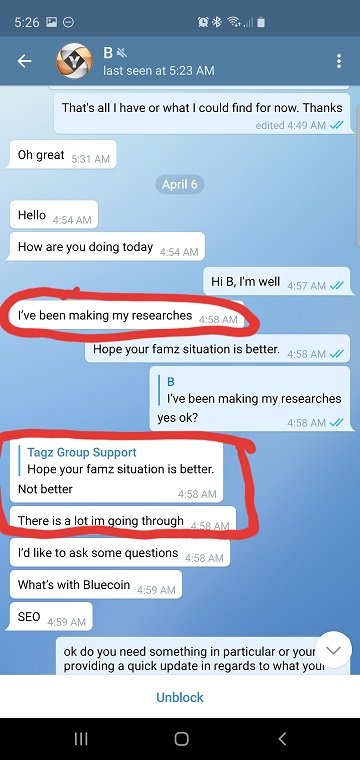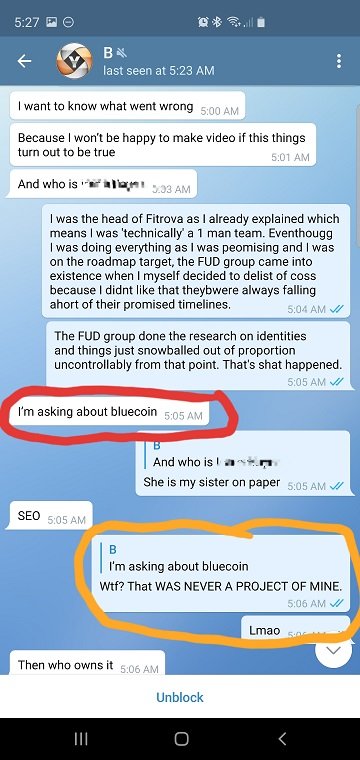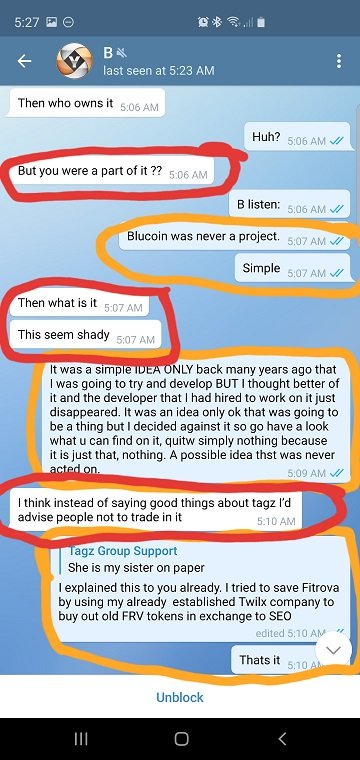 B from Your Altcoins now caught backing out of the deal by making excuses and threatening our CEO and also saying these exact words: "I'm not going to refund":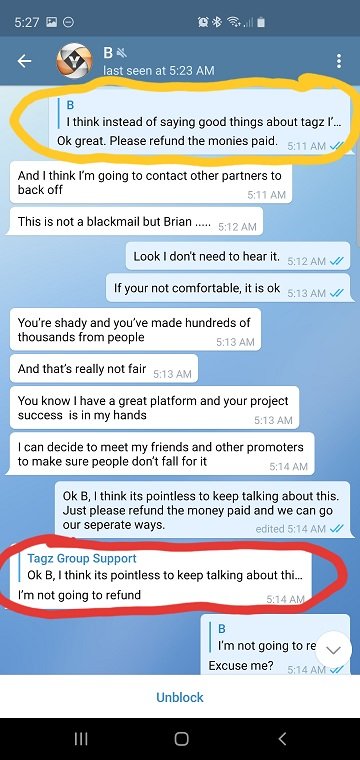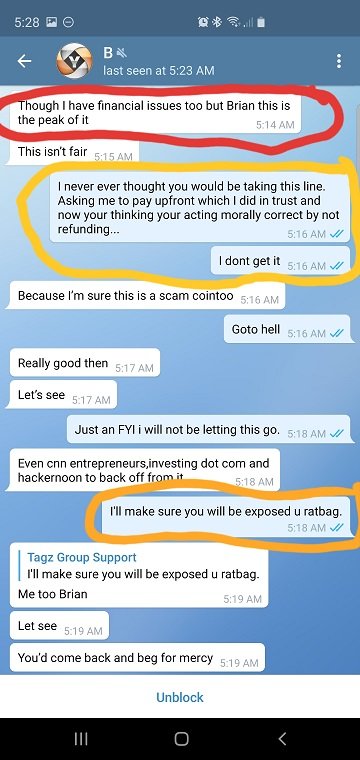 The above screenshots show disgusting, immoral untrustworthy and illegal behavior by B and the Your Altcoins YouTube Channel.
Our initial 50% payment:
BTC (0.1) sent: https://btc5.trezor.io/tx/ba4164bef4e312209156b5e0e65abca958d74b3d338164764a8c328c44c73ddf  
Tokens (4,364 ) sent:  
https://etherscan.io/tx/0xa99d6f09493d3003e09fe75a3c426180f5890b3fb2ac9239f2876fea51bdb481  
Our second full payment:
BTC (0.15) sent:  https://btc5.trezor.io/tx/58460b48df4c5080d57efe14785785c338012f94533d659caeb0a703511f39ad 
Tokens (6,546) sent: https://etherscan.io/tx/0xdfb852b4216dc1519dfc107a03b26d3dab550da2aaa13436fd7629c0f25996e0
The Extra $500 tokens sent for agreed giveaway: https://etherscan.io/tx/0x66ca4f1621901ff203f83db18d7484e0139c463b00a3d32c80b2aa8bf1983ddd
*** DO NOT DEAL WITH YOUR ALTCOINS - YOU HAVE BEEN WARNED!! ***