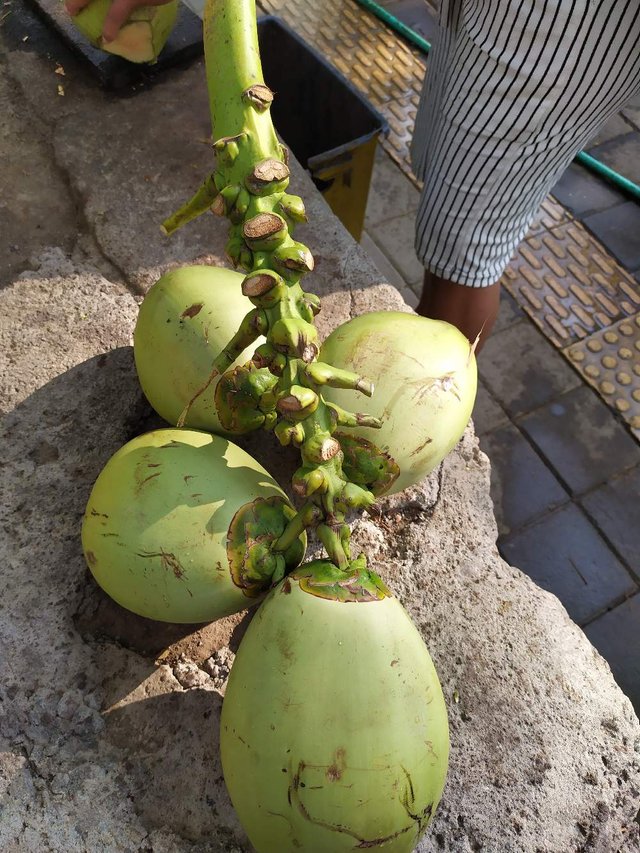 Good morning everyone. I want to share the benefits of young coconut water. Here I meet a trader who sells 2 types of young coconut, 1 green coconut and 1 coconut Mulung (inside it has a rather red color).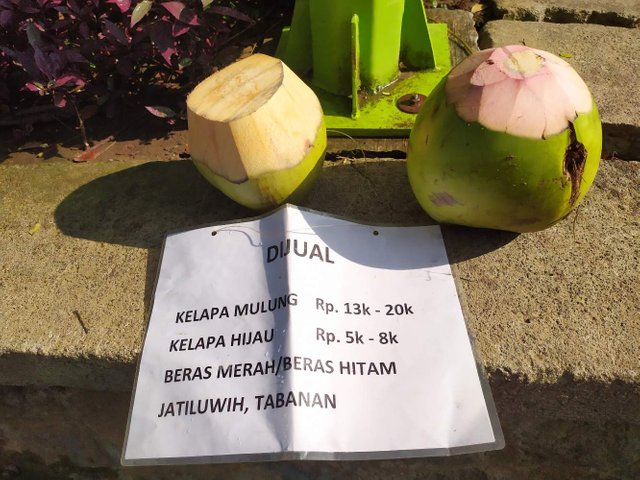 The price is also different if the green is cheaper and the slightly red is more expensive .Young coconut water has many nutrients and vitamins stored in the fruit and water. With the amount of content contained in it, what are the benefits of this coconut water for the body? Following complete information. 1. Prevent Dehydration Young coconut water contains electrolytes which can replace fluids and are easily absorbed by the body. This is why many young coconut water is chosen by many people for breaking the fast menu. Holding thirst all day makes the body lack of fluid. By consuming it, it can replace the liquid that has been drained during fasting. 2. Maintain Kidney Health Kidney is a very important organ for the body, so you need to maintain kidney health. The nutritional content of green coconut water is able to keep the kidneys healthy and functioning properly. You can consume young coconut water regularly and regularly to be able to maintain kidney health.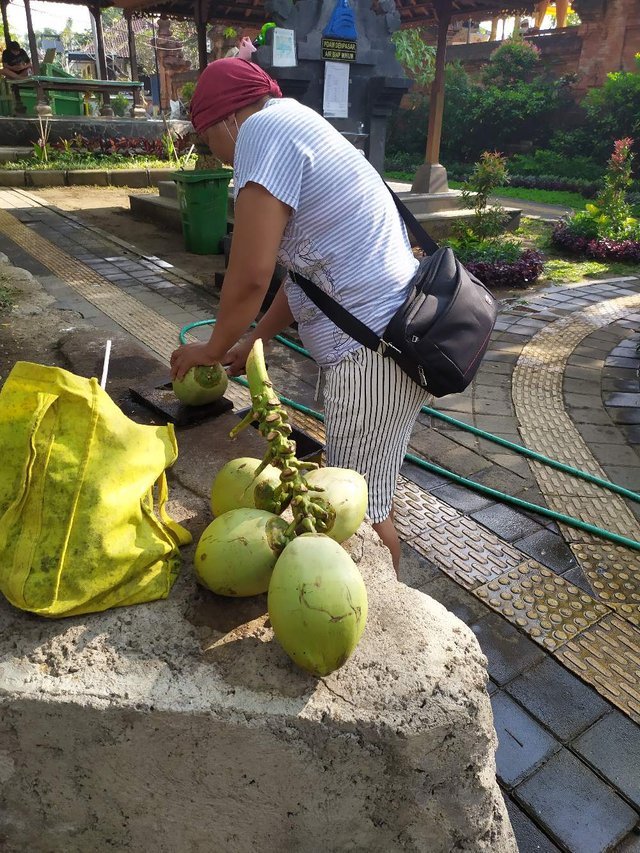 Maintaining the Health of Pregnant and Fetus Young coconut water contains lauric acid compounds that can help fight various diseases. Lauric acid is also found in ASI and has similar benefits for anti-fungal, anti-bacterial, and anti-viral properties. This makes it highly recommended that pregnant women consume green coconut water routinely to maintain the health of the mother and fetus so they are not susceptible to disease. 4. Smooth digestion In old coconut water contains lots of fiber and nutrients that are very good for the digestive system. Healthy digestion is characterized by smooth bowel movements in the body. Digestion will be disrupted when the body lacks fiber intake in the body. Therefore, by consuming old coconut water can help digestion stay smooth and awake. 5. Maintain Skin Beauty The next benefit of coconut water is that it can maintain skin beauty if consumed regularly. Coconut water can prevent premature aging, flatten skin pigmentation, prevent skin irritation, and relieve acne. This is because coconut water can protect the skin from the dangers of free radicals. 6. Preventing Heart Disease Maintaining heart health by balancing cholesterol levels. By consuming coconut water can help, because coconut water has a content that can reduce bad cholesterol and increase levels of good cholesterol in the body. Consume coconut water regularly, it aims to maintain cholesterol and have a positive impact on heart health.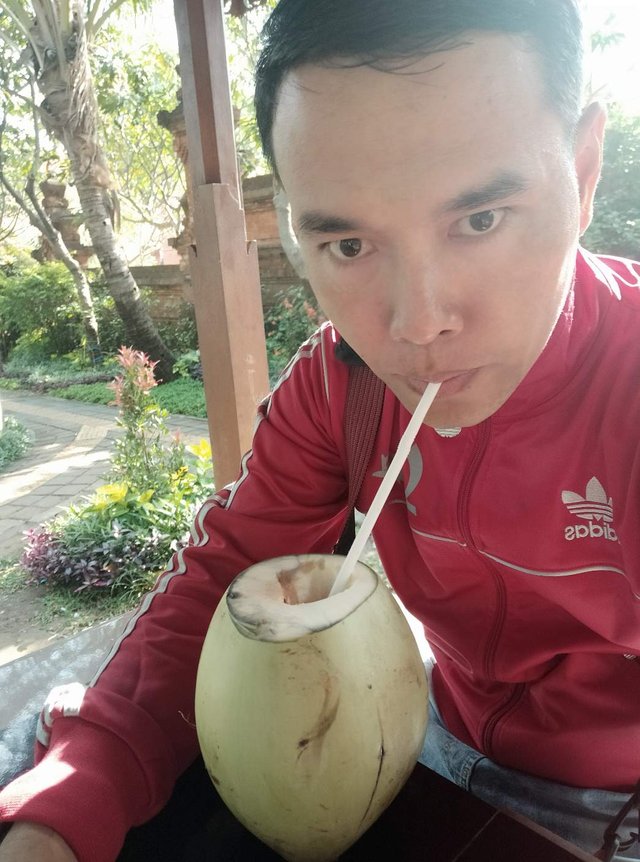 Preventing Kidney Stones Coconut water can help dissolve kidney stones. This is because there is a potassium content that plays a role in the process of alkaline urine and prevents the formation of kidney stones.8. Control Diabetes You can consume coconut water to control diabetes. By consuming regularly it can increase blood circulation in the body. This process can help dilate blood vessels that are shrinking due to plaque formation, and help blood flow smoothly so that it can control diabetes.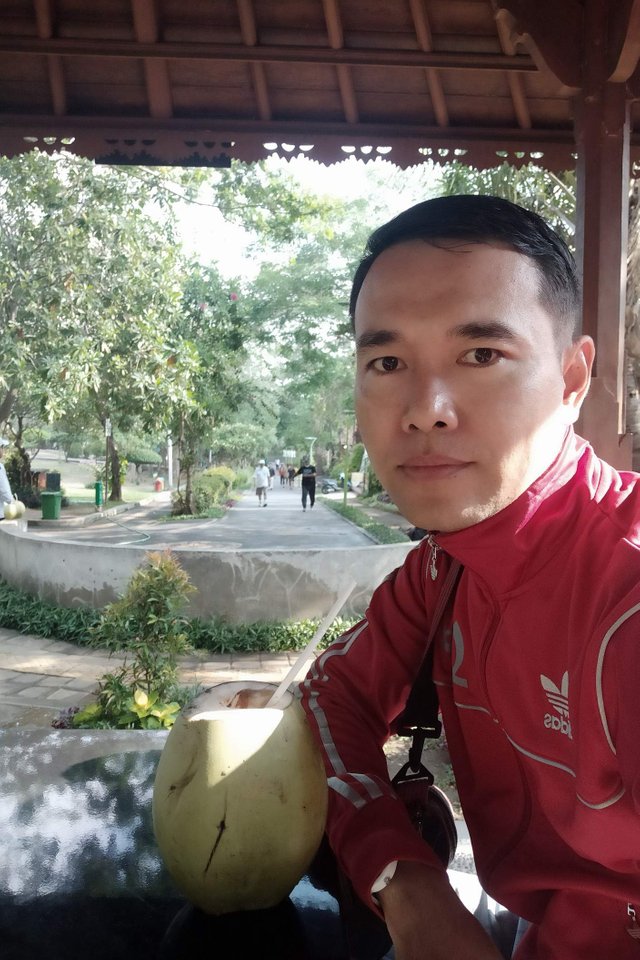 Cure Allergies to the Skin Green coconut water has properties that can reduce bacteria, viruses, and fungi that cause skin allergies. You can use young coconut water to help with healing that is accompanied by doctor's medication. 10. Overcoming Hair Loss You can overcome hair loss by consuming coconut water. In coconut water, there are minerals, glucose, fructose, sacrose, and fructose which are effective in dealing with hair loss. 11. Lose Weight Coconut water is a low calorie drink. Consuming this coconut water can make you full longer. Consumption of a glass of coconut water before meals will make a smaller portion of food. With the many benefits of coconut water, it is natural that many make favorite drinks. You can consume it regularly to feel the many benefits for the body.
Source :
https://m.detik.com/health/berita-detikhealth/d-4554422/11-manfaat-air-kelapa-untuk-kesehatan
Translated.
Posted using Partiko Android