Proposal For A Borehole Well Water Project For The Kids Preparations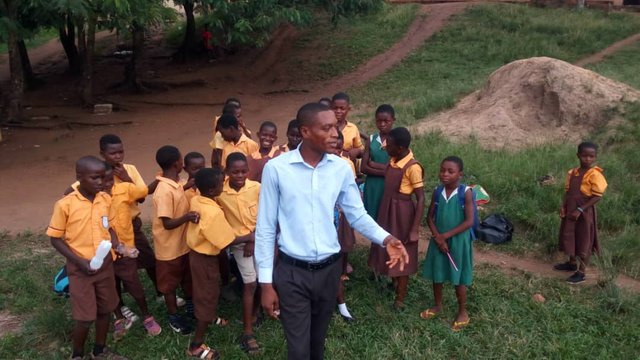 The current situation about the borehole project for the kids of Kwakyekrom M/A Basic School and community as a whole is still in preparation. The drilling team are currently on some few projects and will be at our service after they are done.
We spotted some areas in the school that will be the main place for the construction to take place after we spoke with some few students, teachers and the school's prefects.
We would love to Thank anyone who has taken the time to help make this a success and we are still calling out to you to help this course, A course that is currently 70% funded and needs your support.
This is a video of the entire conversation that went on between the students and teachers about their challenges over the past years.


Help save a child's life by donating to this project.
PROOF OF WORKS:
Steemit Kids World Foundation is a Ghanaian registered non-profit organization where like-hearted individuals come together and become agents of change.
Our key areas of focus are what we believe to be the pillars of a fulfilling life - health and education.
Goal Of Steemit Kids World:
To help build self-confidence in kids who have gone through traumatic events and Create a joyful environment for learning
To educate kids about basic health, hygiene, sanitation and on their rights as a child.
Encourage and ensure each girl become an independent thinker and self-learner.
To help the needy, deserving children, handicaps, orphans, and sick children by providing them with books, scholarships, school uniforms, medicines, clothes, hospitalization, food etc
To organize talent show programs for specially disabled kids or homeless kids to help boost their confidence and hope of a bright future.
To conduct health awareness programs for the kids on the streets about drugs
To organize social awareness camps and counseling sessions for kids going through life abuse.
Donation Address:
Etherium, or through steemitkidsworld
  Etherium                                        0xc1d530DC58C2CC371Eeca46741e7e93e87F78a81

kindly Support steemitKidsWorld by Delegating SP via any of the links below..
50SP, 100SP, 250SP, 500SP, 1000SP, 5000SP