After XSteem proposal, I have received a lot of questions. In this post, will try to answer some common questions. Feel free to ask more questions please, so we can update this post to clear any uncertainties and doubts.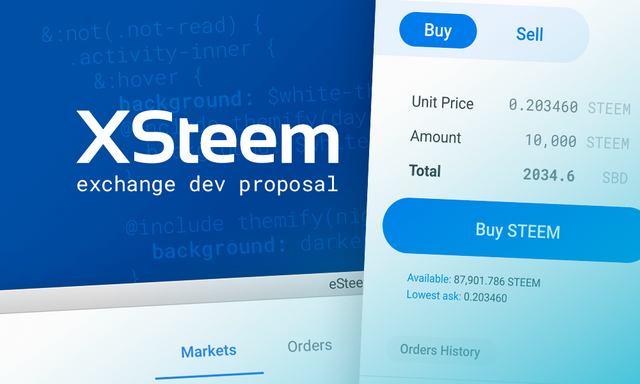 What's XSteem?
XSteem is potentially, full fledged SMT exchange. Allows you to trade SMT tokens with STEEM, with proper charting and tooling around multi-token management. Opensource Mobile app and Website!
What's the purpose of Proposal?
Our team, has extensive knowledge of Steem by building eSteem and we have vibrant community. We propose Steem community to build opensource software that can be used, hosted by anyone. Funding is essentially to support foundational development of XSteem software.
Who will host XSteem?
Software will be opensource and development version will be hosted by us and anyone can make a clone and host their own version with their own set of tokens and improve upon software. Everything will be documented and opensourced.
What is included in proposal?
We made post about details of XSteem and what it could include. Read more here: XSteem proposal details
Essentially, it will be backend, frontend for web and mobile. Backend will have additional data api and data indexer to allow flexible charting for better trading experience.
Is there regulatory issues?
There are certain regulatory issues that may arise having the chain support a DEX, but we think design Steem blockchain following has less risks and can be taken as peer to peer digital goods exchange. We are doing some more research on this field, but it shouldn't affect our development, because we are developing software that utilizes Steem API.
Will Steemit build DEX?
I cannot speak for Steemit Inc's plans, but I think there will be minimal onchain DEX as part of SMTs. Slight extension of current internal market Steemit implemented. However, having more tools around SMTs is better and XSteem will be much more user friendly, with better charting tools, because we will be building backend that will create API just like traditional exchanges where data can be interpreted as candlesticks, additional trading indicators, price tickers, better wallet management and mobile.
How much are you asking?
Daily budget is 333 SBD which is around ~$230. It is very small portion of daily budget. ~1300 SBD is daily budget of SPS and it is increasing by minutes. We think XSteem will be great service for the growth of community and accelerate adoption of SMTs.
How do I support project?
You can support us by approving proposal, currently we have around 3.4M SP approving, to be funded and start development, we will need ~10M SP more.
If you think, our team can deliver XSteem, support.
Approve Proposal #44
https://steemitwallet.com/proposals