Atacires de los vikingos en un lejano continente - The image is made of own imagination and thoughts (competition 61)/ Viking atacires on a distant continent.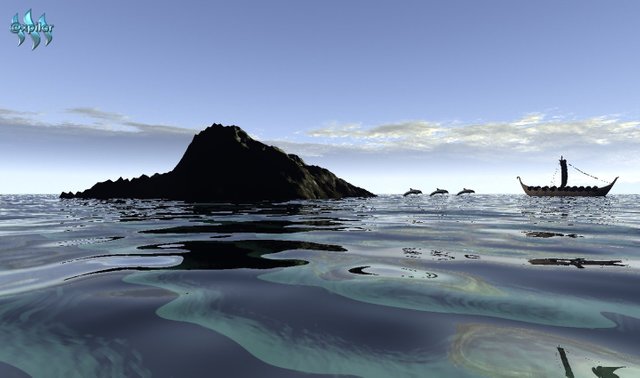 Español
Poema: Atacires.
Autora: @renataboreal.
Con la ayuda de un antiguo astrolabio, que me regaló un furtivo amigo, puedo abrir los atacires de la bóveda celeste y mover a un grado por día, los acontecimientos planetarios sin que cronos, el dios del tiempo interfiera en mis acciones astronómicas.
Pues ya sabemos que el tiempo es relativo, y ahora podemos jugar con la velocidad de la luz, y la proporción de los átomos.
Lo que me permite viajar por atajos entre agujeros de gusanos y crear fractales, en realidades paralelas, como por ejemplo amarizar en un lejano continente dominado por cetáceos de brillante inteligencia, custodios, de las barcas fantasmales de los guerreros vikingos
En esa fuente de agua salada, puedo mover a voluntad las agujas de la revolución solar, para que los Nórdicos guerreros pongan en reposo sus barcas, y puedan sanar sus heridas, vitoreadas con laureles del triunfo, tras ganarse la batalla del Monasterio de Lindisfarne.
El atacir del primer grado, representa la casa del yo, la fachada superficial de cada hombre, con esa máscara conocemos a los guerreros escandinavos, a conveniencia de la historia convencional, cuyas referencias nos muestran a unos hombres grotescos, aterradores, pillos saqueadores del patrimonio de los pueblos
Recordemos estimados amigos, que la historia la escriben los hombres, y la manipulan de acuerdo a sus intereses, por lo que os recomiendo, que confíen más en la mecánica celeste, pues los astros no saben mentir, y te lanzan la verdad como un pastel en la cara, sin decoro ni contemplaciones.
Por lo que dejándome llevar por mi intuición, sigo confiada entre galaxias y muevo mi astrolabio para consultar al anciano de los días, el padre de la eternidad, quien me cuenta que los mal llamados saqueadores de la edad media, fueron en realidad, navegantes estrategas, precursores del Atlántico y difusores del arte de navegar, por todo el orbe de la Europa Occidental
Fin del Poema
---
Nota: La palabra Atacir es un término utilizado en astronomía y por extensión en la astrología, que significa mover o desplazar planetas por grados y revoluciones, de acuerdo a lo que se quiera ver u observar en el movimiento de los astros. También se usan estos atacires para calcular la carta natal de las personas en la ciencia de la astrología.
Gracias a nuestro amigo @xpilar por su apoyo y permitirnos usar su imagen para crear nuestras historias en Steemit
---
English
Poem: Atacires.
Author: @renataboreal.
With the help of an ancient astrolabe, who gave me a furtive friend, I can open the celestial vault's attack and move to a degree per day, planetary events without chronos, the god of time interferes with my astronomical actions .
Well, we already know that time is relative, and now we can play with the speed of light, and the proportion of atoms.
Which allows me to travel through shortcuts between wormholes and create fractals, in parallel realities, such as mooring in a distant continent dominated by cetaceans of brilliant intelligence, custodians, of the ghostly boats of the Viking warriors</ center >

In that source of salt water, I can move at will the needles of the solar revolution, so that the Nordic warriors put their boats at rest, and can heal their wounds, cheered with laurels of triumph, after winning the battle of the Monastery from Lindisfarne.

The attacking of the first degree, represents the house of the self, the superficial facade of each man, with that mask we know the Scandinavian warriors, at the convenience of conventional history, whose references show us grotesque, frightening men, pillows looters of the heritage of the villages

Remember dear friends, that history is written by men, and manipulate it according to their interests, so I recommend you, trust more in celestial mechanics, because the stars do not know how to lie, and they throw the truth at you Like a cake on the face, without decorum or contemplation.

So letting myself be carried away by my intuition, I remain confident between galaxies and move my astrolabe to consult the old man of the day, the father of eternity, who tells me that the so-called looters of the middle ages, were actually, strategic navigators, precursors of the Atlantic and diffusers of the art of sailing, all over the world of Western Europe

End of the Poem

Note: The word Atacir is a term used in astronomy and by extension in astrology, which means moving or moving planets by degrees and revolutions, according to what you want to see or observe in the movement of the stars. These atacires are also used to calculate the natal chart of people in the science of astrology.

Thanks to our friend @xpilar for his support and allowing us to use his image to create our stories on Steemit