XPC will be broadcasted on Korean TV 📺 🔊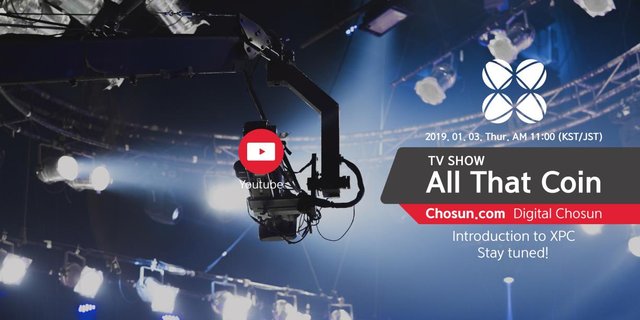 ⌚ 2019/01/03 @ 11:00 KST/JST – 02:00 UTC
____________________________
🎯 Project #XPChain will be introduced on #Korea's "All That Coin" program covering an overall summary of the project, the role of XPC in the blockchain ecosystem and its business model.
🎯 "All that Coin" is one of many programs of Digital Chosun TV http://www.dcbn.tv/ , providing in-depth analysis and information about cryptocurrency. Digital Chosun TV is a broadcasting program under the management of Digital Chosun Ibo specializing in the economy and broadcasts not only through cable but also through other SNS channels.
🇯🇵 発表
🎯 韓国のDigital Chosun TVにおいて、XPChain が紹介されることとなりました。
「All That Coin」は韓国初の仮想通貨専門レギュラー番組で、市場分析やプロジェクトの動向をYoutube LIVEでコメンテーターが紹介します。(韓国語での放送となります
🇰🇷 발표
🎯 내일 오전 11시(한국시간)부터 올댓코인 프로그램에서 XPChain 프로젝트 전반적인 소개를 비롯하여, 블록체인 생태계에서 XPC의 역할 및 비즈니스 모델에 대한 소개가 있을 예정입니다.
🎯 올댓코인은 디지틀조선TV의 프로그램 중 하나로 국내외 암호화폐 관련 정보를 심층 분석하는 암호화폐 정보 프로그램입니다. 디지틀조선TV(dcbn.tv)은 조선일보의 자회사인 디지틀조선일보에서 운영하는 경제 전문 방송이며, SNS의 특성을 살려 TV 방송 뿐만 아니라 각종 SNS 채널을 통하여 방영됩니다.
‍ How To reach us ‍
🌐 Discord: https://discord.gg/uqeFvGC
🇯🇵 Discord: https://discord.gg/wNZq5vH
🇰🇷 Discord: https://discord.gg/w8H352P