Clash of Champions Review - Luke Harper's back, 2 titles change hands and The Fiend attacks Seth Rollins
Clash of Champions just happened, and it was a very interesting show. I'll go through all of the matches and rate each one in a 5 star system. Let's go.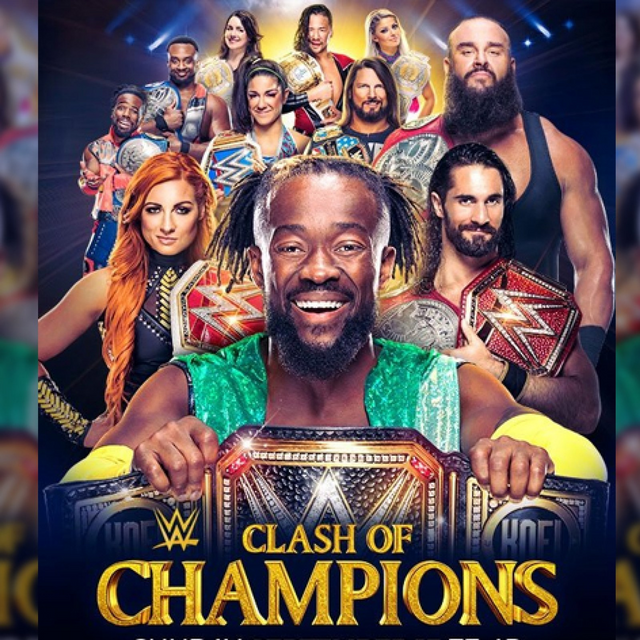 Oh, and by the way, these were my predictions for COC (which you can also see here: https://steemit.com/wwe/@kedem-shpatz/wwe-clash-of-champions-preview-predictions-and-more):
-Drew Gulak to beat Humberto Carrillo and Lince Dorado
-Robert Roode and Dolph Ziggler to beat Seth Rollins and Braun Strowman
-Alexa Bliss and Nikki Cross to beat Mandy Rose and Sonya Deville
-The New Day to beat The Revival
-AJ Styles to beat Cedric Alexander
-Erick Rowan to beat Roman Reigns
-Shinsuke Nakamura to beat The Miz
-Sasha Banks to beat Becky Lynch
-Bayley to beat Cherlotte Flair
-Kofi Kingston to beat Randy Orton
-Seth Rollins and Braun Strowman to fight to a no contest
Pre Show
I know, I know, I missed one of the pre-show matches of All Out, too, but this time it's for a different reason. I forgot that you need to click seperately in the Network to watch the pre-show (I didn't watch it live, too late where I live), so I missed it entirely. So just to recap:
Drew Gulak defeated Humberto Carrillo and Lince Dorado - Predictions score: 1-0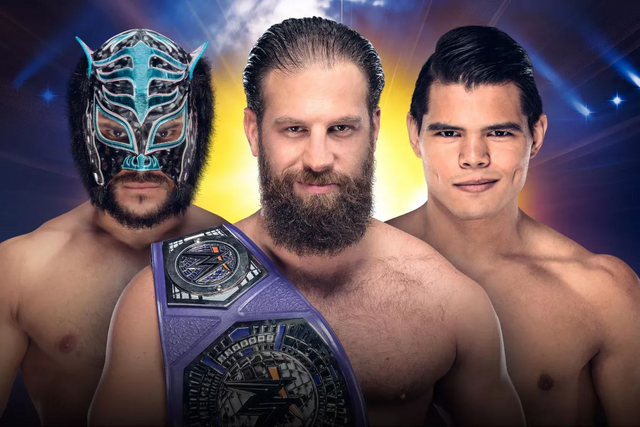 AJ Styles defeated Cedric Alexander - Predictions score: 2-0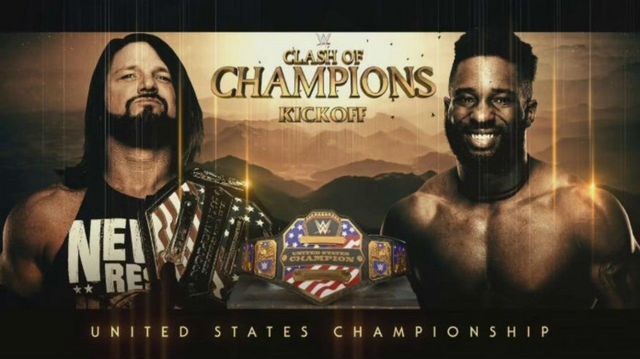 Onwards we go.
Main Show
Seth Rollins and Braun Strowman (c) vs Roodolph (Robert Roode and Dolph Ziggler) for the Raw Tag Team Championships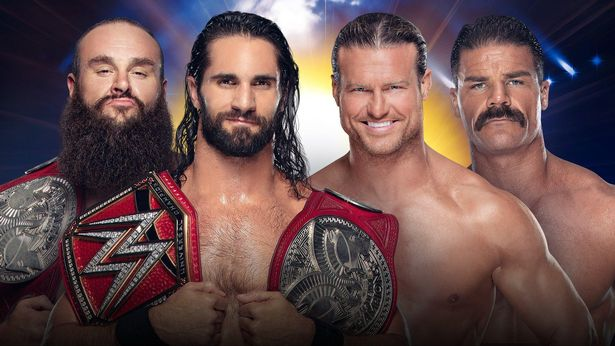 This match went pretty much like I expected. Solid action, and Seth and Braun lose because of a mistake, though it was actually Braun's mistake, not Seth's like I predicted. Robert Roode and Dolph Ziggler are your new Raw Tag Team Champions.
Rating: 2★
Predictions score: 3-0
Bayley (c) vs Charlotte Flair for the SmackDown Women's Championship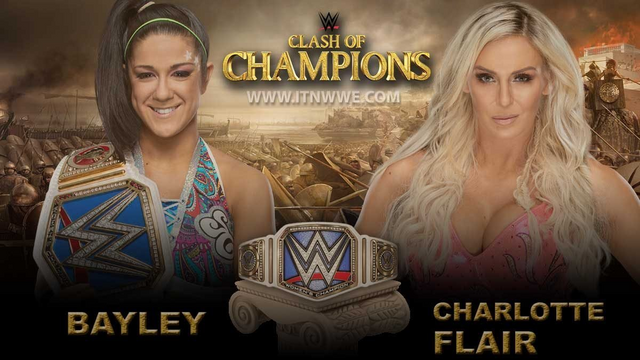 This was a short, but well-executed match. It was only 3:45 minutes, but it told exactly the right story. Charlotte dominated the match right from the very start, and when the ref was distracted, Bayley pulled Charlotte face-first right into the exposed turnbuckle, pinned her, and ran away like she was holding the 24/7 Championship. Bayley is getting more and more heelish, turning more and more into a coward, a cheater. and that's exactly the story they need to be telling.
Rating: 2★
Predictions score: 4-0
The New Day (Big E and Xavier Woods) (c) vs The Revival (Scott Dawson and Dash Wilder) for the SmackDown Tag Team Championships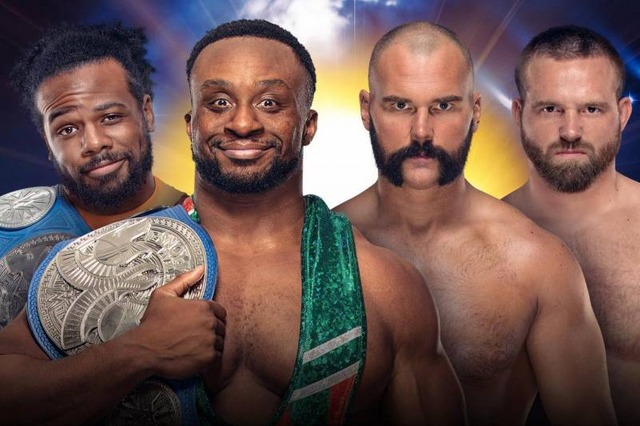 This was a pretty good match, though it went exactly opposite of the way I thought it would go. Good action, and the ending saw Xavier getting hit with a Shatter Machine, but Wilder told Dawson not to make the cover. Instead, Dawson put Woods in an inverted figure four leglock, and forced him to tap out. Interesting finish to a good match.
Rating: 2.5★
Predictions score: 4-1
Alexa Bliss and Nikki Cross (c) vs Mandy Rose and Sonya Deville for the Women's Tag Team Championships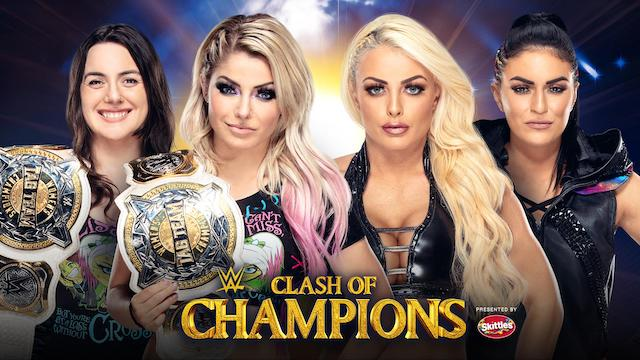 This, again, was a good match. Nothing spectacular, but it did its job. It looked like Mandy and Sonya had the match won after their version of The Elimanator (a leg sweep-bicycle knee strike combination), but Nikki Cross just broke up the pin in time. Cross wins the match with a rope-hung neckbreaker.
By the way, I really laughed at Bliss's backstage promo, where she informed everyone that R-Truth was besides her and invited everyone to try to come and take his belt. during Cross and Bliss's match, the 24/7 division invaded ringside and Bliss almost won the 24/7 Championship via a roll up. I love the 24/7 title. It's just nonsense fun.
Rating: 2★
Predictions score: 5-1
Shinsuke Nakamura (c) (with Sami Zayn) vs The Miz for the Intercontinental Championship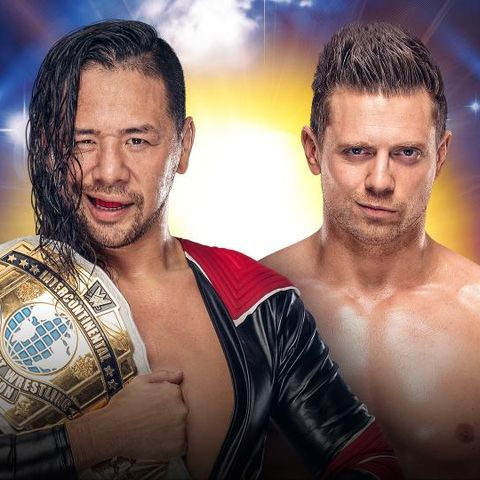 This was a good match, with good shenanigans, too. Sami was doing his shtick (and it's a good shtick) of live-commentating and hyping every single one of Shinsuke's moves, and trashing on every single one of Miz's moves, until his mic was cut off. After that, it was a good, standart match (probably the best of the show up to that point), and Miz was close to victory numerous times, but Sami just kept interfering. By the way, WWE has done a great job of protecting the Skull Crushing Finale. It's not the most protected in WWE (Lesnar's F-5, Strowman's Running Powerslam and Baron Corbin's End of Days are the most protected right now), but it's pretty damn protected. Anyways, Nakamura wins after the Kinshasa, and retains the IC Championship. Thank you, WWE, for not going all petty and having The Miz win the title just to stick it to Jericho. I trusted you, and it payed off for me.
Rating: 2.75★
Predictions score: 6-1
Becky Lynch (c) vs Shasha Banks for the Raw Women's Championship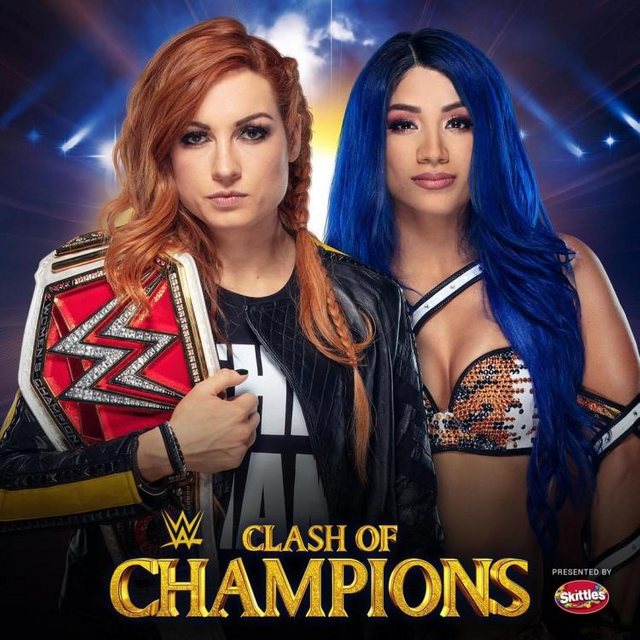 This was a good match, very well-choreographed, but it all disolved (in a good way, not a bad one) when Sasha Banks just kept trying to find ways to cheat to win the title. First, she used one of Eddie Guerrero's old tricks of distracting the ref with one chair and then using another while he's getting the chair out of the ring. Then, she kept trying to find how to use the chair and not get disqualified, and eventually Becky got a hold of the chair and tried to hit Sasha with it, but she dodged and accidentally hit the ref.
After that the match just turned into a brawl in the crowd (something that would return later on in the show) and these two just continued to fight each other all across the arena, even reaching a hot-dog stand where Becky sprayed Sasha with mustard. They eventually got back inside the ring where Becky locked Banks in a chair-assisted Dis-arm-her, and she had to be pulled apart to be stopped. This was a bit confusing, since the bell never rang, but it was announced afterwards that Lynch had been disqualified for striking an official. OK. Fine with me.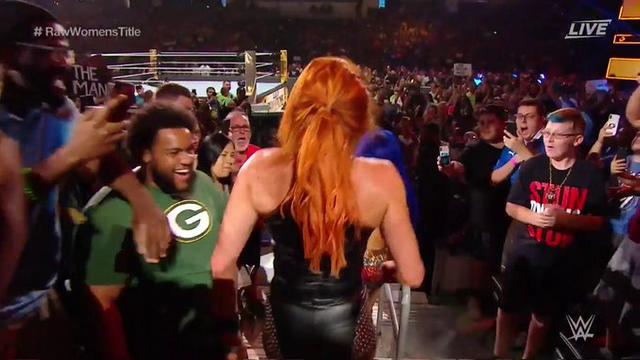 Also, even though Sasha didn't win the title, she still won the match, so I still get the prediction point. Wow, more luck than brains, huh?
Rating: 3★
Predictions score: 7-1
Kofi Kingston (c) vs Randy Orton for the WWE Championship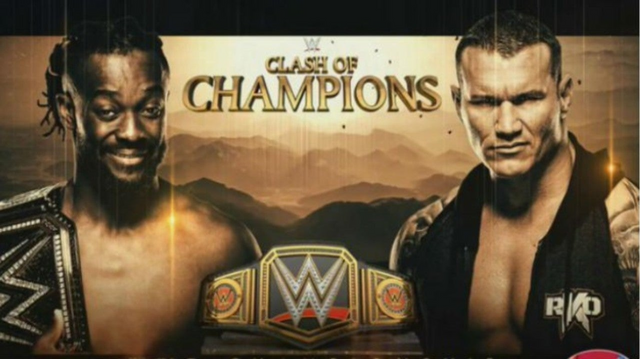 This was a slower, but still good match. Even though Randy has never been more than decent in the ring (honestly, Corbin is a better in-ring performer than him) he still put on a good performence. Like Baron Corbin (who's really improving as of late), Randy was blessed with a very good moveset, and it worked out really well in this match. These two fought for 20 minutes, but I was still hooked right until the very end (probably also because of the very good build-up).
It looked like Orton had the match won when he hit the RKO, but Kofi got his foot on the bottom rope. In the end, Orton went for The Punt, but Kofi dodged and hit the Trouble in Paradise to win the match. Hopefully this is the end of their feud, but this is WWE we're talking about, they'll probably have 11 more matches.
Rating: 3.5★
Predictions score: 8-1
Roman Reigns vs Erick Rowan - No Disqualification match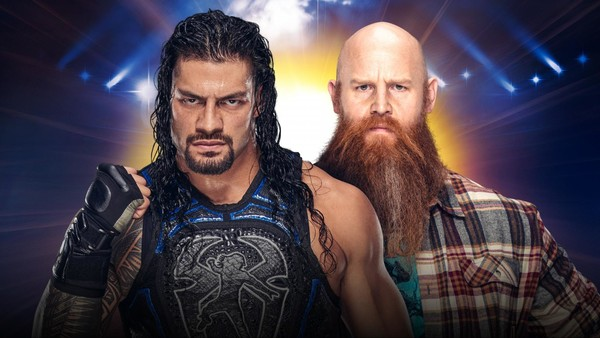 The only non-title match on this show, this really didn't need a title as the build was... Weird, but picked up two weeks before the PPV. I was really pumped up for this match, and it really delivered. These two fought in the ring, at ringside, in the crowd, on the stage and everywhere they could go. Roman even returned the favor to Rowan by hitting him with the camera jib two times for the one time Rowan hit him with it on SmackDown. In the end, Roman hit the Superman Punch and was going for the spear, but he was caught with a big boot from the returning Luke Harper, who came to Erick Rowan's aid and later hit Roman with a discus clothesline. Rowan then performed the iron claw to get the 3 count and win this match.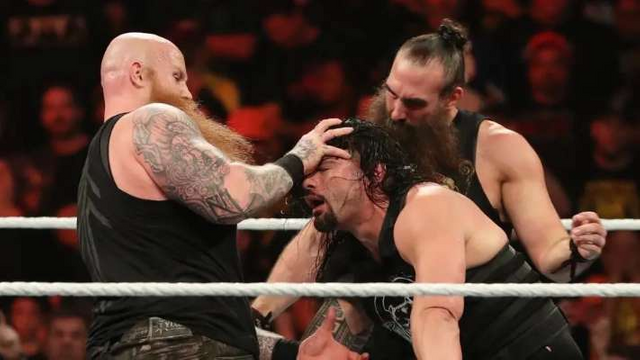 Rating: 3.75★
Predictions score: 9-1
Seth Rollins (c) vs Braun Strowman for the Universal Championship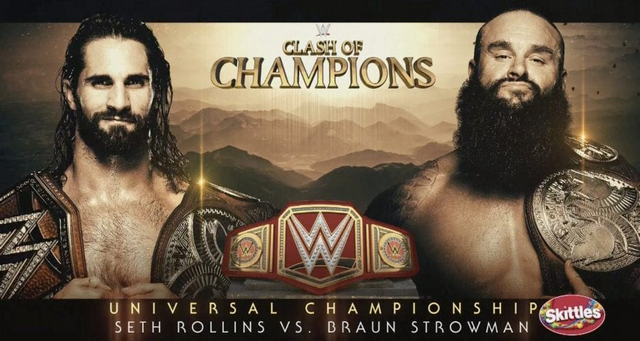 Wow. Just wow. This match was just incredible. It was the same style as the Rollins-Lesnar match on SummerSlam, but even better in my opinion. So many memorable spots in this match. Rollins hitting Strowman with three superkicks and a frog splash for a one count by the ref, Rollins going for a superplex on Strowman, Strowman performing a diving splash, Strowman kicking out of three stomps, and more.
It took Rollins a pedigree and a fourth stomp to finally put the Monster Among Men down. This was an incredible match, and just showed how good these two wrestlers are.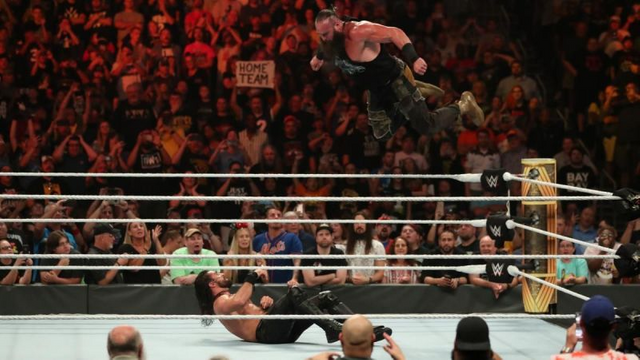 But wait, it's not over. After the match, when Rollins was on the stage, the lights went out and The Fiend appeared to give Rollins a Sister Abigail (they should really find a new name for it now) and then locked in the Mandible Claw. This was an impactful appearence for The Fiend, and I can't wait to see what happens at Hell in a Cell.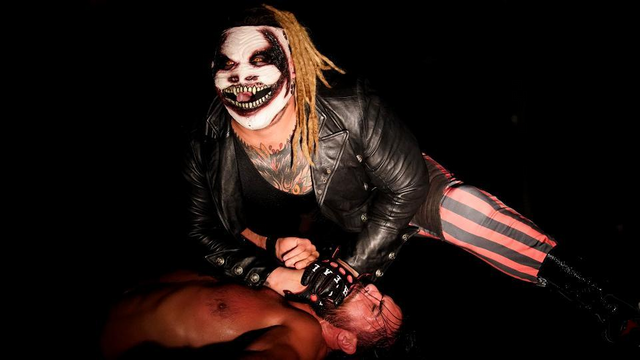 Rating: 4.75★
Predictions score: 9-2
Summary
Clash of Champions 2019 was a show without any booking mistakes that never got bad and just got better and better as the show progressed. In my opinion, it absolutely delivered, and while it wasn't as good as TakeOver: Cardiff or All Out, that are still fresh in memory, it was still a very good show.
Overall rating: B+
By the way, my predictions score exceeded all of my expectations. I thought a lot of matches were hard to predict, and never thought I would get such a high score. I know it sounds like I'm just praising myself, but you know, a man can be proud of himself, right?