My Favorite Movie- "Gone in 60 Seconds"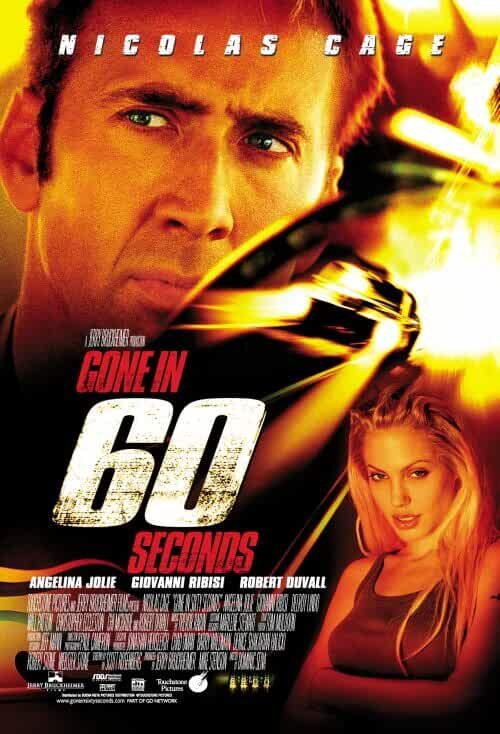 ---
Cast & Characters
Nicolas Cage ... Memphis Raines
Giovanni Ribisi... Kip Raines
Angelina Jolie ... Sara 'Sway' Wayland
T.J. Cross ... Mirror Man (as TJ Cross)
Movie Review
I cajoled into watching this movie during my college days. My anticipation was for a typical action-filled movie, but I come out with a different experience altogether when I discovered intelligence, humor, and actions all in a single package called "Gone in 60 seconds".
The story of the movie is that Nicolas Cage as Memphis Raines, along with Angelina Jolie and Robert Duvall, comes out of car-thievery retirement to save his brother's life by stealing a list of 50 exotic supercars overnight for the ruthless crime lord, Ray Calitri.
This is movie happens to be incidentally a film about car thieves. But at its core, this movie is about cars and yes you can find all super-brands-- Ferraris, Mercs, Hummer, Eleanor. This is a different kind of action film altogether, I would say intelligence+action.
Some are critical about how can someone steal 50 cars overnight, but such an intricate task also leads this film up to a different kind of charm and actions, particularly the fast cars, the chases, the intelligence filled actions, etc.
You can find the smart & humorous execution dealing with you for watching the film and that is exactly what the adrenaline booster of this is.
The best scene of the movie is undoubtedly the car chase towards the end and that is where it steals the shows for everyone including critics.
The characters were good enough. The villain was reasonably evil, and Nic Cage adds a new dimension to his character in this film. The nearest correlation I can concoct is to the embodiment of cool himself, Steve McQueen. The supporting cast was strong. Giovanni Ribisi, Robert Duvall and Angelina Jolie are on the whole equipped for undeniably more than they are given here; each of the three could sleepwalk through their jobs, yet they make a strong showing with what they're given. Angelina Jolie's character Sway was basically disposable sight to behold; I might want to have seen the Memphis-Sway story grew further and made a genuine piece of the film or rejected altogether.
The chase with Eleanor was a treat to watch in this film. Those who fascinate about cars, variety of colors, swift driving, above all intelligence chasing, then "Gone in Sixty Seconds" has everything that can take you for a ride.
You may not like execution to some extend and I might also agree with you, but the picture ethos in this movie is undeniably outstanding.
In a movie like this, no artificial tension is needed, so the stunts look very real and impressive. Albeit the pacing of the movie is little uneven, still okay overall, particularly towards the end it's interesting & fun-filled.
When a typical car chase takes you to a new level of excitement, then it is none other than "Gone in 60 seconds".
But I must also admit that it is the actions that keep you watching the film, not the acting despite loaded with stars.
The intelligent, outrageous stunts will jack you up with humor.
---
My rating- 7.7/10
---
To know more about the weekly writing challenge, click here