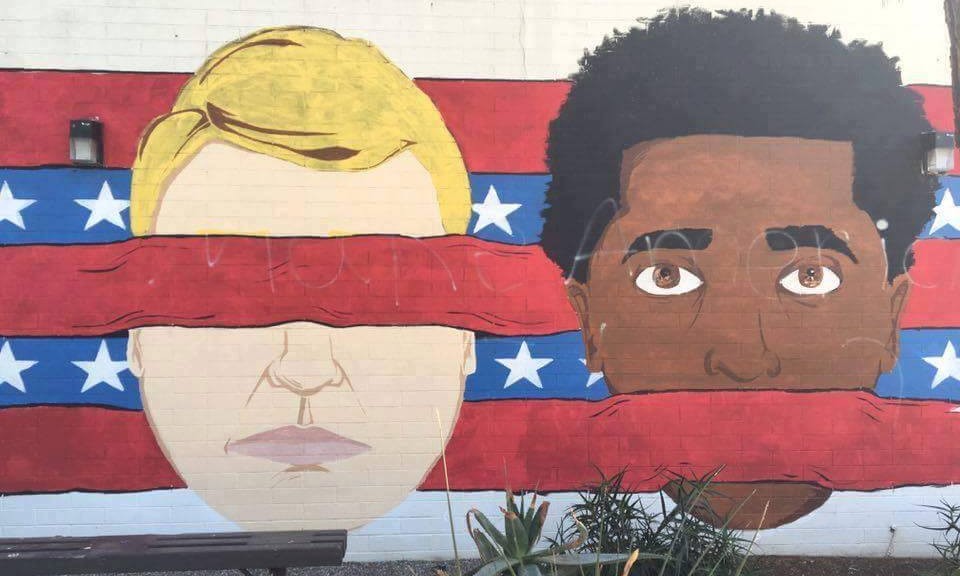 There is no question that right now we are living out the reverberations of a dark history. Thousands of years of war, abuse and oppression has to be addressed and integrated at some point in time, and Now seems to be that time. The internet is abuzz with threads on privilege. White supremacy is having a bizarre comeback. Black Lives Matter is desperately trying to bring everyone's attention to perpetual injustice and police brutality/murder. This doesn't even begin to touch upon the many other social dynamics being worked out like LGBTQ rights, environmental responsibility, "immigration" rights (we are all immigrants here), and ownership in the wake of stolen land. 'Endless' is the word that comes to mind.
I'm going to touch upon all this from as compassionate a perspective as I can muster without mincing words. The perspective I have is "odd" because while I have the camouflage of a light skin tone, I have a genetic thread of persecution that comes from my Jewish Heritage, and though I have yet to be threatened daily like people with dark skin, some "alt-right" lost souls are asking questions as absurd as "but are Jews really even people?" One thing is for certain, we are all in this together.
I will probably write multiple posts on these topics in stages, but I feel we need to have a chat about "whiteness" first. What is it?
From my knowledge "Whiteness" was an invention in the early days of US history. I was reading in a book who's exact title I forget but I believe was "Black Liberation and Socialism" that in the time of slaves, freed slaves, indentured servants and such there was no skin tone bias. Socialism was on the rise, and freed slaves and indentured servants were rallying together against the wealthy plantation owners. If you remember, indentured servants were people of European descent that lived in deep poverty. As the wealthy saw their system of oppression and financial slavery being threatened by the coming together of all oppressed people, they needed to divide and conquer. They created an "us and them" that wasn't there before by telling the European indentured servants that "You are white, and we are white, why are you trusting those black people?" They obviously weren't calling them "black people" yet, but you can get the point. "Whiteness" was born. The wealthy started to systematically dehumanize people of color in a sick and twisted history I should not need to delve into here. Slavery was still a thing, but freed slaves were treated just the same as poor people who were never officially slaves up to that point. There were even prominent freed former African slaves in governmental and military positions. Once socialism started to threaten the hidden form of mental, social and financial slavery the rich had created with their systems, they needed to harness fear for their purposes.
Whiteness, begot Blackness, both newly invented in the early years of the US. Public racism and oppression flourished until the 1960s, which wasn't that long ago, but integration and assimilation was never anything more than superficial. The racism and oppression became subtle to well-meaning people of this country to the point that they could not even see how institutionalized the oppression of their darker-skinned neighbors had become. Now, with social media connecting us all together, it is all in plain sight and on the table that the horrific consequences of "Whiteness" have not gone away and are looking worse than ever.
I was recently reading a really dense manifesto about Whiteness having no place in Black Liberation http://racebaitr.com/2016/03/31/white-people-no-place-black-liberation/# It was a challenging read, and I must admit that I was reading several articles at the same time and finished none of them, but what I took away from the first half of it was that "Whiteness" itself is what needs to be abolished. "Blackness" is a reaction to "Whiteness" self-perpetuating itself through ignorance including well meaning people that benefit from "white privilege" without even understanding it. #blacklivesmatter movement is trying to make people understand it, and many people are triggered by this because they didn't realize the extent of their subtle involvement.
I hate "Whiteness" and was deeply triggered during my process of understanding it because somehow I was being lumped into the same group as my oppressors. Nazis and I are both considered white, and "alt-right-ers" who question if I am a person in the first place, are also considered white. And why is it a privilege to be considered white if I am being associated with those who wish for my death or banishment? It is not an honor by any stretch of the imagination.
I have been blessed in this lifetime and I want nothing more than for all people to have the freedom, safety and opportunity to live a blessed and happy life as well. We can create this together, but learning how to address and integrate historical iniquities is far from over. Maybe if we can shatter "Whiteness" with the light of the magnifying glass, divisive labels will go away and we will all become beautiful unique brothers and sisters embodying the spectrum of light and life. We all need to do what we can to stand out and NOT blend in--ever, and stand up for justice and compassion with courage at EVERY opportunity.