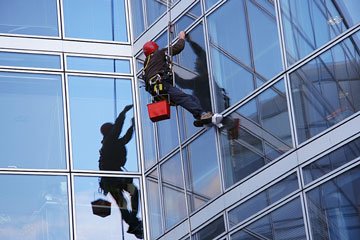 source
Do you know window washing business could be quite profitable? Well, it definitely can. That's right! It can be a great way to earn extra cash aside your career or it could become your profitable new career.
Window cleaners charge $40 to $60 per hour and they earn as much as $60,000 on a yearly basis. Window washing makes one self employed, you're your own boss, you decide when you want to work and when you don't want to.
Setting Up Window Washing Business
It doesn't take long to set-up a window washing business. In fact it takes less than a week. There is no training required. There is no certification or classes needed to clean windows. You can easily learn how to clean windows by watching free online videos. Visit YouTube or any other video streaming site
you know, to watch window washing tips and techniques. Your skills continue to improve the more you practice.
The next step of action is to gather your equipment. You'll need squeegees, scrapers, scrubbers, soap solution, a bucket, a ladder and more. It will likely cost about $500, but you will be able to get the basic supplies at around $200.
Now start advertising your window washing business. You can make use of different social media page for advert. Flyers also work magic. Target upscale neighborhoods as these homeowners will be more likely to have money to spend on window cleaning.
Lastly, make sure you have an organized schedule and a good telephone to keep track of your customers. With just a little work everyday, your profits might just begin to pile up.