facts about monas
Monas height of 132 meters is one of the lighthouse project of President Soekarno, in addition to Gelora Bung Karno and many other monuments. Many people who think of building Monas is a waste considering that Indonesia has not been so long ago still built in various sectors. Finally on July 12, 1975, Monas opened to the public.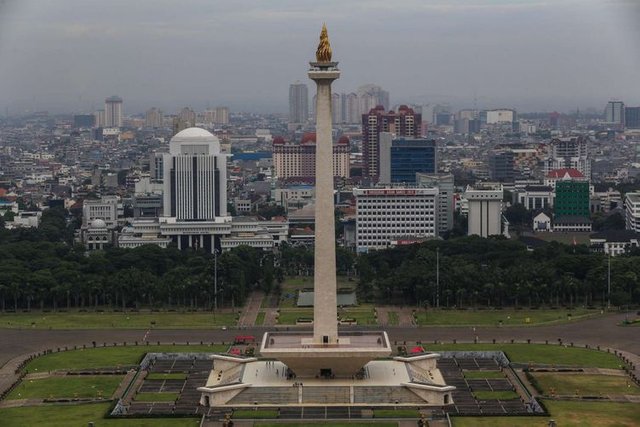 The Building Design with Meaning of Monas Shape actually symbolizes the phallus and yoni. The phallus is a male signpost symbolizing fertility and yoni is an obelisk foundation that represents a feminine woman. This idea came from Sukarno himself. The form of monas is also often paired with pestle and mortar, to pound rice. The size of Monas symbolizes the date of Indonesian Independence, ie the height of the bowl of the bowl from the base of 17 meters. While the high range between the historical museum room to the bottom of the cup is 8 meters (3 meters underground plus 5 meters of stairs to the bottom of the cup). Area of ​​the square-shaped yard, measuring 45 x 45 meters.
Monas and the surrounding area are known by various names. Starting from Gambir Square, Ikada Square, Merdeka Square, Monas Square, and Monas Park.
enyumbang Gold for the Flame Tongue Monas From the children's magazine website, Bobo mentioned that Teuku Markam, a merchant from Nanggroe Aceh Darussalam donated 28 kilograms to coat the flames of Monas. During his lifetime, Teuku Markam continued to struggle to defend the homeland and then died in 1985. When first made, the gold used to coat the flame tongue weighs 35 kilograms. But in 1995, when Indonesia celebrated the golden anniversary of independence that is 50 years layer of gold plus 50 pounds. This flame symbolizes the spirit of the struggle of the people of Indonesia that raging against the invaders.
First PRJ Event Venue Since it was first held in 1968, the Jakarta Fair was held at Monas. This went on until 1991 every year. The beginning of PRJ is better known as Gambir Night Market.